Bathu Temples dipped inside Pong Dam Lake near Dhameta town of Kangra region in Himachal Pradesh, India.
Bathu temples can only be seen during summers as the water-level goes down in Pong Dam.
Normally all the temples take a dip inside the Pong Dam Lake. Only some part of a huge pillar remain outside the water-level.
Bathu Temples are three kilometres away from Dhameta, which is a small town in Kangra. There stands a cluster of antique, unique, tall temples which remain dipped in water for most of the time in an year. Finally temples are exposed during months of March to June. Lot of pilgrims visit these temples during this time. throughout the year.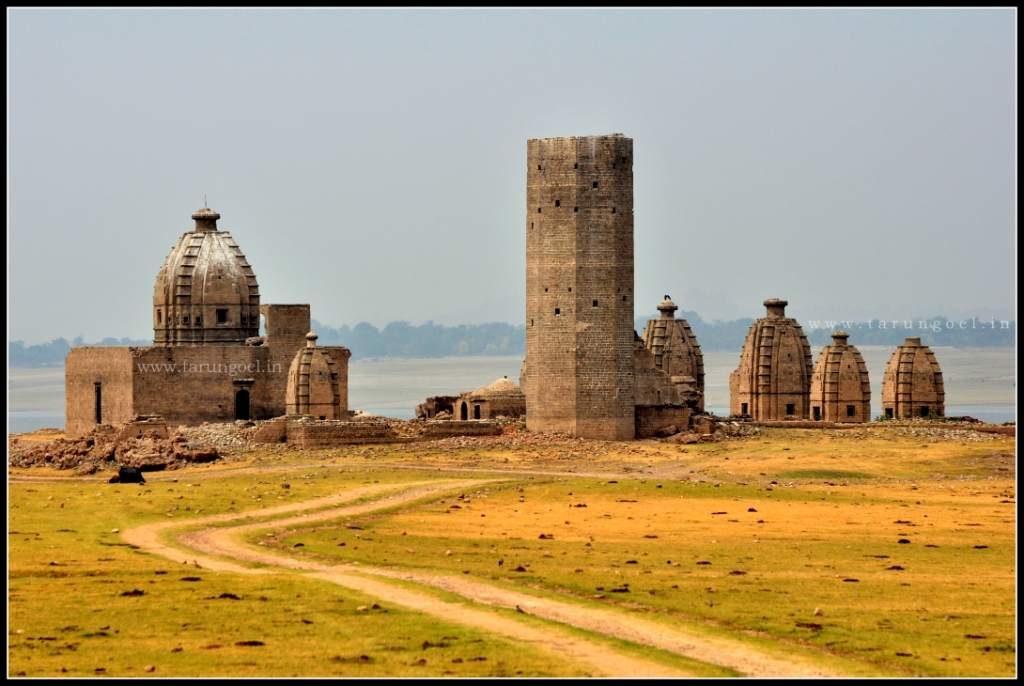 This place, commonly known as 'Bathu ki Larhi' (a string of Bathu stone-structures)
Bathu Temples were build by Pandavas and were accessible by all the folks before Pong Dam was built. Earlier beas used to flow on it's side and temple was accessible throughout the year.
Before Pong Dam was built, this cluster of unique artistic temples used to attract pilgrims from different parts of the country. At that time, there was only the flowing Beas water near temples and no dam water engulfed them as it does today. It was in 1961 that the work of Pong Dam started, giving it the final shape in 1970.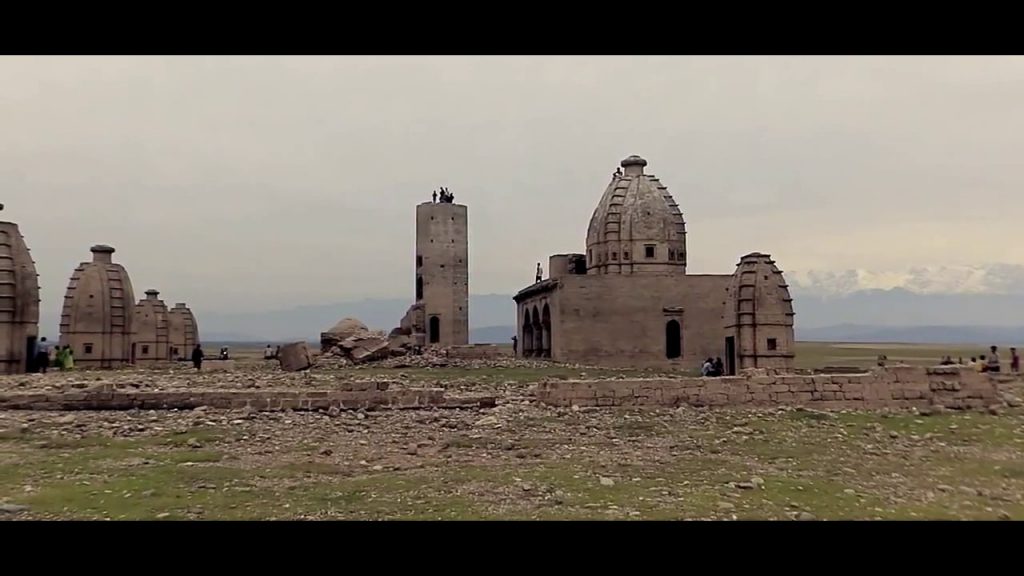 The pillar on the left is the one which can be sensed during high water-level conditions.
Pong dam, now occupies the vast stretch of land falling within the boundaries of Terris , Dhameta , Bharmad, Jawali, Nagrota Suriyan, Dada-Sibha and Dehra. Pong Dam carries water of the Beas and those of the rivulets of Gajj, Vool and Bundeir.
Bathu ki Larhi is a cluster of eight temples covering a vast area which used to have strong protection walls which are now falling and crumbling in the strong current of water.
In spite of the fact that for the last 30 years this cluster of temples remains dipped in the water for eight months every year yet their stone structure has the same natural color, beauty and luster as it used to have when they were actually constructed. Such is the durability of Bathu stone, a quality preferred in the entire Himachal. Only the color of plaster and those of the bricks has undergone a change.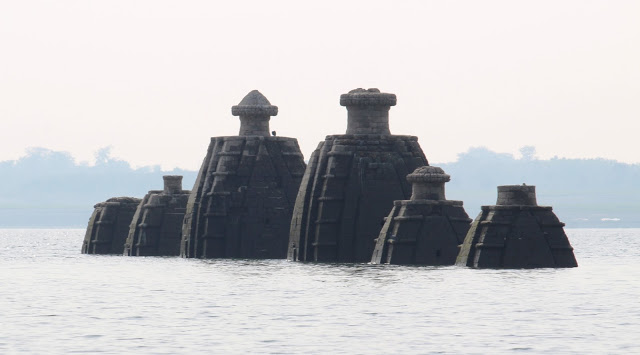 The stone images set on both sides of this gate, one image being of Mother Kali and the other of Lord Ganesha. Before one enters the temple complex, one has to pass through another main gate, all of which indicate how this cluster of temples was covered within two protection walls in order to save them from foreign invaders, There are also protection walls and protection. Towers, now in crumpled shape.
Usually boats are used to reach the temples of Bathu.
Broken Images of Lord Vishnu and Ananda Shesa, the antique artistic ladders with images of Hindu Gods inside the temple domes; prove how the Hindu architecture was simply at its peak. The chisel and stone work on Bathu stone is superb.
Apart from these beautiful Bathu temples, there is an Island around this place, which is named as Ranesar. There is a Forest Guest house in Ranesar. This Island is known for lot of peacocks and various other birds of Pong.