NEW DELHI: The famed Indian preference for boys is turned on its head when it comes to adoption. It appears that when Indian parents, deprived of a child by nature, go seeking for an offspring—it's usually for a girl. Data for the last three years reveals that a significantly higher number of girls are adopted than boys.
According to Central Adoption Resource Authority (CARA) records 1,848 boys were adopted in 2012-2013 as compared to 2,846 girls. Total adoptions in the year were 4,694. Since then adoptions declined in 2013 but the preference for girls has continued. In 2013-2014, prospective parents adopted 2,293 girls as compared to 1,631 boys while in 2014-2015, 2,300 girls were adopted as compared to 1,688 boys. While total domestic adoptions have come down from 4,694 to 3,924 in 2013-2014, it has increased marginally to 3,988 this year.
While lesser availability of boys for adoption is a factor which could be driving this trend, it is also true that couples who have given up hope of having a child of their own do not mull too much over gender since adoption in India continues to be a long-drawn process.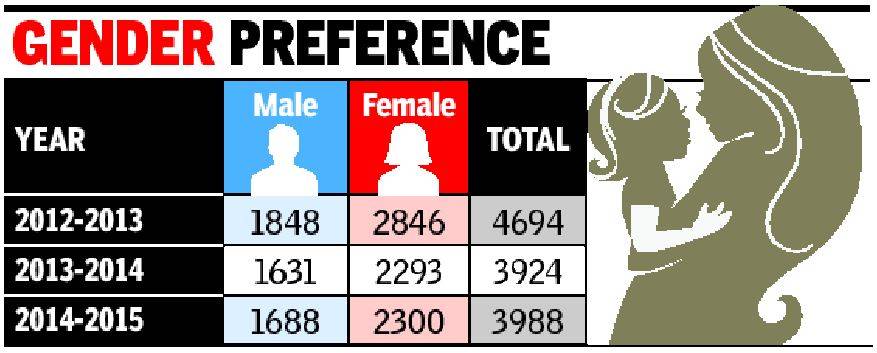 However, number of adoptions is still way below the demand. There are about 9,000 prospective parents registered with CARA. Adoption data however paints a dismal picture so far. The highest number of children adopted was 6,593 in 2011-2012. Since then the numbers have steadily declined till this year. There are an estimated 50,000 children in need for a secure home and care and protection. The minister has set an ambitious target of 15,000 adoptions for this year.
Women and child development minister Maneka Gandhi has in recent times been severely critical of the functioning of adoption agencies. In fact the ministry has introduced fresh guidelines for adoption in August this year. The guidelines mandate that all agencies involved in adoption must be registered online with a central database of children.
According to experts one of the reasons why girl children may be preferred for adoption could be because of the increasing number of single women who are keen to complete their family. "In case a single woman adopts, the preference is for a girl child," a NGO representative said.