Good ideas surely need wings. In September 2014, India's blockbuster project, the Mangalyaan robotic probe – the cheapest of interplanetary missions -was successfully launched into the orbit of Mars. The next day Prime Minister Narendra Modi unveiled 'Make in India', a campaign that seeks to make the country a manufacturing powerhouse and hopes to work its magic in creating jobs, increasing purchasing power and building a larger market. Before this catchphrase was coined, India's rich talent pool had, as ever, hunkered down to business, although in the form of small enterprises. Many of these homegrown gadgets and utilities are being used in homes, farms, hospitals and elsewhere. Each innovation is, in its own way, the best thing since sliced bread.
In the new world of competition, it's after all no longer enough to do the same thing better. Here are random samples of indigenous innovations from across the country…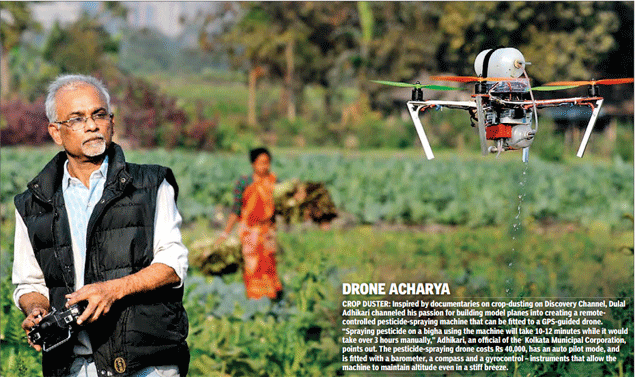 DRONE ACHARYA:
Crop Duster: Inspired by documentaries on crop-dusting on Discovery Channel, Dulal Adhikari channeled his passion for building model planes into creating a remotecontrolled pesticide-spraying machine that can be fitted to a GPS-guided drone.
The pesticide-spraying drone costs Rs 40,000, has an auto pilot mode, and is fitted with a barometer, a compass and a gyrocontrol – instruments that allow the machine to maintain altitude even in a stiff breeze.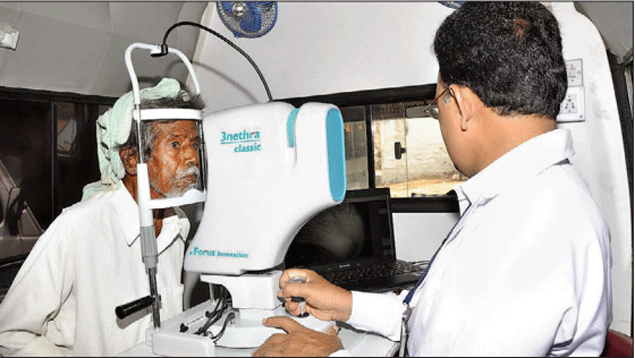 YES, EYE CAN
'We were overwhelmed by the problem of preventable blindness in India,' say the techies. The device saves precious time for ophthalmologists.  It costs one-fifth the price of existing machines, and can be fitted into a suitcase and connected to a PC or laptop via USB.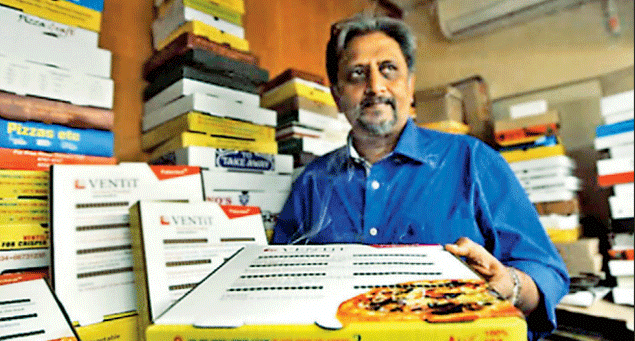 SPECIAL DELIVERY
Mumbai-based packager Vinay Mehta has created VENTiT, a hot-food delivery box that has been praised by global pizza experts like Scott Wiener. Most pizza-delivery boxes trap steam, which results in a soggy crust and breaks down the material itself.But VENTiT circumvents this problem by building the box in an unusual order, in which vents are cut into the outer and inner liners of the cardboard box, leaving the middle layer intact. Mehta's design has now been patented in over 100 countries.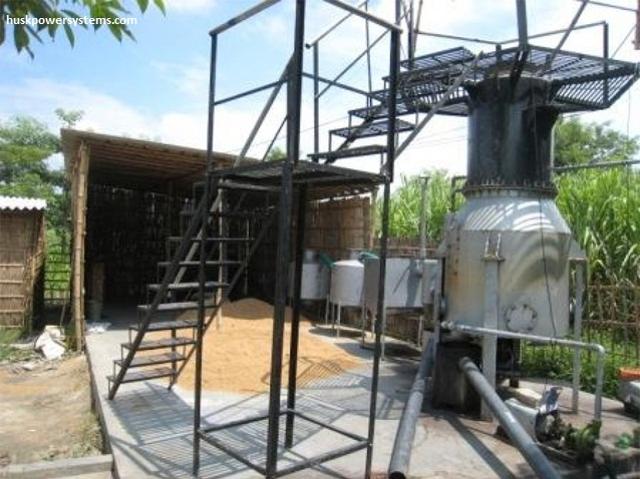 HUSK POWER
Bihar's power situation was never comfortable, and the problem turned worse after the creation of Jharkhand in 2000.Now, a man named Gyanesh Pandey has decided to take matters into his own hands. Pandey, who says his target group is "people living in off-grid areas", uses rice husk as fuel for more than 60 mini-power plants. They say they generate and distribute electricity to more than 20,000 homes in 250 villages bordering Bihar's West Champaran district.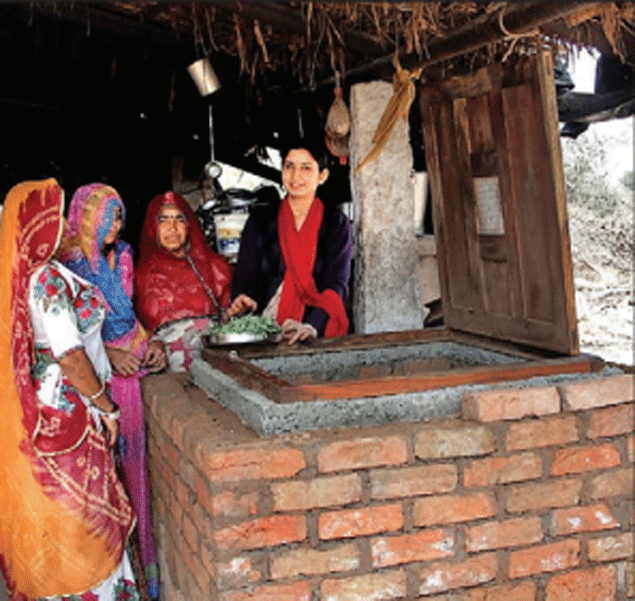 CHILL OUT
This 'refrigerator' that runs without power, developed by the Central Arid Zone Research Institute, Jodhpur, has addressed local problems of preserving fruits, vegetables and dairy products in the dry heat of Rajasthan. It is made of bricks, cement and coarse sand and works on the principle of evaporation. The temperature inside it is 12-15 degrees lower than that outside, while humidity is higher by 85%. The `fridge' can preserve 30kg-50 kg of vegetables for 4-5 days in summer and 6-7 days in winter.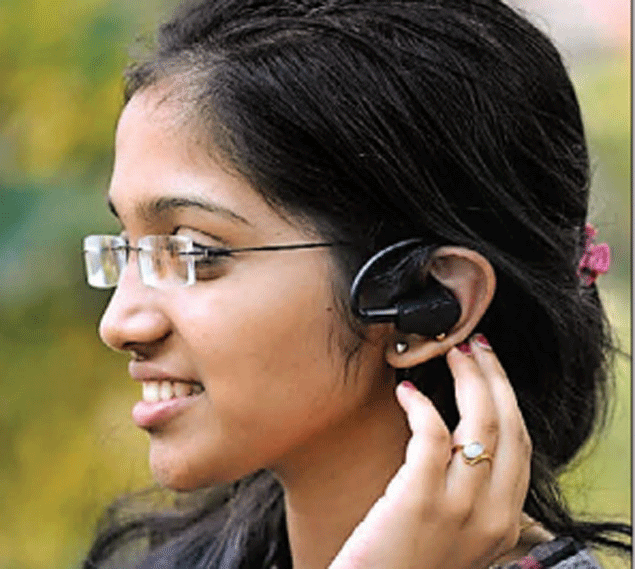 SAFETY SENSOR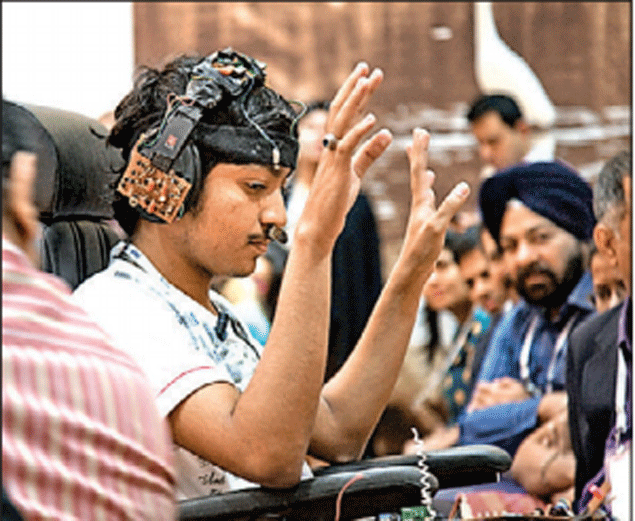 AIR SUPPLY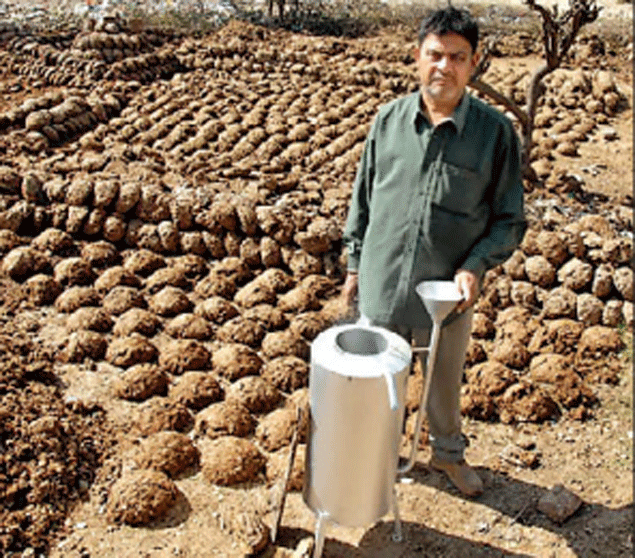 FIVE MINUTES OF FLAME
This desi geyser, as its humble name suggests, is a modest contraption of galvanized plain sheet that uses cow dung as fuel and can bring water to boil in five minutes flat. Designed 15 years ago by Paramjit Singh in his small workshop in Jagraon (Ludhiana), it has been replicated by many and is now sold at shops in villages across Punjab. "I have been challenging people about my geyser that can give hot water in 300 seconds," says Paramjit. He hasn't lost the bet so far.
Source : TOI