~by BINOY THOMAS (Weekly Voice Newspaper, Canada)
Delhiwalas, there and here (a rather huge number) are all eyes and ears for what's shaping up to be a prestige fight over who will rule New Delhi. No, not that New Delhi, this one is the smaller state of New Delhi which is also where the seat of India's central government is located. It was just a year ago, that Arvind Kejriwal's AAP captured the imagination of the urban voters and came into power in the state of New Delhi, although 8 seats short of a majority. Following in the footsteps of many idealists, who has loads of passion, but not much tact or the nerve to hang in there, Kejriwal began an auto destruction sequence soon after coming to power.
This shocking lack of good political sense was in no small measure a major boost to the BJP when it came time to face the people in India's general election. The voters were utterly disappointed with the Congress, and the clean alternative, AAP, now seemed like a movement of a bunch of innocent white caps, but not something that you trust to take power responsibly.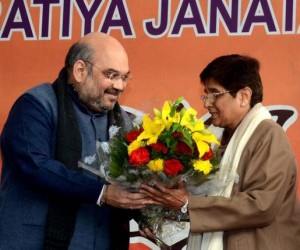 Former cop and anti-graft activist, Kiran Bedi, is in the eye of a gathering BJP storm over her elevation as the party's Chief Minister nominee in the upcoming elections. Till recently, a firm AAP follower, Bedi walked into the BJP camp only to be immediately accepted as its top draw. Well, if there were talks that took place (there are always a backdrop to such headlines), we don't know all the details. When BJP President Amit Shah, happily announced Bedi as its CM choice, a few, denied tickets by the BJP, walked across to Kejriwal's arms. In fact, the supporters of the BJP's state unit head, Satish Upadhyay,were positively shocked that their man had been sidestepped for the post. By the way, almost everyone, including perhaps people in AAP believe that there will be no surprise, and that Delhi will have a BJP government in place by February.
What's really happening in Indian politics? The simple answer – Modi is happening, as it's happening all across that ancient land suddenly in the grip of an overwhelmingly optimistic mood.
Modi has proved once again that he indeed wants to cleanse India's deeply corrupt polity. There are very few in India who will be top of the chart when it comes to a list of clean activists. That's not activists who are out in the streets, but people who held powerful positions and had the opportunity to be corrupt, but refused the temptation. Kiran Bedi is one such sterling example. After keeping away from active politics, the reason why Bedi had joined hands with Kejriwal was because of his passion to bring in a corruption-free society. She must've been sorely disappointed at the turn of events subsequently.
Once again, Modi shows true leadership qualities. He is not looking for yes men or yes women, or the chamcha, as they say in India. Modi knows that chamchas while kow-towing to your every whim and fancy, also are useless, as is evident from all the high command appointed Congress chief ministers who couldn't help the party in the last elections. From all accounts, Kiran Bedi is not the easiest of persons to deal with. She has often been a thorn on the side of her many bosses who found her upright attitude inconvenient and defiant. But Modi knows that whatever she is not, at least she is not corrupt.
Modi is not merely interested in GDP growth, he seems to have taken on a much more ambitious project, of reshaping India's politics of corruption. As in most well-run businesses, so in politics, he knows that good leaders, while contributing to make India, will also help strengthen his own image.
Kiran Bedi is already doing that, even before she has assumed the role of the Chief Minister. She said recently, "BJP has got the world's most beautiful face with it, that is Narendra Modi and his leadership. After that we are just stars who are revolving around him."
Kiran Bedi gravitating to superstar Modi is a scene being played out in India each day, different people, different locations. What's unique is that besides the usual suspects who are drawn to wherever they smell gravy, Modi is drawing into his circle people who have no ulterior motive other than an intense desire to change Indian society for the better. Each one of them, like Kiran Bedi, is stepping out to claim Modi's mission as their own. Hopefully, the vast fabric of India will soon be studded with millions of Modis, who will not dwell on the past, but will do everything today to make the future better for its billion plus citizens.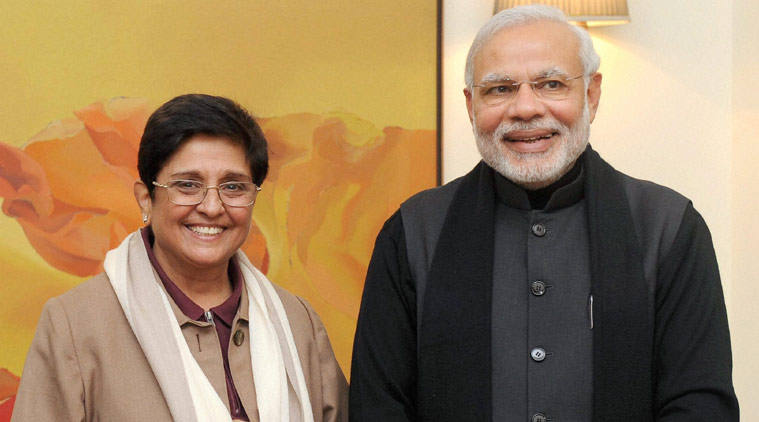 Okay, it's not just me who is thinking along these lines. In my corner is US President Barack Obama, who will be by Modi's side this weekend, as a special guest of India at its Republic Day celebrations. An American president taking the time off to specially attend an event in India is a first in history, and it's the result of a realization in Washington that there is no longer any vagueness in their bilateral relationship. Unlike past Indian leaders who seemed to hold back, deferring to a motley group of communists or other sundry anti-US groups, Modi is very clear – whoever has gone along with the US with an open hand, has benefited, including China, which today, has a lot to thank the US for having helped it become a developed nation. We lost decades trying to please everyone till Modi came along with a crystal clear foreign policy. From Obama to Kiran Bedi, they all are beginning to understand that something has changed profoundly in India – Modi has arrived on the scene when he is most needed. Have I made him into some sort of an avatar by this portrayal? I may have gotten a little carried away. But I am the least bit embarrassed standing in the corner with a man who has the courage to tell other Indians to stop killing their daughters!
P.S. By the way, all of you finicky readers who caught me out on the typo in the headline (Kiran Modi), let me assure you it's not an error.