He also stated that Delhi police's is committed towards safety and security of women.
Under pressure from the Delhi government, Delhi police commissioner B S Bassi has written to Manish Sisodia, the deputy chief minister of Delhi, on the recent rape cases that shook the national capital along with measures to help control them.
The measures include opening more crèches, making moral education compulsory for boys (even those in college), psychological evaluation of those mentally disturbed and cure involving psychologists and rehabilitation of school drop outs.
"Everyone is hurt by incidents of rape in Nihal Vihar and Anand Vihar. The incident in Anand Vihar is a bitter truth of our society and a solution to it can only be provided by the government or the civil society. The most unfortunate were the parents who had gone to earn their living after leaving their children alone at home," wrote Bassi.

He further wrote, "Leaving children behind is not an easy decision for any mother. What is more disturbing is the fact that parents leaving their children alone at home is not a one off incident. Poor people are forced to do that so that they can fend for their family. There are not many crèches in the city for such children. I would request you to built as many crèches as you can for working women." The police commissioner suggested that crèches could solve the issue of unattended children of those working in unorganized sectors. Bassi also suggested that a robust system be built to identify those who may be mentally disturbed.
"If found mentally disturbed, NGOs and psychiatrists should be roped in to ensure that these boys are fully cured. In addition to this, school drop outs should be psychologically, socially and economically rehabilitated so that they can contribute to society," said Bassi in his letter.
He also stated that Delhi police's is committed towards safety and security of women.
Delhi needs good policing; but Mr Kejriwal, why use the rape of minors to score political points?
The rape of toddlers and minors is a ghastly matter. The plight of victims calls for empathy and a degree of introspection and self-reproach. When we chose to make it a topic of political point, scoring it only reflects how dehumanised we are. It shows we are trying to take malicious advantage of the misery of the victims for personal or political benefit. Chief Minister Arvind Kejriwal, who has used the latest cases in Delhi to hit out at the Centre, may be guilty of that.
The chief minister's demand for better policing in the National Capital is perfectly acceptable, so is his stand that entire Delhi should be a VIP area. Even his insistence that the state government should have policing powers makes sense. But he certainly could have selected a better occasion to escalate his fight.
The truth may be unpalatable to many, but Kejriwal surely knows the police can do little when minors are raped in the privacy of their homes or by people either close or known to their families. By the time they move in a victim has already been created. The fear of the police has hardly proved a deterrent in such crimes. If his protest was about safety in public places – the violation of which is commonplace — it would have made better sense.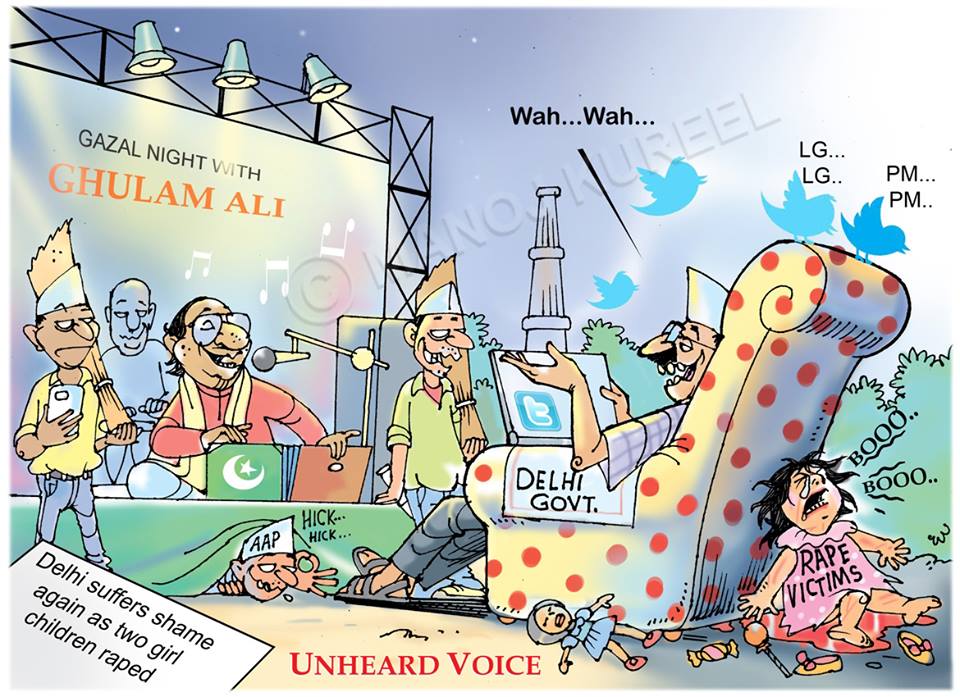 What compounds his guilt is the sheer hypocrisy involved. When a girl was raped and brutally murdered in a moving bus three years ago, shocking the nation, he was the among the first to hold then chief minister Sheila Dikshit responsible for it. Her plea that she was helpless as she had no control over the police was pooh-poohed by the present chief minister, who was not a full-fledged politician then. Now, Kejriwal is making the same plea. He was either wrong then or he is wrong now.
"I am no Sheila Dikshit, the prime minister must understand that. If women continue to feel unsafe and if rapes continue, we will not let him sleep in peace," he said on Sunday. No wonder, his one-time colleague in the anti-corruption crusade Prashant Bhushan finds his stand reeking of double standards. He finds no letup in cheap politics over poor law and order in Delhi. Kejriwal said the city is experiencing jungle raj and urged Prime Minister Narendra Modi to hand him over the police for one year and see the results. Bhushan doubts whether policing in the hands of the state government would improve matters.
Law and order is definitely a serious issue in Delhi and there's need for change in the existing arrangement where the elected government has no say over policing. The changing demography of the state, its close proximity to several other states and the growth in crime rate call for revamping and re-imagining the policing system. But both the Central government and the state counterpart have been remarkably casual about it. The issue has been turned into a political football, which is kicked around whenever a crime of a heinous nature is committed.
Kejriwal, instead of getting into blame game and unnecessary confrontations, could have made it part of his political agenda and roped in the parties and civil society for his support. It could have created an image of a constructive leader with a lot of positive energy for him. His actions over the last many months make it amply clear that he is not game for it. He is happy being the rabble-rouser and a leader who will not shy away from milking a human tragedy for political ends.