A well-known guru among the tribals of Rajasthan once told a young Amit Shah: "Your fate is such that even if you are sitting on top of a camel's back a dog can come and bite you."
It conveyed that no matter how high he reaches in life, Shah won't be far from trouble. Shah laughed off the guru, but hasn't been able to shake off his prophecy.
Ruthless. Machiavellian. Authoritarian. Many adjectives are used to describe him. But none fully captures the persona of the new BJP president.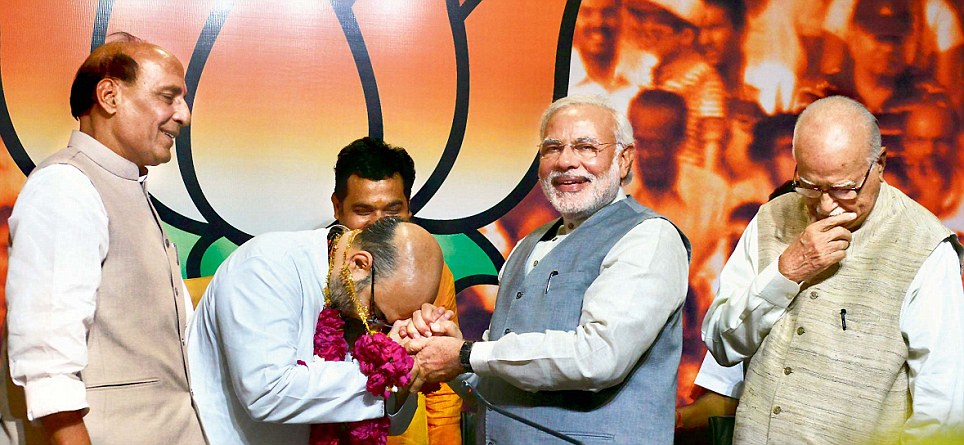 Besides a sharp understanding of caste and electoral dynamics, Shah has a burning desire to win. He believes all is fair in war and elections.
While Narendra Modi hops from one rally to the other, Shah rules the election control room. He sits for hours with workers poring over latest reports from constituencies, dividing seats into smallest of segments and preparing plans.
Shah classifies constituencies into three categories.
Firstly, seats where the BJP is likely to dominate, and won't demand much effort. For these seats, Shah ensures that the candidates have sufficient resources and leaves the campaigning to the candidate.
Secondly, seats where the BJP will lose, no matter what. Shah's team ignores these seats.
The third category of seats includes the swing seats. And Shah puts maximum effort, going down to micro details on how to swing a particular seat in the BJP's favour.
By Shah's own estimate, in 2012 Gujarat Assembly elections the BJP bagged 15-20 seats where the party was set to lose.
During last December's Delhi Assembly elections, 15 independent candidates mysteriously appeared. They fought on the symbol of a torch, which with its rays closely resembled the broom-the Aam Aadmi Party's symbol.
On at least five seats the prospects of AAP were damaged by such candidates.
In Delhi's Janakpuri and Kalkaji areas, the winning margin of the BJP candidate was less than the number of votes polled by the mysterious candidates.
Ask Shah about the 'Torch' candidates and one would see a mischievous gleam in his eyes.
"Some questions are best unanswered," he quips.
The Lok Sabha elections in Uttar Pradesh saw Shah burst into national prominence. He was initially apprehensive, since he had not been politically active outside Gujarat. But after assuming charge, Shah travelled incognito for two weeks through UP to assess the BJP's position at the booth level.
He found that the BJP in UP had stopped contesting local body and panchayat elections, and party workers were disillusioned with the local leadership. He then began rebuilding the party's structure in UP.
Backed by the RSS, Shah activated pracharaks who would tell people about the misrule of the UPA at the Centre and the SP government in the state.
Pracharaks stoked resentment among the voters of the majority community against 'minority appeasement'.
The Mobile Modi Rath was Shah's breakthrough idea. During his travels across UP, he had realised that a large part of the state is unaware about Modi's message.
To counter those "Black Zones," Shah deployed Modi Vans that travelled to hundreds of villages carrying Modi's message. And that got the villagers thronging around the rath, village after village, to hear Modi's recorded speech.
Leaders of other parties did not even visit these remote villages. Shah's key to BJP victory in UP was in his state-wide caste re-engineering plan.
After assessing the caste arithmetic in UP, Shah concluded that the BJP's upper caste vote bank cannot match the formidable OBC, Dalit and Muslim vote bank of the Samajwadi Party.
When asked, Shah says: "I start from zero, but others start from a base of 25 per cent of the votes in the bank."
In fact, consolidating the varied Hindu castes comprising the remaining 50 per cent vote share in favour of the BJP was a formidable challenge.
Shah began to get rid much of the Brahmin-Thakur baggage of the BJP; and allotted tickets to OBC leaders.
Modi's credential as the OBC leader was highlighted, even though Modi had initially disapproved that. In the end, Modi accepted Shah's view and also contested from Varanasi to boost the party's prospect in Poorvanchal.
Shah is pragmatic about his equation with Modi.
"If I can get the job done, then I am the best man. If someone else is better suited for the job, then he's Modi's best man. It's nothing personal," Shah says.
Modi has had a soft spot for Shah since their days as RSS pracharaks in the early 1980s. But, they became closer after Shah's stint in jail for allegedly orchestrating the Sohrabuddin Shaikh fake encounter case.
Despite the CBI's repeated efforts, Shah didn't say a word against Modi. And Modi knew he has found an aide who he can trust.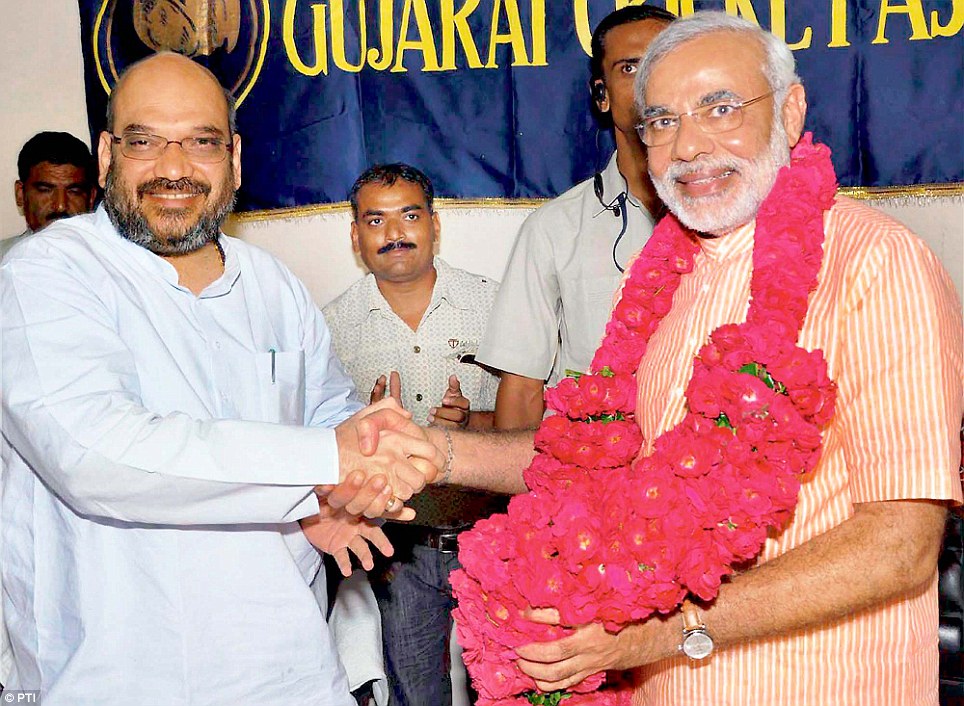 Today, many are hoping Shah will repeat his strategy in Maharashtra, Delhi and Haryana elections.
And for Shah, the BJP can also soar in states like West Bengal and Tami Nadu.
The day Modi was elected chairman of the BJP's election campaign committee, Shah said in Goa: "Our national plan is already ready. We were waiting for this day. You see the speed and scale with which we roll out the Modi campaign."
And now, Shah is itching to roll out his battle plan for the forthcoming Assembly elections.
New BJP president has his task cut out
For someone who has fought and organised nearly 40-42 elections at all levels and has not tasted defeat, the political road ahead for BJP president Amit Shah is loaded with expectations of party cadre and his mentor, Prime Minister Narendra Modi.
The mood is upbeat within the party and also among the workers. A senior party leader at 11, Ashoka Road says: "He's very clear and hard-working… he doesn't waste time and is very task-oriented. What he did in Uttar Pradesh is a show of his organisational skills, something which the PM trusts the most."
Though he has taken over as party chief from Union Home Minister Rajnath Singh, senior leaders and Gujarat officials who have seen him work, have hinted that the party strategy would see a change.
"Amit Shah will now be more focused on state-level issues as there is a change in situation now. Now that the BJP is in power at the Centre, you can't bank on the Union government's failures, something which helped spread Modi magic nationwide…now you have to pick the agenda very judiciously and it should be hyper-local.
"Shah understands this and has already started meeting local party office-bearers of the election- bound states," another party leader said.

Shah also knows that the BJP has nothing to showcase at the Centre as it has just taken over and hence, it would be best "to pick holes in the state government's decisions to strike a chord with local voters and also calculate the swing votes in the Assembly constituencies once again as he did in Uttar Pradesh".
"He is known for delegable leadership," says a party worker from UP, adding, "He's created new leadership on ground and he acknowledges the ground support, so in his new job as national BJP chief, he will definitely enjoy the support of party workers, something which will be an advantage as he enters Haryana, Delhi and Maharashtra along with three other states."
Delhi would be a test of his organisational skills and it is learnt that the sudden push to government formation is part of Shah's agenda.