Delhi is endowed with two imperial capitals, a whopping 174 Archaeological Survey of India (ASI)-protected monuments and not to mention scores of smaller, often unidentified, heritage structures.
Unfortunately, most of the city's 1.67 crore denizens, barring a few thousands, are unaware of this vast treasure.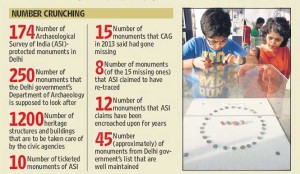 The general lack of awareness, rather a sense of apathy towards the pristine heritage, has been a detriment for the city vying to earn a place in the United Nations Educational, Scientific and Cultural Organization's (UNESCO) list of World Heritage Cities.
The ASI, the custodian of heritage, sticks to its premises and in most cases hardly bothered about the surroundings, the approach road to the monuments and something as basic as a direction board half a kilometre away. 
Scores of monuments face accessibility problem and lack basic interpretation facilities, which means Delhiites remain disconnected with the city's wonderful heritage.
"There is no exposure about these monuments for the common Delhiite. Now-a-days, students are taken to malls, other museums and zoo, etc., on field trips but very rarely to monuments," said Dola Bhattacharya, a resident of East Delhi.
ASI officials said the department reaches out to schoolchildren through its drawing competitions, quiz competitions, etc.
For others, it has brochures about each of its protected monuments. "Agreed, these are available only at the ASI offices or monuments or reach to students only. Also, we will need more coordination with civic agencies/road building agencies for proper road signage," said Vasant Swarnakar, ASI's Delhi circle chief.
Interpretation centres are a major way of understanding our heritage. It is only now that the authorities have woken up to its need.  "Such centres help the visitor to know about the whys and hows for a monument.
An interpretation centre each is planned at Qutub Minar and Purana Qila with financial help from Ministry of Tourism," said conservation architect AGK Menon.
~ Nivedita Khandekar, Hindustan Times
Click on image below to see how you can help protect and preserve our past: