BENGALURU: On Tuesday morning, as a young accident victim lay on the Bengaluru-Tumakuru Highway, his bleeding body severed in two, insensitive commuters simply watched. They took photos and videos of the gruesome sight.
But the victim, 23-year-old Harish N, showed rare courage and humanity even as he stared at death. Before dying, he conveyed his last wish to the ambulance driver: that his eyes be donated. A day after Harish's gesture, however, there was no end to the show of callousness. Local TV channels played up all day the graphic visuals of Harish's mutilated body lying on the road. And JD(S) MLA Zameer Ahmed Khan went a little too far.
He went to meet the grieving family and thrust bundles of notes amounting to `5 lakh into the hands of Harish's wailing mother Geethamma as cameras flashed.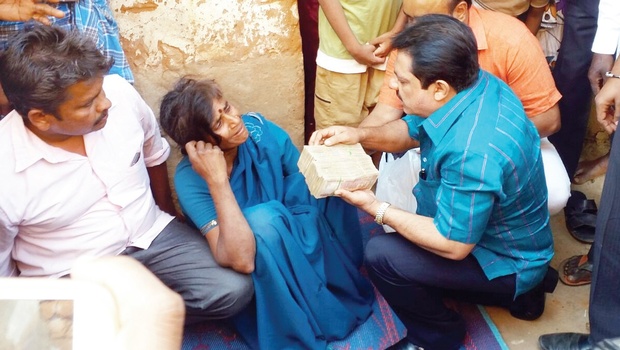 Geethamma, who had just lost her son, didn't even seem to comprehend the media circus.
Zameer, however, justified his very public display of cash offer, saying that he happened to be in Gubbi for the ZP/TP polls and decided to meet Harish's family. "My conscience is clear. I immediately felt that it was my duty to help the mother of this boy who died," he told Express. Zameer's show of publicity may have broken all decorum, but civil society believes this is what we can expect from the political class. "While seeking publicity for this is not a good thing, politicians always want publicity. It would have been better if the family had announced that he had given the money. Then his act would have had more value," said writer Baraguru Ramachandrappa.
Senior academic M S Thimmappa conceded that it was a sensitive matter. "But Zameer being a politician it is all right. In the light of the money he gave, the publicity part is of no real consequence."
Harish N was soft-spoken and always put the interest of others before him. Putting others first is exactly what the 23-year-old did when he was critically injured in Tuesday's road accident. "Brother, I am going to die in a few minutes. Please donate my eyes," he told the ambulance attendant.
Harish was helpful to everyone in the village and his family was his only priority, his uncle Girish told Express.
"He wanted to get his brother married. He was working towards saving for it," he said.
Harish was an employee at a private security firm in the city. He was part of the support team for managing cash in ATMs and had been employed for the past one year.
He lived with his uncle in Laggere.
Harish's family hails from Karegowdanahalli in Gubbi taluk.
Born in a humble family, Harish lost his father almost 18 years ago. His single mother brought him and his elder brother up working as a daily wager. After completing SSLC from a school in his village, Harish studied ITI in a college in Nittur.
Girish added that even though Harish wanted to study further, he could not afford it. "He did not have any hobbies because he could not afford it. He came back home straight from work every day and went to visit his mother on his off days."
Even though the family owns an acre of land, it is not enough for their sustenance. In fact, they do not even have a house to live in and are settled in a hut. His brother, two years older than him, works as an autorickshaw driver in the city.
Three months ago, when Harish wanted to buy a bike, his family advised him against power bikes. They wanted him to go with a simpler two-wheeler which would be easy on the pocket and would also be safer. However, Harish went for a Pulsar, which he was riding when he met with the accident on Friday.
Family members said he had bought the bike on loan.