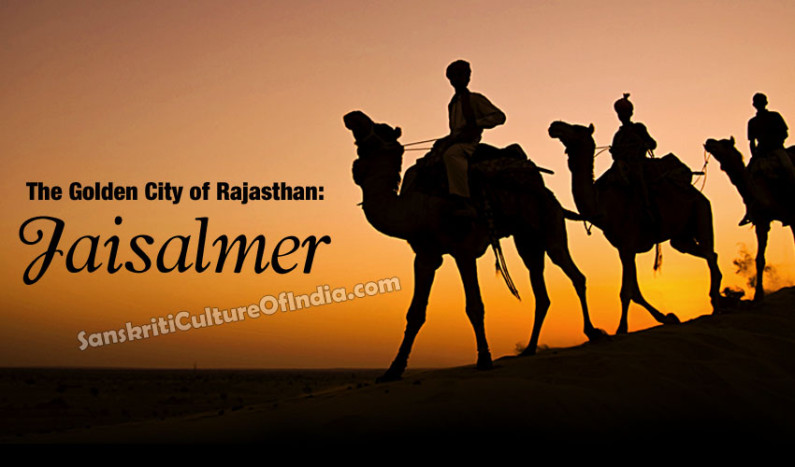 CLICK ON IMAGES TO ENLARGE:
Jaisalmer, also known as "The Golden City" is a town in Rajasthan.  It was once known as Jaisalmer state and is the administrative headquarters of the Jaisalmer district.  It's not a very large town, with a population of about 78,000. However, it has a charm of its own and is a paragon of beautiful culture and harsh climatic conditions.  Jaisalmer is named after Maharawal Jaisal Singh who founded the city.  He was a Rajput king in 1156 AD. "Jaisalmer" means "The hill fort of Jaisal".
The entire city is built out of yellow sand and yellow sandstone due to which it came to be known as "the Golden City". The old city was completely encircled by a wall but much of it has crumbled sadly for want of building material in recent years. Just like all the other cities in Rajasthan, Jaisalmer also has its own glorious past.
According to the legends, the then Rajpur ruler of Jaisalmer, Maharawal Jaisal Singh founded the city at the behest of a local hermit named Eesaal, whom he respected a lot. In order to ensure his safety he built the fort on the Trikut hill because its location made it quite inaccessible and he could keep a watch on his surroundings. This helped him to know the movements on his enemies well in advance. The main source of income of the Bhatti Rajput rulers in the past was through the collection of taxes from the passing caravans. Jaisalmer was situated on one of the very important routes which connected India to several counties including Persia, Egypt, Africa and many western countries. Thus, it was a very busy business route and provided ample opportunity for the Bhatti rulers to collect taxes and amass huge wealth.
Due to its peculiar location, it remained out of bounds of any invaders for a long time. Only when the Bhatti Rajput rulers dared to loot the imperial caravan carrying treasures of Ala-ud-din Khilji, the Sultan of Delhi, they incurred this wrath. He led a siege around Jaisalmer to concur it and the siege lasted for 9 long years. In the final battle for their independence, the then ruler of Jaisalmer, Raja Jaisimha 's son Duda died while fighting the forces of the sultan. In the subsequent years, the rulers of Jaisalmer maintained good relations with the Mughal emperors. However, they did not accept the British rule easily. In fact, Jaisalmer rulers were the last to sign the Instrument of Agreement with the British Government.
Besides being a place of historical importance, Jaisalmer is still a living town and a major tourist attraction in Rajasthan. Unlike other forts, a quarter of the town's population still lives inside the fort. This spectacular fort houses a royal palace (Raj Mahal), Jain temples and many sites worth visiting. The walls of the fort are constructed out of red sandstone which assumes a lovely honey-gold hue as the sun sets.
The people of Jaisalmer are very hospitable and are gifted with a lot of folk music, dance and art forms. The main means of transport in this part of the country are camels. One can enjoy a camel ride during a visit to this place.
Jaisalmer has also got a rich cultural heritage and to display its rich past, the place has got a museum dedicated to the many artifacts used in the by-gone era. People interested in history would definitely enjoy a visit to this Government museum. In addition, there are mansions known as Havelis which used to the abodes of the rich, famous and powerful people belonging to the Raj Darbar of the rulers. These beautiful havelis were very well-crafted and are a piece of art and architecture of that time. Some of the most famous havelis are Patwon-ki-Haveli, Salman Sigh-ki-Haveli, Nathmalhi-ki-Haveli and Haveli Shreenath. A visit to these havelis will give you an idea of how lavishly the rich and powerful of that era lived.
People of Rajasthan are mostly vegetarian but they do prepare, serve and enjoy a variety of delicacies in their everyday life. A visit to Jaisalmer will definitely be satisfying to your culinary appetite besides capturing you with its magnificent sites and architecture. A visit to Jaisalmer will definitely prove memorable in all respects.
~ India Outing
LIKE US ON FB & SHARE OUR PAGE WITH FRIENDS TO HELP IN SPREADING SANSKRITI.