Kharagpur: Prime Minister Narendra Modi on Sunday launched a direct attack on West Bengal Chief Minister Mamata Banerjee and said the "didi" (or sister as she is affectionately called) has now become a "shahenshah" who has failed to bring about change and does not care about the state.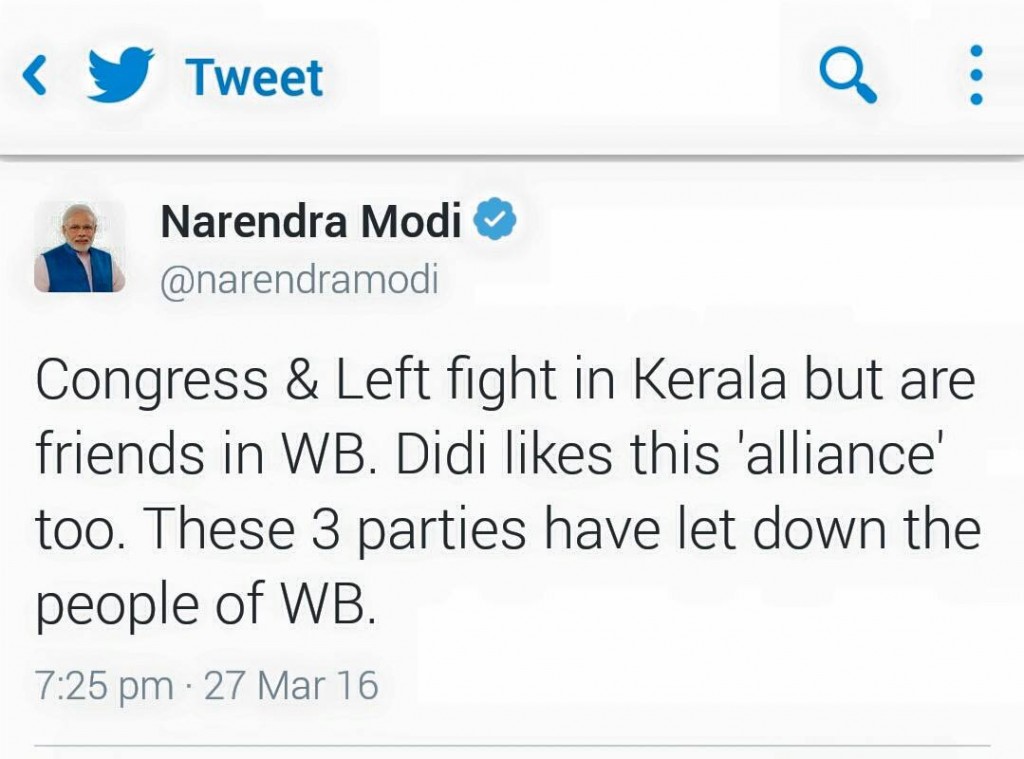 Citing the recent deaths due to crude bomb blasts in the state, PM said that villages of Bengal are manufacturing 'desi bombs'. "Industries have closed down but one industry is flourishing, industry to build bombs," he added.
Addressing a rally here, ahead of the high voltage Assembly Elections in the state, the Prime Minister said, "Development, development at a fast pace and development from all sides is my 3 point agenda."
Training his guns on the Mamata Banerjee-led Bengal government, PM Modi said, "If MUDRA scheme would have been initiated earlier, Saradha scam would have not happened."
He also came down heavily on the Banerjee-led Trinamool Congress by refering to the Saradha chit fund scam and the purported sting operation carried out by the portal Narada News that showed several Trinamool leaders, including former unions ministers, current state ministers, and MPs allegedly taking bundles of cash.
"First it was Saradha, now it is Narada," PM said.
PM further said that he was hoping CM Matama would bring about a "parivartan" (change) in Bengal after assuming power, but has destroyed Bengal in the last five years.
"I was thinking that after 34 years of Left rule, Bengal's bad days will go and a 'parivartan' will come. I nursed this hope, but today looking at what has happened in Bengal in the last five years, if it took 34 years for communists to destroy Bengal, TMC has completely finished it in five years. Bengal has suffered in 34 years of communist rule and has been ruined and has fallen into a deep pit," he added.
PM further launched a scathing attack on the Left and Congress for "challenging and insulting" the wisdom of Bengalis by coming together in election-bound West Bengal but fighting each other in Kerala which also goes to polls.
He also attacked the Trinamool Congress, saying the ruling party and the Left have 'destroyed' the state for the last 40 years as he sought people's support for BJP for once.
Meanwhile, a gesture of PM Modi, here today, during his address is surely going to win the hearts of the minorities present in the rally.
Showcasing that he respects the sentiments of all comunities, the Prime Minister gave a pause to his address as Azaan (call to prayer) was on.
Ass soon as the prayer ended PM resumed his address as said, "Azaan chal rahi thi, hamare kaaran ki kisi ki puja, prarthna mein takleef nahi honi chahiye isiliye maine kuchh pal viraam le liya."
"There shouldn't be any problem in anyone's prayers because of us, that is why I paused for few moments," PM said.
Watch video :
#WATCH: PM Narendra Modi pauses his speech during Azaan (call to prayer) in Kharagpur (West Bengal).https://t.co/7XYDrf7cmu

— ANI (@ANI_news) March 27, 2016
Seeking public support for BJP, a new entrant in Bengal, Modi said, "I have come to assure you that your 40 years have been wasted and give me a chance once.
Give BJP a chance. I assure you that we will create a new Bengal out of what has been ruined." The Prime Minister said he was not a man who would be dejected or gets bogged down but am "a person who works with hope and confidence to change the situation in the state. I have to change Bengal and take it to newer heights."
Seeking people's support for BJP, he asked them to keep Bengal's good foremost in this election and not look at candidates, their caste and whether they know or have met them but support the BJP.
Prime Minister Narendra Modi kick-started his campaign in poll-bound West Bengal today. State Bharatiya Janata Party chief Dilip Ghosh is contesting from Kharagpur Sadar seat for the state assembly.
The first phase of Assembly elections in Bengal is starting on April 4.