For the first time, two women are part of the Sarang team of the Indian Air Force, a show-stopping helicopter-formation team that is performing at the Aero India show under way here.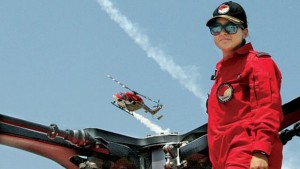 Squadron Leader Deepika Misra and Flight Lieutenant Sandeep Singh, an engineering officer, hope that one day, there will be an all-woman quartet in the squad, whose name means peacock.
When she graduated from the Air Force Academy in December 2006, Sqn. Ldr. Misra started imagining herself in an aerobatics team such as the Surya Kiran or Sarang. Back then, it seemed a dream, but she never gave up.
She was soon commissioned in the helicopter stream and was posted to a Chetak-Cheetah unit. Women short-service commission pilots were permitted to fly such single-engine helicopters.
In a major policy shift in 2010, the IAF allowed women pilots to fly twin-engine medium to heavy-lift helicopters. When the IAF sought women pilots to volunteer for the Sarang team, she jumped at the chance and was among the first to be inducted into the indigenous Advanced Light Helicopter squad. She joined its formation unit last July as its first woman IAF pilot.
Soon, Flt. Lt. Sandeep Singh will join her as engineering officer of the unit. She and six other officers should keep the metal birds in good condition at all times (a few other women have joined the Mi-8 and Mi-17 class of helicopters.)
Sqn. Ldr. Misra is training for formation flying and has almost completed here operational conversion into a Sarang. As safety officer, she must monitor the formation display and debrief the team members after the sortie. "It is a great learning process," she says.
Her husband, Sqn. Ldr. Sourabh Kakkar, is an aeronautical engineer already posted to the Sarang unit, making them a rare couple.