ISIS terrorists are reportedly shaving their beards and dressing up as women in order to flee Syria, in the wake of Russia stepping up its military campaign in support of President Bashar al-Assad.
Pictures said to have been taken near Aleppo last week shows mounds of what looks like cut off facial hair, alongside discarded packets of razors.
In order to cross the border to Turkey undetected, ISIS jihadists are said to be shaving and disguising themselves in niqabs – a veil covering all but the eyes worn by some muslim women.
The reports of fleeing Islamic State jihadists comes as at least 40 members of the group were killed in an airstrike in Hama, west-central Syria on Sunday.
The images were shared on Twitter by the Sunday Times journalist Hala Jaber, who credited Leith Abou Fadel, editor-in-Chief of the English-language Arabic news website Al-Masdar News, as the source.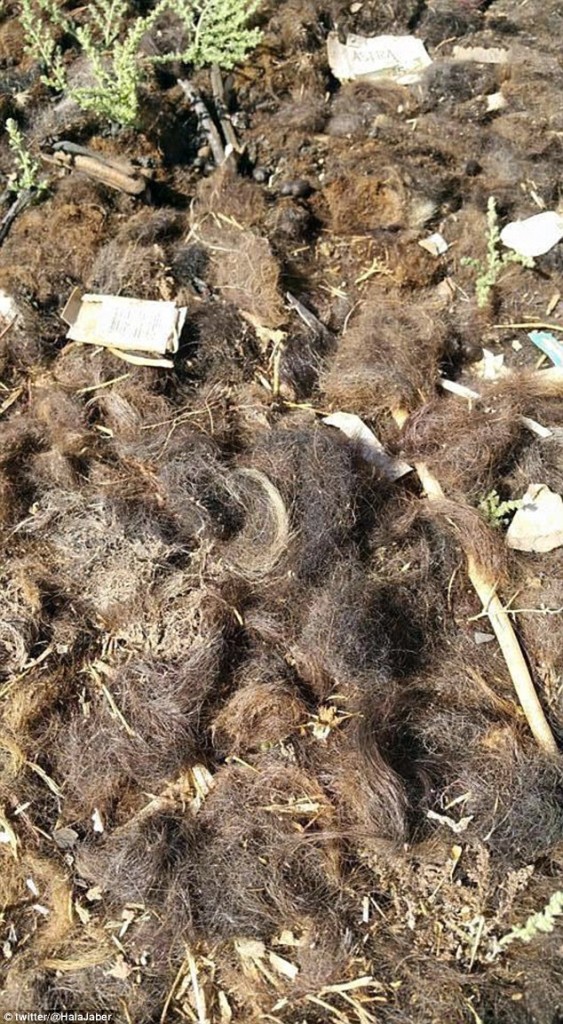 Ms Jaber posted the images with the caption: 'Photo apparently showing left over beards shaved off by rebels running 4m #Syria'
A second set of images was captioned: 'Jihadi beards, shaved off in Reef #Aleppo, as they flee clean shaven 2 #Turkey'.
The images have been shared by hundreds of Twitter users, with many responding by mocking ISIS and highlighting the hypocrisy of the 'holy warriors' fleeing in the face of danger.
Twitter user Malcolm Rawlinson pointed out that 'the lions of the caliphate are now the scared pussies'.
Meanwhile, at least 40 Islamic State fighters have been killed in an air strike on their convoy in the Syrian province of Hama, a UK-based monitoring group reported on Sunday.
The attack, which took place on Saturday, also destroyed 16 vehicles in the convoy, said the Syrian Observatory for Human Rights, which monitors violence in the country through a wide network of sources on the ground.
The observatory added that the convoy had just left Raqqa, the de facto capital of the militant group, at the time of the attack. No further details were immediately available.
It is not clear who deployed the airstrike, but the chief of the Observatory, Rami Abdel, said 'they don't belong to the coalition led by Washington', indicating that it may have been a Moscow-led attack.