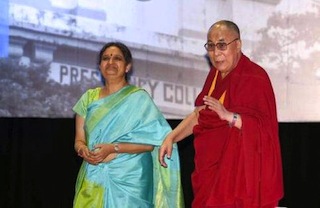 The Tibetan leader His Holiness the Dalai Lama said Indians are forgetting the ancient Indian school of thought which is "highly developed" and relevant in today's world reeling in violence.
The Tibetan leader, who won the 1989 Nobel Peace Prize, was speaking on Human Approach to World Peace at the Presidency University in Kolkata where he arrived on Monday.
"We need more studies on the ancient Indian psychology. Modern psychology, compared to ancient Indian psychology, including Buddhist psychology, looks like kindergarten level. Ancient Indian psychology is highly developed," he said.
Describing himself as a messenger of the ancient Indian philosophy of Ahimsa, he said the ancient Indian master's philosophy of ahimsa is relevant even in today's world.
"Historically and traditionally, you (Indians) are our guru (teacher)… We learn everything from you…We are your chelas (disciples)," he said.
"Unfortunately, our gurujis are forgetting these things in recent centuries and not paying much attention, and we disciples are catching this knowledge over thousand of years. So now, disciple's knowledge about ancient India is better than guru's knowledge," he said, appealing Indians to be more active in promoting peace.
His Holiness said the 20th century has been a century of violence but the 21st century can be made into "century of peace and dialogue".
"The previous century was one of violence. If we make this the century of dialogue then it will become the century peace. I will not see this in my lifetime but we must start working on it. Those below thirty are the generation of the 21st century. You have to stop violence with your will, vision and wisdom," he said.
Responding to a query on the recent killings in Paris, the Tibetan leader said, "All this wrongdoing…Awful sort of wrongdoing…We cannot blame the person, we should blame it on their short-sightedness, anger and ignorance."
The Tibetan leader called himself a Marxist saying many Marxist leaders today have become Capitalists in thinking and approach. "As far as social-economic theory is concerned, I am still a Marxist," said the Tibetan leader, adding that he admires Marxism as it focussed on bridging the gap between rich and the poor.
"Many Marxist leaders are now capitalists in their thinking. It depends on their motivation, thinking, wider perspective," the spiritual leader told an audience of professors and students. "In capitalist countries, there is an increasing gap between the rich and the poor. In Marxism, there is emphasis on equal distribution. That is very crucial to me," he added.
The Tibetan leader later spoke at the Kolkata Chamber of Commerce.