WASHINGTON: India's Prime Minister Narendra Modi warned on Thursday that "state actors working with nuclear traffickers and terrorists present the greatest risk" of nuclear terrorism, as the United States led the way by announcing a downsizing its nuclear stockpile at the global nuclear security summit that began in Washington.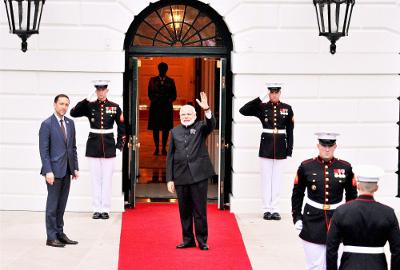 In a brief intervention during a dinner hosted by US President Barack Obama at the White House, Modi, seated beside the American President, pointedly said "without prevention and prosecution of acts of terrorism there is no deterrence against nuclear terrorism."
He did not name any country, but the inference was inevitable given New Delhi's difficulties in convincing Pakistan to stem the terror campaign against India even as Islamabad had made a token show of investigating and prosecuting some terror attacks.
Pakistan has also made a show of arresting an alleged Indian spy in Balochistan and charged New Delhi with fomenting terrorism in its territory, but the allegations carry little weight given Pakistan's long history of exporting terrorism across the western world beyond the subcontinent – from San Bernardino and New York to London.
Amid the visit of a Pakistani investigating team to India to examine the scene of the Pathankot terror attack, Modi pointedly said "the reach and supply chains of terrorism are global; but genuine cooperation between nation states is not." The remark also appeared to be aimed at China, which this week thwarted India's effort at the U.N to designate Jaish-eMohammed chief Masood Azhar as a terrorist, and whose leader Xi JinPing was seated on Obama's right.
"Drop the notion that terrorism is someone else's problem and that 'his' terrorist is not 'my' terrorist. Terrorism is globally networked. But we still act only nationally to counter this threat," Modi said, to no apparent reaction from Xi.
But New Delhi appeared to have made some headway with his hosts as Washington announced that it has in partnership with Saudi Arabia sanctioned various Pakistani individuals and entities for terrorism (see separate story).
Meanwhile, on the nuclear front, the United States announced that it is declassifying its nuclear stockpile inventory while urging other countries to follow suit and institute transparency.
The newly declassified information shows that, from 1996 to 2013, U.S. Highly Enrich Uranium inventories decreased from 740.7 metric tons to 585.6 metric tons, a reduction of over 20 percent. Further reductions are underway, US officials said.
"This type of information sharing, subject to respective national laws and procedures, is an important part of the effort to strengthen global nuclear security. The U.S. commitment to sharing appropriate nuclear security-related information has also been demonstrated by transparency visits by officials from non-nuclear weapons states to Los Alamos and Sandia National Laboratories. These actions show that countries can increase transparency without revealing sensitive information," said a factsheet issued by the White House.