Today was Easter Sunday (here in Canada) largely celebrated throughout the world by Christian community in their own way as a day to mark "resurrection" of Jesus.

But apparently it was a great opportunity to 'deceive' people of (South) In

dia – mainly Hindus! From now on it shall be referred as "Saffron Easter"!? This is just one of many examples of missionaries 'deceiving' people to convert, we have shared many of these tactics on several occasions before.

Ironically, it is interesting to note that 99% of these people don't even realize or understand what Easter is about, apart from what is told to them in the church. In reality, Easter is a pagan festival adopted by the church along with many other pagan celebrations including Christmas throughout centuries.

The pagan roots of Easter

Easter is a pagan festival. If Easter isn't really about Jesus, then what is it about? Today, we see a secular culture celebrating the spring equinox, whilst religious culture celebrates the resurrection. However, early Christianity made a pragmatic acceptance of ancient pagan practises, most of which we enjoy today at Easter. The general symbolic story of the death of the son (sun) on a cross (the constellation of the Southern Cross) and his rebirth, overcoming the powers of darkness, was a well worn story in the ancient world. There were plenty of parallel, rival resurrected saviours too.
The Sumerian goddess Inanna, or Ishtar, was hung naked on a stake, and was subsequently resurrected and ascended from the underworld. One of the oldest resurrection myths is Egyptian Horus. Born on 25 December, Horus and his damaged eye became symbols of life and rebirth. Mithras was born on what we now call Christmas day, and his followers celebrated the spring equinox. Even as late as the 4th century AD, the sol invictus, associated with Mithras, was the last great pagan cult the church had to overcome. Dionysus was a divine child, resurrected by his grandmother. Dionysus also brought his mum, Semele, back to life.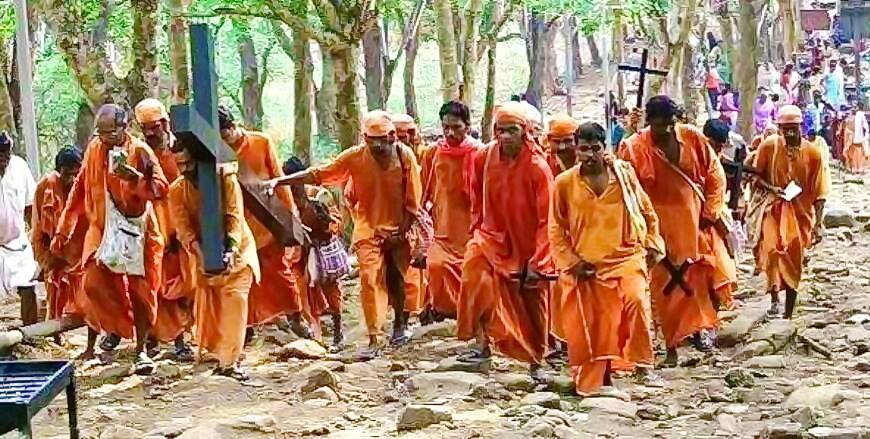 In an ironic twist, the Cybele cult flourished on today's Vatican Hill. Cybele's lover Attis, was born of a virgin, died and was reborn annually. This spring festival began as a day of blood on Black Friday, rising to a crescendo after three days, in rejoicing over the resurrection. There was violent conflict on Vatican Hill in the early days of Christianity between the Jesus worshippers and pagans who quarrelled over whose God was the true, and whose the imitation. What is interesting to note here is that in the ancient world, wherever you had popular resurrected god myths, Christianity found lots of converts. So, eventually Christianity came to an accommodation with the pagan Spring festival. Although we see no celebration of Easter in the New Testament, early church fathers celebrated it, and today many churches are offering "sunrise services" at Easter – an obvious pagan solar celebration. The date of Easter is not fixed, but instead is governed by the phases of the moon – how pagan is that?
All the fun things about Easter are pagan. Bunnies are a leftover from the pagan festival of Eostre, a great northern goddess whose symbol was a rabbit or hare. Exchange of eggs is an ancient custom, celebrated by many cultures. Hot cross buns are very ancient too. In the Old Testament we see the Israelites baking sweet buns for an idol, and religious leaders trying to put a stop to it. The early church clergy also tried to put a stop to sacred cakes being baked at Easter. In the end, in the face of defiant cake-baking pagan women, they gave up and blessed the cake instead.
Easter is essentially a pagan festival which is celebrated with cards, gifts and novelty Easter products, because it's fun and the ancient symbolism still works. It's always struck me that the power of nature and the longer days are often most felt in modern towns and cities, where we set off to work without putting on our car headlights and when our alarm clock goes off in the mornings, the streetlights outside are not still on because of the darkness.
By – Heather McDougall , The Guardian