The most influential pro-Islamic State Twitter account to be followed by foreign jihadis – Shami Witness – is shut down after a Channel 4 News investigation uncovers the identity of the man behind it.
He spent his mornings, afternoons and evenings sending thousands of tweets of propaganda about the Islamic State militant group, acting as the leading conduit of information between jihadis, supporters, and recruits.
His tweets, written under the name Shami Witness, were seen two million times each month, making him perhaps the most influential Islamic State Twitter account, with over 17,700 followers.
Two thirds of all foreign fighters on Twitter followed him. When a fighter's Twitter account is suspended, he often promoted the new one and urged people to follow it.
He spoke to British jihadis regularly, before they leave to join the Islamic State, after they arrived, and if they died he praised them as martyrs.
He has until now been able to remain anonymous, avoiding questions about his motives and his central role in the Islamic State's propaganda war, but a Channel 4 News investigation can today reveal that the man operating the account is called Mehdi and he is an executive in Bangalore working for an Indian conglomerate.
Channel 4 News has chosen not to reveal his full name as he says his life would be in danger if his true identity was made public.
Mehdi said he would have gone to join Islamic State himself, but his family were financially dependent on him: "If I had a chance to leave everything and join them I might have.. my family needs me here."
On his Facebook pages he regularly shares jokes, funny images and talks about superhero movies, posting pictures of pizza dinners with friends, and Hawaiian parties at work.
Elsewhere on Facebook there are indications of his Islamist ideology, in conversations about Libya and Egyptian uprisings.
After being contacted by Channel 4 News, Mehdi shut down the Shami Witness account.
Social media conflict
A recent report by the Brookings Institute found social media to be one of the key organizational strengths of the Islamic State, finding that it uses such channels "to spread and legitimise IS's ideology, activities, and objectives, and to recruit and acquire international support."
The man behind Shami Witness posted thousands of updates to the @ShamiWitness Twitter account every month, usually from his mobile phone.
Using the @ShamiWitness account he five times tweeted the video of the execution of US aid worker Peter Kassig, and dozens of Syrian soldiers within minutes of it being uploaded to the internet.
"May allah guide, protect, strengthen and expand the Islamic State … Islamic State brought peace, autonomy, zero corruption, low crime-rate", he wrote on Twitter in November.
Mehdi said of Iftikhar Jaman, one of the British jihadists from Portsmouth killed fighting for Islamic State, that: "you bros [brothers] talked the talk, walked the walk".
And he said to British fighter Mehdi Hassan "May Allah give you brothers decisive victory there". Hassan later died fighting in Kobane.
To another British fighter he said: "may Allah reward you" and quoted one British fighter's suggested that the rebel Islamic Front poses a greater risk to the Islamic State than the secularist rebels of the Free Syrian Army.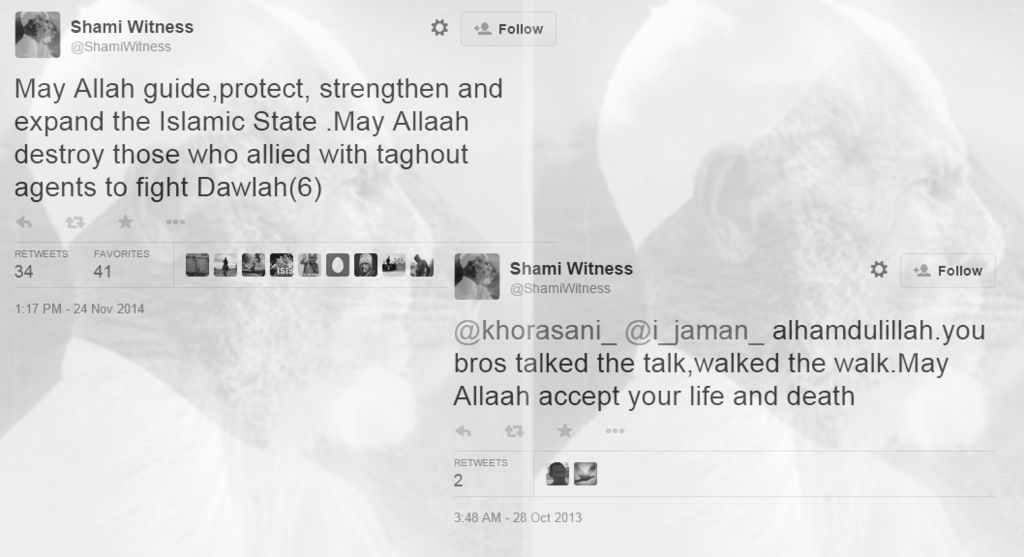 ShamiWitness seemed to express glee at the deaths and rapes of Kurdish fighters on Twitter, but later said that this comment was taken out of context.
He had written and later deleted the tweet where he said: "@ArjDnn I should thank PKK for recruiting female fighters, specially the ones caught alive by rebels. lol".
But in his real life, he had spoken out against rape on Facebook.