The Ministry of Home Affairs (MHA), after seeking a report from 10 States, has decided to formulate a 'coherent national strategy' on the Islamic State.
The Centre has woken up to the threat posed by the terror outfit, Islamic State (IS), to India as it seeks to expand its global footprint and enroll 'fighters' terrorists  from all over the world.
On March 19 this year, Union Home Minister Rajnath Singh had informed the Lok Sabha that the IS had negligible support from the Indian youth, but his Ministry doesn't think so.
For the first time, the Ministry of Home Affairs (MHA), after seeking a report from 10 States, has decided to formulate a 'coherent national strategy' on the IS.
Towards this end, Union Home Secretary L.C. Goyal is expected to hold a meeting of Home Secretaries of the 10 States this month. The Intelligence Bureau (IB) as well as the Research and Analysis Wing (R&AW) will give a presentation on the impact of the IS in India.
The States that sent their reports to the Centre are Uttar Pradesh, Bihar, West Bengal, Karnataka, Maharashtra, Kerala, Telangana, Andhra Pradesh, Assam and Tamil Nadu.
A senior government official said there was a high probability that Indian intelligence agencies were not aware of the true dimension of the IS and it was being underplayed. "IS is expanding its global base and it is high time that India took it seriously," he said.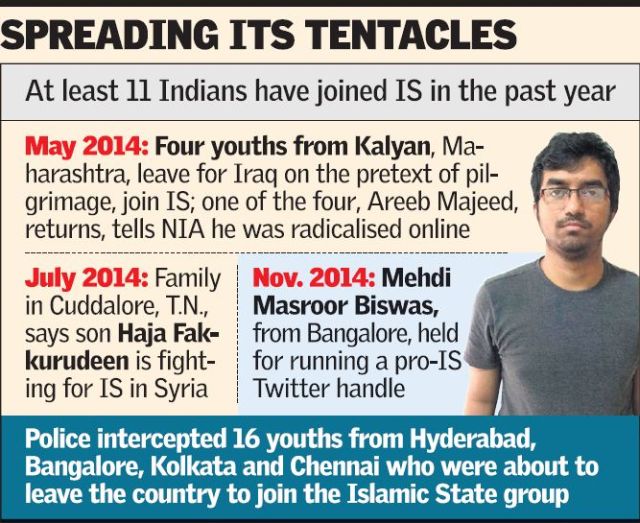 In May 2014, four men from Kalyan in Maharashtra went to Iraq on the pretext of pilgrimage and joined Islamic State (IS). One of the four — Areeb Majeed — returned to India and was arrested by the National Investigation Agency (NIA). He told investigators that he got radicalised online.
There have been conflicting reports about the number of young men who have travelled to Syria-Iraq to join the IS. Latest estimates say that at least 11 men of Indian origin have joined the IS in the past one year.
Agencies are still in the dark about the number of IS sympathisers and recruiters operating out of India.
In July 2014, a Cuddalore-based family informed police that they got a phone call from their son Haja Fakkurudeen (38) that he was fighting alongside the IS in Syria.
In November 2014, an electrical engineer from Bengaluru, Mehdi Masroor Biswas, was arrested for running a pro-IS Twitter handle — @shamiwitness. Though no direct links with the IS have emerged so far, he was relaying the militant outfit's propaganda.
At least 16 youths from Hyderabad, Bengaluru, Kolkata, Chennai have been stopped from leaving the country from joining the IS after their parents informed the police in time. All of them said they were recruited by the IS through cyberspace.