BJP MLA Ganesh Joshi denies attacking horse, posts new video
The Uttarakhand politician went on to claim that he was not there at the march organised by his party and the horse was attacked by an unknown person.
BJP's Mussoorie MLA Ganesh Joshi has posted a video on Facebook to defend himself and blamed the media for spreading misinformation:
A horse deployed as part of mounted police was injured during a protest march by BJP to the state Assembly on Tuesday with the ruling Congress alleging that it sustained injuries after being attacked by Ganesh Joshi, a charge denied by the opposition party. The incident happened during BJP's march against "corruption and poor law and order" to the state Assembly which was stopped at barricades put up by the Uttarakhand Police near Ripsana bridge, a few metres from the state Assembly premises.
Hours after the incident, two videos, one of them purportedly showing the horse's broken hind leg and the other showing the BJP legislator from Mussoorie attacking the horse with a lathi from the front, went viral sparking an allegation by Chief Minister Harish Rawat's media in-charge Surendra Kumar that the animal had "fallen a victim to Joshi's cruelty".
.
Shaktiman (Horse) will make full recovery in 6 weeks!
FOR THE last 20 hours, constable Ravinder Singh has not left the side of his friend, Shaktiman, a 14-year-old Kathiawari mare, who became a victim of protesters' wrath on Monday.The horse was hit with wooden sticks, allegedly by BJP MLA Ganesh Joshi and his associates. Under attack, Shaktiman kept stepping back from the group of protesters, till one of her legs buckled and got stuck in a railing. But the attack did not stop. Unable to move away from the mob, her left hind leg started bleeding profusely and she collapsed.
She suffered multiple fractures on her left hind leg bone. Local veterinary doctors, on Monday, feared that the damaged leg may have to be amputated. But on Tuesday, a team of veterinary doctors performed a five-hour-long operation on Shaktiman, after which they announced that she should be back on her feet in six weeks.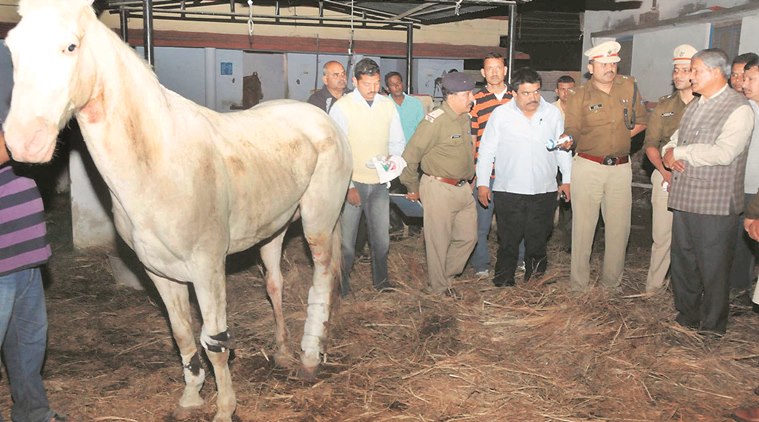 "An external skeletal fixator has been put on her left hind leg… The entire operation was conducted under general anaesthesia. Our fear is that the horse may have contracted some infection in the last few hours. She will be under observation for a few weeks. We are hoping that in the next few weeks, she will not only be able to walk but also run," said Dr A K Das, from the Department of Veterinary Surgery and Radiology, College of Veterinary and Animal Sciences at Govind Ballabh Pant University of Agriculture and Technology in Pantnagar.
Ravinder Singh, who has been in-charge of Shaktiman for the last five years, said she is "a fighter". "She is one of the most intelligent and disciplined horses that we have at present. Even on Monday, when she could have retaliated and attacked the protesters, Shaktiman showed exemplary discipline," he said.
Inside a makeshift tent at Police Lines, Shaktiman had a steel rod fastened to her left hind leg while red bandages were tied on the other legs. "We are making another tent for her where she can recuperate. It will be ready by tonight," said Singh.
"After the brutality that she has undergone, this is the least that we can do for her. She has been a source of pride, not just at Republic Day and Independence Day functions, but even when she was part of the Kedarnath Yatra programme. I spend 18 hours daily with her. How can I not be here when she needs me?" said Singh.
Brought from Delhi in 2006 when she was four years old, Shaktiman is a snowy-white, 5 feet 8 inches tall, Kathiawari mare. She received training at the Maharaja Ranjit Singh Academy, Phillaur, in Punjab. Considered one of the oldest horse breeds in the country, Kathiawari horses have great stamina and endurance.