Jehad has a new hunting ground. Social media has become a fertile platform for terror groups to recruit youth, giving jitters to counter-terror agencies, as they find it tough to crack the cyber world. After the arrest of Mehdi Masroor Biswas, the Bengaluru-based executive who was allegedly putting up material favouring terror group Islamic State (IS), intelligence agencies have woken up to the threat in cyber space that has become the new formula for terror groups.
Intelligence agencies are now closely watching activities on social media as it's believed that Indian youth is on the radar of the global jehadists. Sources say there are close to 30,000 such Twitter handles and other social media forums along with websites that are spewing venom, and little can be done to monitor those and act on time. The Centre has decided to set up a high-level committee to only monitor social media and cyber space. The panel is expected to include experts from outside the government and senior intelligence officials from Intelligence Bureau, Research and Analysis Wing, and the National Technical Research Organisation.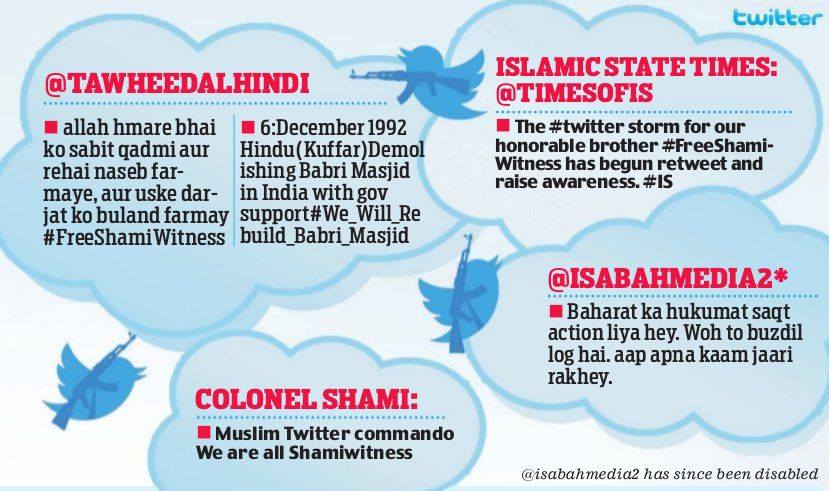 An intelligence official said: "We are keeping a close watch on activities on the social media. It's a hunting ground for jehadis and the Islamic State is very active, pushing its propaganda in the cyber space." Other than @Shamiwitness, there are more Twitter handles like @MagnetGas with radical views and pro-Islamic State (IS) tone that are under the lens. What is disturbing is that many are India specific and some are suspected to be operated by Indians.
"India is so much in fear of the IS that they detained the Twitter supporters of IS@SHAMI WITNESS. This is called fear from 1,000 of miles away," a Tweet on @MagnetGas said on December 18.
It is suspected that an Indian is running this account and he could be one of the Kalyan youths who joined the IS. He is suspected to be frequently travelling between Iraq and Turkey.
Sources indicate that investigations are indicating that Biswas who was running IS@SHAMI WITNESS could be more than a mere IS supporter and could have direct links with some operatives of the Sunni jehadi group in Iraq and Syria. There is Twitter support pouring in for Biswas. "Allah hmare bhai ko sabit qadmi aur rehai naseb farmaye,aur uske darjat ko buland farmay #Free ShamiWitness (May Allah ensure his release and bring glory to him) tweeted tawheedalhindi.

Sources say the India-specific venom on the social media is an indication that global jehad is not just targeting India but also wishes to attract youth to the radical ideology. "It is through Twitter and Facebook that recruits are identified and their indoctrination begins by involving them in discussions, videos and write-ups," said an official.
On the anniversary of the 2008 Batla House encounter earlier on September 19, Ansar-Ul-Tawhid (AuT) on Twitter handle @isabahmedia2 vowed to take revenge for the killings of Indian Mujahideen (IM) operatives and called Atif Ameen and Mohammed Sajid, the two who were killed as "martyrs".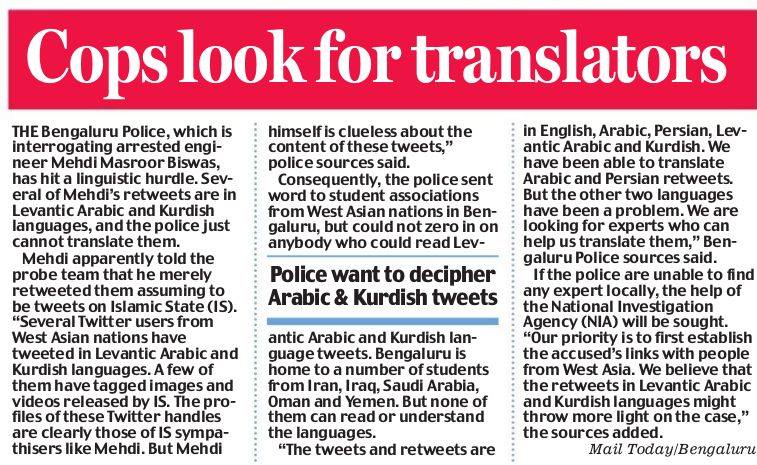 Intelligence agencies attribute this support to the close proximity that some IM operatives have with global jehadi groups like AuT and al-Qaeda. Sources say there are more than 20 IM members in Pakistan and some of them due to differences within the group and the ISI are said to be fighting in the Af-Pak region after getting in touch with the al-Qaeda. "Its elements like these who are in touch with their operatives in India to join the global jehad," an official said.
Counter-terror officials believe that the jehad nexus has a huge bearing on India as youth active on the social media are vulnerable to the propaganda being carried out.
Cops look for translators
The Bengaluru Police, which is interrogating arrested engineer Mehdi Masroor Biswas, has hit a linguistic hurdle. Several of Mehdi's retweets are in Levantic Arabic and Kurdish languages, and the police just cannot translate them.
Mehdi apparently told the probe team that he merely retweeted them assuming to be tweets on Islamic State (IS). "Several Twitter users from West Asian nations have tweeted in Levantic Arabic and Kurdish languages. A few of them have tagged images and videos released by IS. The profiles of these Twitter handles are clearly those of IS sympathisers like Mehdi. But Mehdi himself is clueless about the content of these tweets," police sources said.
Consequently, the police sent word to student associations from West Asian nations in Bengaluru, but could not zero in on anybody who could read Levantic Arabic and Kurdish language tweets. Bengaluru is home to a number of students from Iran, Iraq, Saudi Arabia, Oman and Yemen. But none of them can read or understand the languages.
"The tweets and retweets are in English, Arabic, Persian, Levantic Arabic and Kurdish. We have been able to translate Arabic and Persian retweets. But the other two languages have been a problem. We are looking for experts who can help us translate them," Bengaluru Police sources said.
If the police are unable to find any expert locally, the help of the National Investigation Agency (NIA) will be sought. "Our priority is to first establish the accused's links with people from West Asia. We believe that the retweets in Levantic Arabic and Kurdish languages might throw more light on the case," the sources added.