Shahnawaz, 40, was beaten to death by five thugs because his bike – stuck in traffic – was blocking their way
His sons, aged nine and 13, begged bystanders and nearby police for help, but were told to 'call 100'
Victim was rushed to nearby Lok Nayak Jaiprakash Hospital but died en route
A day later, 200 protesters blocked central Delhi to demand immediate arrest of the attackers
At around 10.30pm on Sunday, Turkman Gate lived up to Delhi's reputation as a city that has lost its soul. 
Two children, 13 and nine years old, stood wailing and begging bystanders as five local strongmen mercilessly beat their father to death over a traffic quarrel. Road rage claimed another life. No one in the crowd came forward. The police did not arrive from a chowki merely 50 metres away. 
You could tick every item on Delhi's infamous check-list. 
When no one came to their father's rescue, the hapless children ran to the cops, who asked them to call 100. By the time the police reached the spot, their father was lying in a pool of blood, and was declared dead on arrival at the Lok Nayak Hospital. 
The death of 40-year-old Shahnawaz has shaken the city. Murders are commonplace in the Capital, but a man being thrashed to death because his motorcycle grazed a car as bystanders watched in silence is a new low even by Delhi's standards. 
Also, while Delhi Police Commissioner B.S. Bassi boasts about the new police motto "Shanti, Seva or Naya" and compares the force to the best-rated police departments across the globe, his men stood and watched Shahnawaz die without raising a finger. 
According to the Delhi Police, Shahnawaz was returning home from a family function with his two sons on a motorbike when it grazed a car near Turkman Gate in Daryaganj.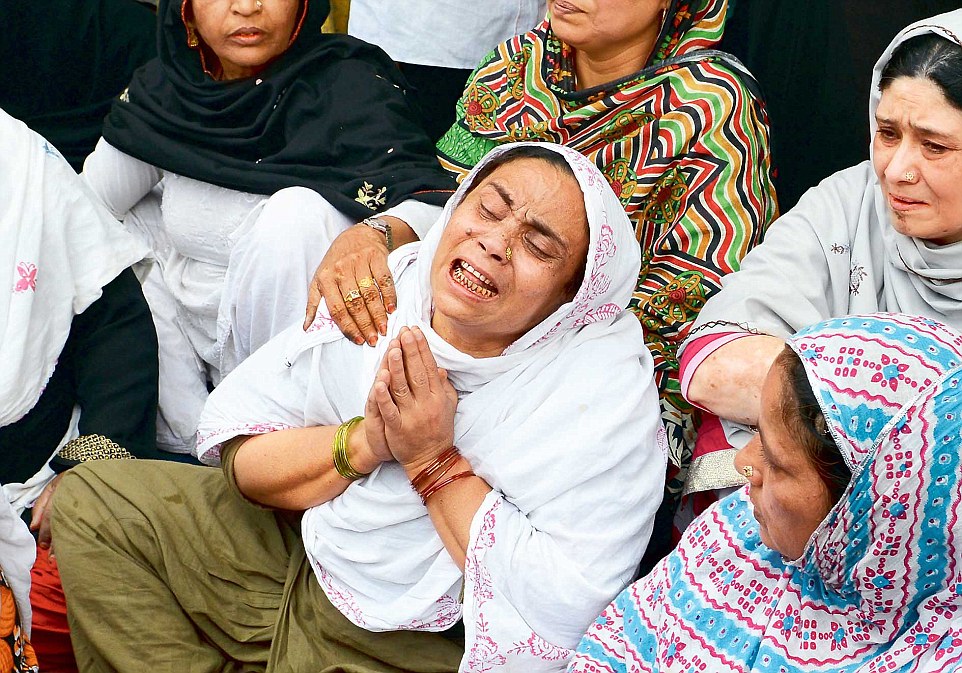 Iron rods 
The driver of the i20 car, identified as Shadab, got into a verbal spat with Shahnawaz. Shadab reportedly told Shahnawaz to move his bike as he was unable to manoeuvre his car. 
When Shahnawaz expressed his inability to do so due to heavy traffic, Shadab, along with Khalid Amin, another occupant of the car, started thrashing Shahnawaz with iron rods. 
Later, three other occupants of the car,  Atif Lala, Mohammed Wasim, and another unidentified person, got out and joined them. 
Seeing their father being attacked so mercilessly, Fahad and his younger brother Kaif tried to hold back the accused, but were pushed aside. The boys then ran to the nearest barricade where two policemen were standing and begged them to help their father. 
'Dial 100' 
The cops allegedly told them to dial 100. The children then ran to their grandmother's house nearby and said: "Abu ki bahar ladai ho gayi hai kuch logo ke saath (Dad is involved in a fight outside with some people)". 
By the time the family reached the spot, it was already too late. 
Shahnawaz, bleeding heavily, was rushed to the nearby Lok Nayak Jaiprakash Hospital where he was declared dead on arrival. 
Residents of Delhi's Turkman Gate allege that main accused Khalid Amin alias Amin Pahalwan belongs to a family of goons, and all his 17 brothers are involved in illegal activities.
In 2011, Amin was involved in a fight with former MLA Shoaib Iqbal. Three of the other accused in the Turkman Gate killing were also embroiled in that case.
Amin was initially a petty criminal. He was first arrested along with an associate in 1995 in an attempt to murder case from Seelampur area of North-East Delhi. The rogue element of Chandni Mahal area started a construction business since 2010.
"He has a construction and a handicraft business, but he is involved in various criminal cases. His brothers are also facing criminal charges," a senior police officer said.
Amin is allegedly involved in eight criminal cases – robbery, an attempt to murder, rioting and incidents of causing hurt.
"He always carries a country-made pistol and a knife," police sources said.
Importantly, Amin enjoys good connections with the local police as his day-to-day work requires their co-operation.
Relatives of the road rage victim identified some of the accused on an AAP hoarding in the area. However, a local AAP leader said they were not members of the party.
~ Source: Daily Mail