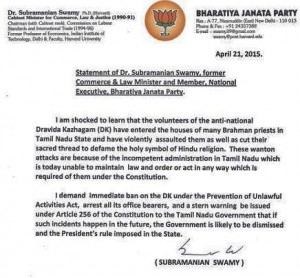 Atleast three incidents of attacks on Brahmins including the forcible removal of the poonal (sacred thread) from a senior citizen have been reported in Chennai in the last two days.
After an attack on a Mylapore priest on Monday, two other attacks were reported in Triplicane and T Nagar. "They beat him up and threw away his poonal," said Mangalana Gurukka, who complained to the police after a group of ten to twelve people beat up his 78 year old father, Vishwanathan Gurukka.
"He was returning from the temple when they surrounded and beat him. Since it was dark he couldn't see," said Gurukka."They kept yelling 'Periyar Vazhaga' ," he said explaining that incident had occurred on Monday evening.
However, separate attacks on Brahmins continued on Tuesday allegedly conducted by members of the Dravida Viduthalai Kazhagam, of which six are said to be in police custody. In another attack a 12 year-old boy was targeted.
Six people have been taken into custody here for attacking elderly Brahmins and forcibly cutting their sacred thread called 'poonal', police said on Tuesday.
According to police, four DVK activists were taken into custody on Monday and two were held on Tuesday.
The Bharatiya Janata Party's Tamil Nadu unit president Tamizhisai Soundararajan said she was shocked and condemned the attacks.
However, major political parties in the state were silent on the issue.
BJP leader H. Raja, on the other hand, suspected the hand of the Dravida Kazhagam's president, DK Veeramani to be involved in the attacks. He then called for a ban against the party and also demanded the arrest of its leader . DK's Veeramani had earlier courted trouble after he presided over a thaali-removal function, an event which was denied permission by the police.