Female warriors lining up to take on jihadis
AK-47-wielding One Direction fan Sgt Sazan Taib is IS's worst nightmare.
Unveiled and a proud Muslim, the 23-year-old is a volunteer with Kurdistan peshmerga fighters who spread fear among IS when face to face on the front line.
Sazan tells me: "They run away from us. They are terrified, it's good for us."
Her commander in the 500-strong women-only 2nd Battalion, based in Sulaymaniyah in the Kurdistan region of northern Iraq, is 49-year-old Colonel Nahida Ahmad Rashid.
The Colonel, a married mum-of-one, explains why Daesh — as IS are scathingly called here — flee from them.
She says: "Daesh are worried that if they are killed by a woman on the battlefield they won't go to paradise.
"It's a weapon for us. They don't like to be killed by us.
"But we know we must never be captured by Daesh. They don't treat women like human beings."
Her deputy was killed in a fierce fire fight with IS last October, and the Colonel knows the revolting fate awaiting her soldiers if they become prisoners of war.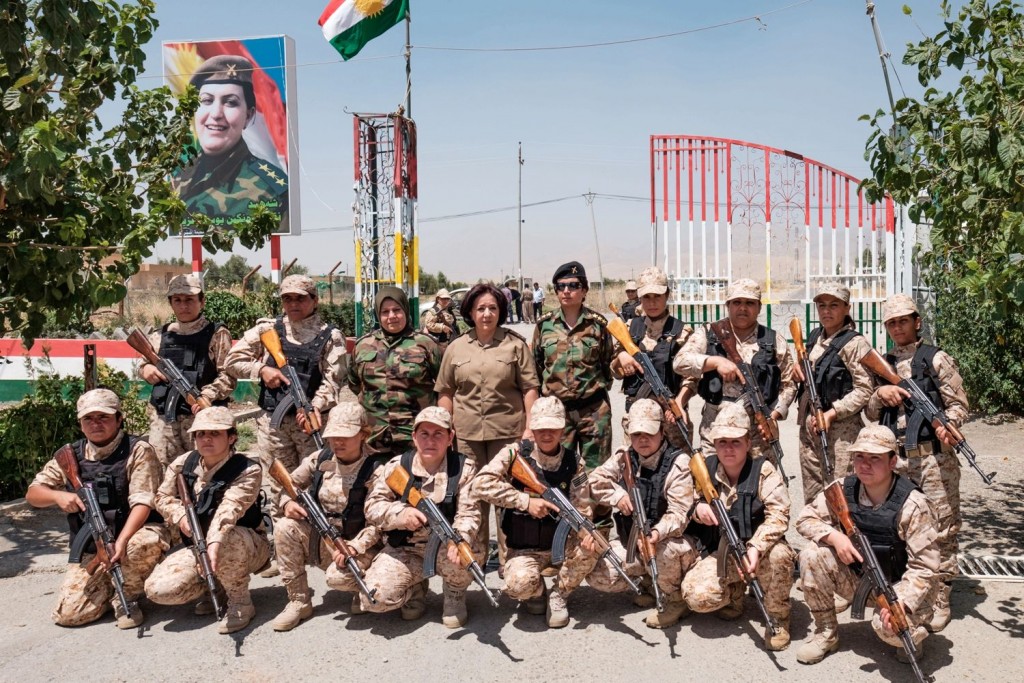 IS use women as war bounty, raping and enslaving thousands from the Yazidi religious minority.
The Sun told recently how one IS commander drove an 11-year-old girl into battle strapped to the bonnet of his Humvee as a human shield. In the evenings he rapes her.
And last week it emerged that IS's shadowy leader Abu Bakr al-Baghdadi kept US aid worker Kayla Mueller as his personal sex slave.
The self-declared caliph repeatedly raped the 26-year-old from Prescott, Arizona, before IS declared her dead from a coalition airstrike in February. The true circumstances of her death are unknown.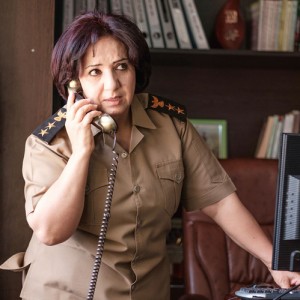 Colonel Rashid admits her soldiers "keep a bullet back" in case they are captured by IS.
She says: "We have seen what they have done to the Yazidi women and they have not taken up arms against Daesh. So we know that our fate would be very bad.
"Daesh have put my photograph on their website and encouraged their members to capture me. They set an ambush for us in Kirkuk recently. They wanted to kidnap us but it was foiled."
She adds, defiantly: "I'm not hiding. We were so close to Daesh at the front line at Kirkuk I could see them with my own eyes. You know you might be killed. And if they have a sharp knife I won't suffer much."
The Colonel has an 11-year-old daughter and her husband Aram Ibrahim, 48, works at the electricity department for the local government. She says her family accept the dangers she faces, explaining: "I was in the peshmerga before I was married.
"When I met my husband I said, 'This is my job. Take it or leave it'.
"When I was at the front line I didn't tell him. I didn't want to worry him."
She shakes her head when I ask about British jihadi brides who leave the freedoms of the UK for life inside the brutal IS.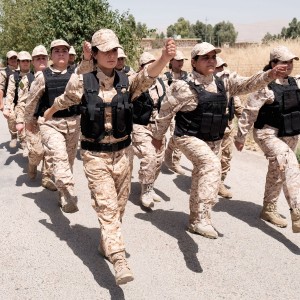 "These British women have been deceived by Daesh's propaganda," she says.
"Daesh don't believe in women, not even their own. They use them as suicide bombers.
"There is no freedom for women there. It's like they put women in a jail by keeping them in the home and making them cover every part of the body if they go out.
"They use women for their own disgusting purposes."
The peshmerga — which translates as "Those who confront death" — also promote women's rights and equality.
Colonel Rashid says: "We believe we are unique in the Middle East. We teach equality. We provide shelter for women who have suffered domestic abuse. About 85 per cent of peshmerga women are university students. We've created a generation of educated women here.
"We allow our soldiers to marry. They stay with us until they're eight months' pregnant and can take a year maternity leave, six months on full pay."
A fan whirrs noisily in her neat office at the Sulaymaniyah cantonment as temperatures soar above 45C.
Outside Sazan and her fellow peshmerga practise drill under the blast furnace Iraqi sun.
The sergeant, who earns £380 a month, has already completed a four-mile run. Every few days she hones her skills with a Kalashnikov on the shooting range.
Sazan, who is single, says: "Some people say it's a shameful thing we are doing. But it's my decision. I do what I want.
Outside soldiering, she likes cooking and listening to Western pop music.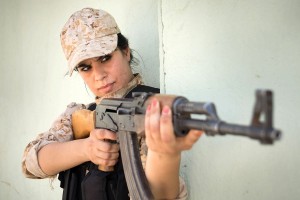 "I love music," she says. "My favourite group is One Direction. I like Harry Styles best. I also like Shakira."
Her friend Staff Sergeant Asnoor Azad, 21, who has a two-month-old son, says: "I served on the front line.
"It's normal for us to be both a mother and a soldier. I'm a good shot.
"Daesh treat woman badly. We have to stop them."
Renas Jamal, 23, a £270-a-month Private, tells me: "I'm on guard duties at the moment because I have two young children. We fight like men and die like men. My cousin was martyred fighting Daesh. She was very brave."
Her cousin was Captain Rengin Yusuf, a 25-year-old mother-of-two, a crack shot and the Colonel's deputy. She died seven days after being hit on the head by shrapnel during a Kurdish-led offensive near Kirkuk last October.
Colonel Rashid says: "She was a sniper, one of the peshmerga's best, a committed and educated woman.
"At the shooting range she was quicker and more accurate than the men.
"She was a wonderful mother and like a daughter to me. I'm so proud of her."
A fallen warrior in the fight against the woman-abusing creed of IS.
Terror in their sights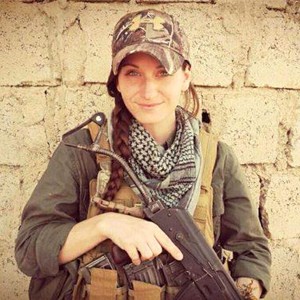 THE peshmerga aren't the only women who are fighting IS.
A trickle of Western women have made their way to the killing fields of Iraq and Syria.
The most famous of them is former US soldier Samantha Johnston. The mother-of-three, 25, who recently returned from Iraq, wrote on Facebook: "You can send me death threats after death threats but I am not afraid. I am a woman of my word and I swear we will defeat the Islamic State."
Samantha, from Emerald Island, North Carolina, served from 2008 to 2011 as an engineer with the US Army.
She added: "These children here who are homeless, orphaned — mothers and sisters have been raped and sold, fathers have been killed — they are suffering, and I couldn't just sit and do nothing. I couldn't look my children in the eyes and say, 'I didn't do anything to help.'"
Canadian-Israeli Gill Rosenberg was the first foreign woman to help the Kurds in their fight against IS. She spent eight months with YGP guerrillas in Syria and the Dwekh Nawsha, a Christian militia in Iraq.
In March of this year a 19-year-old German became the first female foreign fighter to be killed battling IS alongside Kurdish militia.
Ivana Hoffman was fatally wounded in combat near Tal Tamr, in north-western Syria, fighting with the YPG.
---
— MANY in the Middle East refer to IS as "Daesh" because the jihadis loath it and it is felt that calling them ISIL legitimises the self-declared caliphate.
Daesh comes from an Arabic acronym for Islamic State of Iraq and the Levant.
But it sounds like the Arabic words Daes "one who crushes something underfoot" and Dahes "one who sows discord".
Simon Collis, British ambassador to Saudi Arabia, said: "Arabic speakers spit out the name Daesh with different mixtures of contempt, ridicule and hostility. Daesh is always negative."