The Archaeologists and a team of Jahangirnagar University have unearthed an Hindu temple believed to be over 1,100 years old at Bochaganj upazila of Dinajpur in northwestern Bangladesh.
"This is a small temple and was built sometime between the 8th and 9th centuries during the Pala dynasty," said Prof Swadhin Sen, leader of a Jahangirnagar University team digging out the temple in Maherpur village.
Khademul Nabi Badal, Chairman of Chhatoil union, said the land under which the "historic archaeological beauty" was found, was recently leased to a local for farming.
While cleaning bushes for farming purpose, villagers suddenly noticed some ancient-looking bricks and guessed that there could something of archaeological interest underground.
Learning about the matter, the union chairman instantly informed it to Dr Swadhin Sen, a Professor in JU's Archeology department, who along with his team was working at another "archaeological" site in nearby Basudevpur village.
Prof Swadhin's team consisted of a group of students of the Archeology department and experienced excavators from Mahasthan of Bogra.
The temple was discovered after the team dug the site for days, said Badal.
Some terracotta plaques were found from a trench and the solid objects on the walls surrounding the temple were overly burnt, said members of the team.
Sohag Ali, a team member, said they had detected idols and staircase of the temple built during the Pala period (Eighth to 11th centuries) and were working to dig those out.
Prof Swadhin said they also found a Buddhist temple, built around the same time, at Itakura Mound of Basudevpur village recently. The central edifice of temple was built on a platform of 45 metres.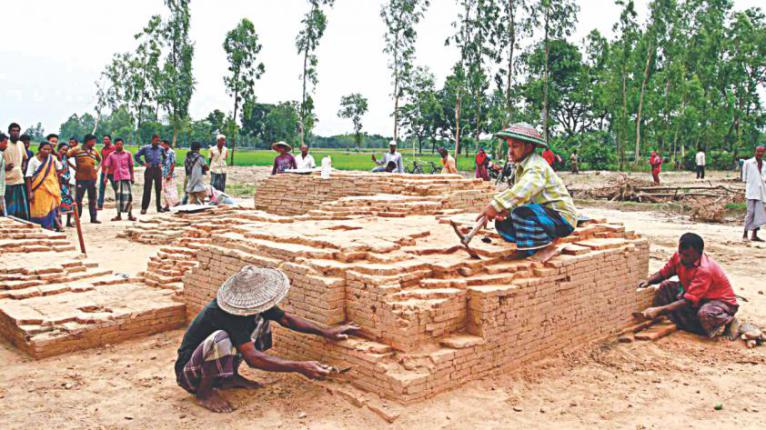 The JU teacher alleged that some criminals tried to damage some part of the newly-discovered temple in Maherpur on the night of 5th May but failed.
"We are going to write a letter to the Ministry of Cultural Affairs seeking protection for the archaeological sites," he said.
Chairman Badal said he would also take initiatives to ensure that the temples are not harmed.
The Dhakeshwari Temple, the national temple of Bangladesh and one of the oldest in the country, was built in the 12th century by Ballal Sen during the Sen Dynasty which ruled the region after Pala kings and in popular notion the country's capital Dhaka was named after this temple.
In the year 2013, the team of Jahangir University found another archaeological siteincluding the relics of Hindu Temples of Pala Period at Belwa village of Ghoraghat upazila in Dinajpur.