As Prithvi (earth) was gradually getting pulled down under into Rasatala and like a weak cow unable to resist the force of the drag into the slush, Bhagavan Vishnu decided to haul up the massive attempt being made by the Daitya Hiranyaaksha. The helpless Prithvi appealed to Narayana who took up the ferocious Form of Varaha Deva to boost it and save her. She cited the example of reinstating Indra and Devas back to Swarga by incarnating Bhagavan as Vamana Deva. As the 'Dhaata'/ the Creator, 'Vidhata' the Preserver and the 'Samharta'/ the Destroyer, his unique powers were displayed everywhere as Manus, Prajapatis, Yama Deva, Agni, Pavana Deva, Megha /Clouds, Varna Dharma, Ashrama Dharma, Samudras, Mountains, Trees, Rivers, Dharma, Kama,Yagna and related activities, Vidya, Human and other Beings, Shri / Opulence, Kirti / Fame, Dhairya /Courage, Kshama / tolerance, Puranas, Vedas, Vedangas, yoga, Sankhya, Janma/Birth, Marana /Death, Bhuta /the Past, Bhavishyat / the Future etc. .
Bhu Devi commended Paramatma further saying:
Bhaasi Vaasi Pratipaasi twam paasi vichestasy,
Kruddhyamasi Ksaantimaayeesi twamdeepayaasi varshasi/
Twam haasyaasi na niryaasi nirvaapayaasi Jaagrasi,
Nih seshayaasi Bhutaani KaaloBhutwaa Yugakshaye/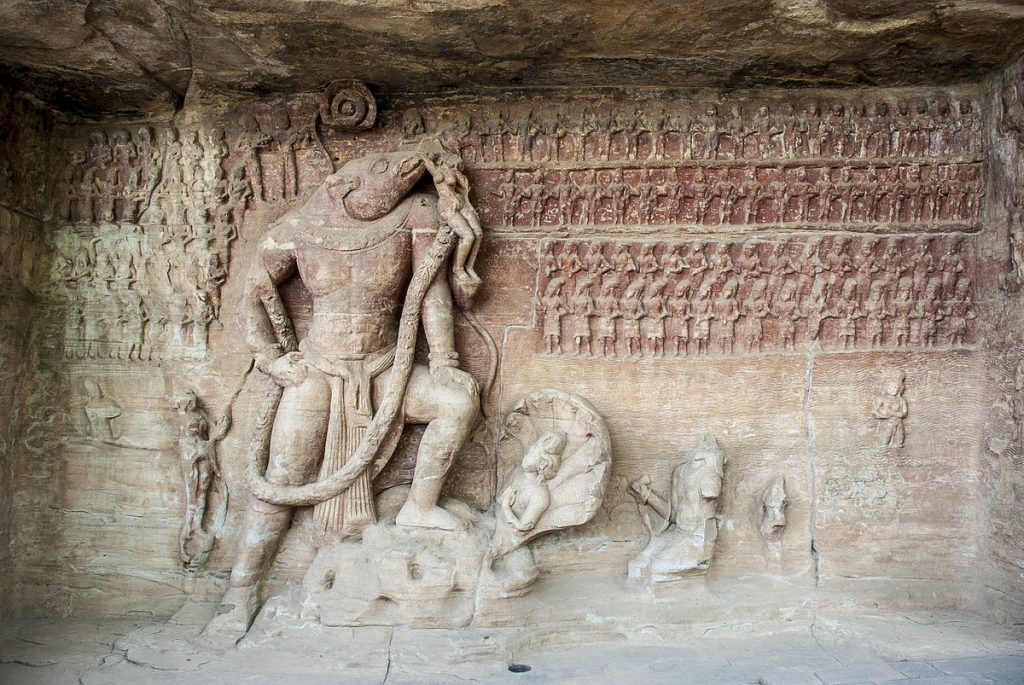 (Paramatma! You shine, you flow, you heat up, you save, and you act decisively; also you get angry, you cool down, you display radiance and heat, you pour rains; You laugh, you stay still, you hit and kill, you wake up and at Pralaya times you destroy and terminate).Interestingly, Bhagavan re-creates the Universe again out of the 'sehsha' or the remainder and hence is called the Sesha. Even as Brahma, Indra, Varuna and all other Devatas are subject to an end, Vishnu is permanent and thus known as Achuta; since others Deities are of the 'haran' type or the ephemeral unlike Narayana, the latter is called Hari; since Brahma and other Devas could not perceive his 'Anta' or the End, Bhagavan is known as Ananta; even for thousands of crores of 'Kalpas' Vishnu remains without 'ksharata' or damage, he is Akshara; as he is capable of 'Vishtambhana' or obstruction to the 'Charaachara Jagat'/ mobile or immobile worlds, Bhagavan is titled Vishnu; as Rishis defined water as 'Naara' and as Bhagavan resides in it, Vishnu who rests on water is Narayana; as Prithvi which is characterised as a 'Gov' / Cow gets submerged in water at the end of each and every Yuga, Bhagavan Narayana is Govinda; in the context of Tatwa Gyana, 'Indriyas' or Human Limbs are excitable with emotions or 'harshikas' and thus Govinda is called Hrishikesha; at the Pralaya, all the Beings from Brahma downward take refuge in Vishnu and also get absorbed into him, Narayana is designated as Vaasudeva; in each and every Kalpaanta / Yugaanta, Total Existence is subjected to 'Akarshana' or gets magnetised to Vishnu and hence he is known as Samkarshana; since Bhagavan separates distinct sectors of Devas, Rakshasas and Asuras, he is known as Samkarshana; as 'Dharma Viseshajna', he is Praduymna; and as no Praani / Being could resist him, he is called Aniruddha. I am your refugee, Bhagavan!
As Prithvi was desperate, Bhagavan replied that since she rendered the Madhaviya Stotra with extraordinary devotion, she would never be let down and be afraid of any untoward happening. He then assumed the form of a 'Varaha':
Shata yojana vistirnarmucchritam dwigunam tatah,
Naala jeemuta samkaasham meghastanitanihswanam/
Girisamhananam Bhimam sweta teekshanaagra damshtrinam,
Vidyudagni prateekaashaama adityasama tejasam,
Peenavrittatayataskandham drupta shaardulagaaminam/
Peenonnata kateedeshey Vrushalakshana pujitam,
Rupasaasthaaya vipulam Vaaraahamajitho harih/
(The Varaha was invincible to any Being in 'Srishti'; its body was spread over hundred yojanas across and was double its height; was like a huge mountain; ferocious and white, its top part with most powerful horns; unvisionable and radiant like lightning and fire; illuminated like Surya Deva; had magnificently broad shoulders, royal gait, etc. with the features of a massive sized bull.)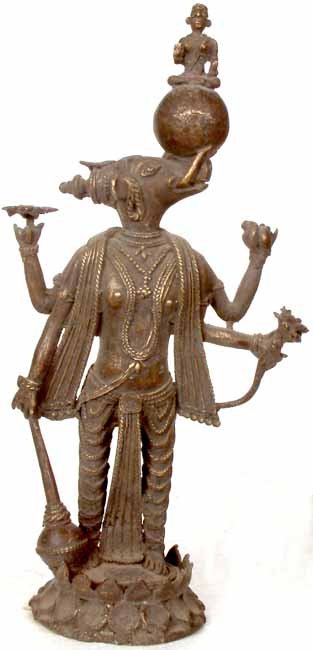 Pruthvyuddharanaiva pravivsha Rasatalam,
Vedapaado yupadamshtrah kratudanti schutibhushanah/
Aajyanaasah struva tundaha Samaghoshaswano Mahaan,
Satya dharma mayah Shrimaan karmavikrama satkrutah/
Praayaschhita nakho ghorah Pashujaanurmukhaakritih ,
Udgeetha homalingostha beejoushadhi mahaakalpah/
Vayavyaaraatmaa yagnaastha vikrutih Somashonitah,
Vedaskandho havirgandho havyakavya vibhagavaan/
Pragavamsha kayo dhrutimaan naanaa deekshaaabhiranvitah,
Dakshinaahrudayo yogi Mahaasatramayo Mahaan/
Upakarmoshtha ruchakah Pravargyavatartha bhushanah/
Naanaachhando gatipatho gruhyopanishadaasanah,
Chhaayaapatnee sahaayo vai mandishringa ivocchhitah/
Rasaatalatalo magnaam Rasaatala talam gataam,
Prabhurloka hitaayaarya damshogrenojjwahara taam/
Tatah Swasthaanamaaneeya Varaahah Pritheedharah,
Mumocha purvam manasaa dhaaritaam cha Vasumdharaam/
Tato Jagaama nirvaanam modini tasya Devaaya sambhavey/
( Vishnu as Varaha thus entered 'Rasatala'; its four feet were like four Vedas; its teeeth like Yagnas, its face was like the Yagna Kunda; its tongue was Yagna; Brahma was like Varaha 'mastaka'/ head; Agni was like his tongue; Kusha grass was like his body hairs; day and night were like his eyes; the Six Vedangas were like the ear-ornaments; Ghrutahuti or the oblations of ghee in a homa was his gulp; Sama Veda was like his raised sound of groan; Prayaschitta like his his fierce nails; his 'rupa'was like Yagna; Vayu like his Antaratma; his blood was like Somarasa; Vedas were like his shoulders; Dakshina was his heart; Upakarma was like the region between his lips; Veda-gamana Marga and Upanidhads were like seat; and Chaaya was like his wife. Such Varaha Murti dived into the depths of Rasatala and with the sheer push of his tusks lifted Bhudevi in one huge lift-up, deposited her on the tusks and in one giant leap emerged to keep her in her original position.Thus the unique 'Achintya' relieved the helplessness of Prithvi Devi forever.)