Doleshwar Mahadev is a temple of Lord Shiva and is located at Jangam math in Sipatol, Bhaktapur, Nepal. It is also considered as a head part of Shri Kedarnath Temple.
For 4000 years people have been searching for the head of (Hindu deity) Kedarnath who assumed the shape of a bull to avoid the five Pandava brothers,the heroes of the Mahabharat. The legend goes back to the fabled battle of Kurukshetra fought between the five Pandava brothers and their cousins, the 100 Kaurava brothers, which is the pivot of the Mahabharata. The Pandavas won, but sorrowed by the loss of lives, they renounced the kingdom they had wrested back and headed for the heavenly abode of the gods, believed to be atop the mighty Himalayan Mountains.
The Pandavas reached the Kedarnath region to seek forgiveness from Lord Shiva for the loss of lives during the 18-day Mahabharata war. But Lord Shiva was not ready to forgive them and he took the form of a bull to avoid them. The Pandavas soon realized that the bull was Lord Shiva and tried to stop it by pulling it's tail. Suddenly the head got separated from the body of the bull and the Pandavas could not locate it. The hump-backed structure at Uttarakhand's Kedarnath temple is worshiped as the holy bull.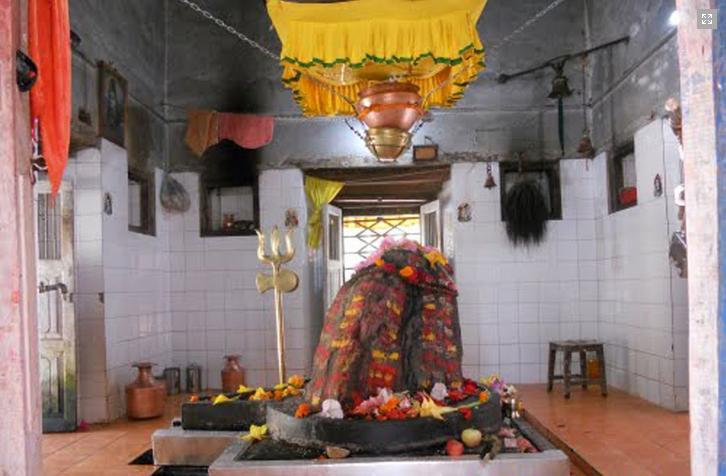 The Hindu activist Bharat Jangam had been researching and claiming that Doleshwar Mahadev is the head part of Kedarnath based on the surprising links between Kedarnath and Doleshwor. The Sculptures of Shiva found in both shrines are 4,000 years old. Even a stone scripture found in Doleshwor was written in Kannada, an Indian language.
The priests in both shrines are selected from Indian's southern states of Karnataka, Andhra Pradesh, Kerala and Tamil Nadu. Both priests affix the word 'ling' after their names to convey their proximity to the god as his worshiper and both temples have a cluster of five Shiva shrines. The main deity of both priests is Birbhadra, a companion of Shiva, according to Hindu scriptures.
In August 22, 2009 the head priest of Kedarpeeth Shree 1008 Jagat Guru Bheemashankarling Shivacharya unveiled the plaque claiming that Doleswore Mahadev, located in Jangam math Bhaktapur, is the head part of Shri Kedarnath. He performed Rudra Abhishek, a special worshipping at the Doleshwor temple situated in Sipadol village of Bhaktapur district. This is also mentioned in the inscription (Sheela Lekh) at Doleshwar Mahadev.