Pulastya Maha Muni affirmed to Bhishma that Brahma was Narayana Himself and that in reality he was Eternal. But in a formal sense it was stated that Brahma was 'created' and in that normally recognised manner Brahma had hundred years of age; apparently, the concept of Time would have to have a basis and that was why Brahma's age was determined notionally as of hundred Brahma Years; in other words, 'Para'or the first half was over and his present age has entered the 'Paraartha', the second half (viz. Fifty first year).This was how, the concept of Time emerged.
Every fifteen 'Nimeshas' constitute one 'Kaashtha'; thirty Kashthas one one 'Kala'; thirty Kalas make one 'Muhurtha'; thirty Muhurtas make one day/night, thirty day/nights make on 'Maasa'; (half Maasa makes one 'Paksha'), six Maasas make one 'Ayana' and two Ayanas-Dakshinayana and Uttarayana- make one 'Year'. Dakshinayana is a night for Devas and Uttarayana their day. One hundred human years make one day-night of Devas.
Twelve thousand Deva Years make four Yugas viz, Satya Yuga, Treta Yuja, Dwapara Yuga and Kali Yuga and these four Yugas make one Maha Yuga which is Brahma's one day! Satya Yuga comprises 4800 DevaYears including 'Sandhya mana' of 400 years and 'Sandhyamsha maana of additional 400 years; Treta Yuga comprises 3600 Deva Years including 600 years of 'Sandhya/ Sandhyamsha mana'each; Dwapara Yuga of 2400 years including 200 years of 'Sandhya/ Sandhyamsha mana'each and Kali Yuga of 1000 years including 100 years each of Sandhya / Sandhyamsha manas.Deva Years are 360 times more than human years. For instance, the duration of Kali Yuga in human year terms is 432,000 years; Dwapara's is 864000; Treta Yuga's is12, 96,000 and of Satya Yuga is 17, 28,000 years; all the Yugas totalling 432, 00, 00,000 (432 million) make one Chaturyuga and that constitutes one Brahma Day!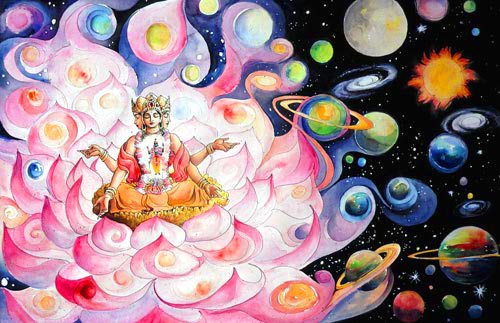 In one day of Brahma there are fourteen Manvantaras and each Manvantara has 8, 51,000 of Deva Years. There are two kalpas on one day-night of Brahma.At the end of the previous Kalpa, Brahma felt fresh from the previous night and found that Prithvi was submerged in water while Bhagavan Varaha Deva entered into water and Prithvi prayed to him; in response, Varahadeva emanated a 'Ghur Ghur' sound which was like the reverberation of Sama Veda, lifted up Prithvi from Rasala loka by the might of his horns, Devas rained fragrant flowers from the sky, Rishis went into rapturous tributes to Vishnu's incarnated Varaha Rupa; and Brahma implored the latter to allow him recommence Srishti with his blessings as also to preserve and administer the Creation that he would so generate even as the Lord gracefully replied to say: 'Tathastu!' (So be it!).
Brahma's first Srishti being Maha Tatva, the creation of Tanmatras was known as Bhuta Sarga or the Second Srishti; Vaikarika or Satvika Ahankara was the third Srishti of Indriyas or Aindriya Sarga; the Fourth Srishti is the Mukyha Sarga related to Mountains, Forests and other Sthaavara Srishti; the fifth Srishti relates to Pashu-Pakshi (Animals and Birds); the seventh Srishti was called Deva sarga or Urthva faced and was of Devas; and Seventh Srishti was of Manava Sarga; the Eighth was of Anugraha Sarga which could be of Satvika or Tamasic nature and finally the Ninth Srishti called the Kaumara Sarga which could be of Prakrita or Vaikrita Marg.
Depending on the carry forward of one's own balance of 'Papa-Punya'of the previous time-frame preceding the Pralaya, placement of lives was commenced by Brahma in the New Age. Arising out of his 'Manasika Samkalpa' (Mind born Proposal), Brahma created various species including Devas, Asuras, Pitaras and human beings. From his thighs, the evil Asuras emerged and as per his free will various birds were created.
From his stomach surfaced cows, his shoulders the wolves; his face created horses, elephants, asses, nilgais, deer, camels, etc.each species multiplying several others. Brahma's body hairs created fruits, roots and foodgrains. From his right extreme face, Brahma created, Gayatri Chhandah, Rig Veda, Tivritstoma, Rathantara, Agnihoshtha yagna; from South-faced he created Yajur Veda, Tristhub Chandas, Panchadasha stoma, Brihatsaama, etc; Sama Veda, Jagati Chhanda, Saptadashastoma, 'Vairupa' etc; from the Western face; Brahma created Ekavimshatstoma, Atharva Veda, Aptoryama, Anushthup chhanda, and Vairaja from the Uttaravarti Mukha. Miscellaneous 'Pranis' were created from any of the limbs of Brahma. To sum up thus at the beginning of the Kalpa, Prajapati Brahma created Devas, Asuras, Pitaras and human beings as also of Yakshas, Pishachas, Gandharvas, Apsaras, Siddhas, Kinnaras, Raakshasaas, Lions, Birds, Animals and Reptiles.
Focussing attention on human beings now, Bhishma asked the highlights of Varnashrama Vidhi and Pulastya Muni explained that Brahma created Brahmanas from the face, Kshatriyas from 'Vakshasthali' (chest), Vaishyas from thighs; and Shudras from the feet.These four Varnas are the important constituents of 'Yagnas'; Devas are satisfied wirh their respective portions of 'Havis' (oblations) to Agni and being pleased with the Yagnas, Devas bestow good rains and good crops which leads to material prosperity.
The hearts and hands of every body tend to be clean and social customs and virtuous living would go hand in hand. Prajapati decided the duties of the Four Varnas, depending on the professions that human beings tended to follow like Brahmanas performing Yagnas, Vratas, Temple Tasks, and enabling various religious deeds of Virtue in favour of the members of three other Varnas etc.; Kshatriyas discharging the responsibilities of Kingship, Administration, Security against external enemies, collection of taxes and maintenance of Internal Law and Order; Vaishyas performing business, farming, trading and all matters involving finance, provision of materials to others by allowing reasonable profits for the services given etc. and Shudras supporting the members of the Three Varnas in the discharge of duties being undertaken by them.
Brahma materialised the above various kinds of Creations by applying his mental faculties but was not quite satisfied as the next generations so created were not adequate to fill in the universe; therefore he created Sages like Bhrigu, Pulaha, Kratu, Angira, Marichi, Daksha, Atri and Vasishtha, in addition to the four 'Manasa Putras' viz. Sanaka, Sanandana, Sanatana and Sanat Kumaras. As not all these sons were interested in family lives, Brahma created Rudra from his forehead and decided that half of the body be a woman; thus Eleven Rudras got materialised along with as many Rudranis who had a variety of Rupas ranging from 'Sowmya' (composure), 'Krura'(unkindness), 'Shanta' (peacefulness), 'Shyama' (darkness), 'Gaura' (wheatish) and such other colours.
Further on, Brahma created Swayambhu Manu and the latter's wife Shatarupa; the Manu couple gave birth to sons Priyavrata and Uttanapada and daughters Prasuti (married to Daksha) and Akruti (married to Ruchi Prajapati). To Prasuti and Daksha were born twenty four daughters, thirteen of whom were Shraddha, Lakshmi, Dhruti, Pushti, Tushti, Megha, Kriya, Buddhi, Lajja, Vapu, Shanti, Sidhi, and Kirthi (all these thirteen were married to Dharma); eleven more daughters were Khyati, Sati, Sambhuti, Smriti, Preeti, Kshama, Sannati, Anasuya, Urja, Swaha and Swadha; they were wedded respectively to Bhrigu, Shiva, Marichi, Angira, Pusasthya, Kratu, Atri, Vasishtha, Agni and Pitras.
The sons of Daksha's daughters were Kamak by Shraddha, Darpa to Lakshmi, Niyam to Dhriti, Santhosh to Tushti, Lobha to Pushti, Shruta to Megha; Danda, Vinay and Naya to Kriya, Bodha to Buddhi, Vinay to Lajja, Vyavasayak to Vapu, Kshema to Shanti, Sukha to Siddhi, and Yash to Kirti.These were all the sons of Dharma. Kaam and Nandi gave birth to Harsha, the grand son of Dharma. Bhrigu and Khyati gave birth to Devi Lakshmi who was Lord Narayana's wife. Bhagavan Rudra accepted Sati as his wife (Daksha's daughter) but Devi Sati sacrificed her life pursuant to Daksha's Yagna to which Rudra was uninvited but Sati insisted in attending it; she felt highly insulted by her father Daksha who also offended Rudra Deva and Rudra eventually destroyed Daksha Yagna. — with Srilan Srisukumaran.