Indore: Recently MP Assaudin Owaisi gave controversial speech that he will not say "Bharat Mata Ki Jai" even if someone put a knife to his neck. In protest, Tricolor was raised with slogans of "Bharat Mata Ki Jai" at Naharshah wali Dargah.
BJP MLA Usman Patel reached the dargah at 9 am with a procession and Chadar to offer.
They paid their respect, offered the chadar and prayed for peace and prosperity in India.
The whole Dargah was uplifted with slogans of "Bharat Mata Ki Jai". On this occasion senior BJP leaders were also present including Khursan Pathan and Nasir Shah.
It is noteworthy that BJP workers from its minority wing will repeat the same at 11 other Dargahs soon.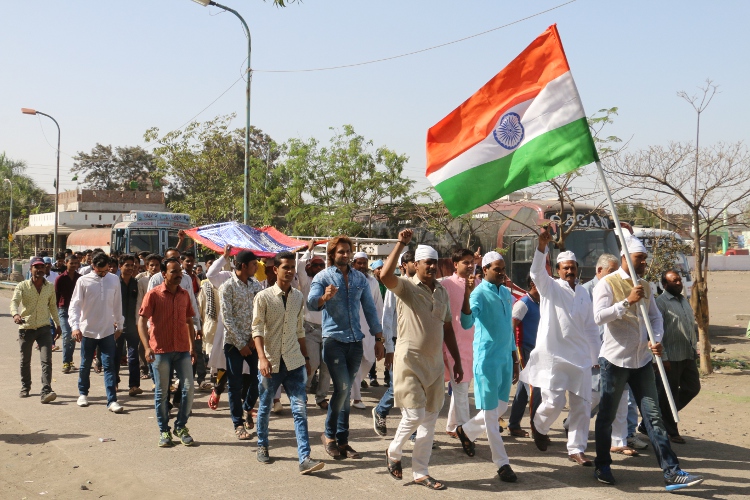 नाहरशाह वाली दरगाह पर लहराया तिरंगा, लगे भारत माता के जयकारे
इंदौर। हाल ही में हैदराबाद के सांसद असदउद्दीन औवेसी ने एक विवादित बयान दिया कि मेरी गर्दन पर छूरी भी रख दो तो भारत माता की जय नहीं बोलूंगा। इसके विरोध में रविवार सुबह खजराना की नाहरशाह वाली दरगार पर तिरंगा लहराया गया और भारत माता के जयकारे भी गूंजे।
सुबह 9 बजे खजराना स्थित नाहर शाह वाली दरगार पर भाजपा पार्षद उस्मान पटेल के नेतृत्व में बड़ी संख्या में मुस्लिम समाज के लोग चादर चढ़ाने के लिए बकायदा जुलूस के रूप में पहुंचे थे। हाथ में तिरंगा लहराया रहा था। बकायदा चादर पेश की गई और देश में अमन चेन की तरक्की की दुआ मांगी। साथ में हिंदुस्तान जिंदाबाद और भारत माता के जयकारे लगाए गए। मौके पर भाजपा के वरिष्ष्ठ नेता खुरासान पठान, नासिर शाह सहित अन्य नेता मौजूद थे। गौरतलब है कि अल्पसंख्यक मोर्चा के कार्यकर्ता शहर की 11 दरगाहों पर चादर पेश करने के साथ में तिरंगा फहराएंगे।