Sanskrit is the most ancient and perfect among the great languages of the world. Its storehouse of knowledge is an unsurpassed and the most invaluable treasure of the world. This language is a true symbol of the great Indian tradition and thought, which has exhibited full freedom in the search of truth, has shown catholicity towards universal truth. This unique language contains not only good account of wisdom for the people of this country, but it is also an unparalleled and right way to acquire proper knowledge and is thus significant for the people of entire world.
In India, Sanskrit is known as devabhÁÒÁ, i.e. language of the gods. Besides, it is also recognized as the mother of Indian languages. However, it is not merely a classical language, but also a repository of a great part of our old cultural heritage. It is obvious to say that Sanskrit literature contains all sorts of vidyÁs, i.e. Sciences or knowledge.
The Vedas are the soul of Indian culture and tradition. It is the storehouse of all type of jñÁnas i.e. wisdom, which are very useful to maintain a healthy and tension free life in the society. It is also widely known as the source or root of Sciences, including Physics, Chemistry, Botany, Zoology, Mathematics, Agriculture, Environmental Science, Architectural Science (vÁstu-vidyÁ), Geometry, Astrology, Metallurgy, Medicine, Meteorology, etc. These subjects are also separately discussed in various texts and commentaries of the vast literature of Sanskrit. The mystery of traditional as well as modern vidyÁs or Sciences was exhaustively known to our ancient seers, poets, writers and commentators. Hence, it is now almost essential for all, to read, understand and properly analyze these interesting traditional and modern values of Indian culture for the all-round development the whole mankind.
Sanskrit is the most interesting and scientific language of the world. As a language Sanskrit is regarded by experts in linguistic and philology a perfect vehicle of communication. 1786, a period when the West was gleefully acquiring treasures physical and intellectual from India, Sir William Jones in his address to the Royal Asiatic Society of Bengal has said:
"The Sanskrit language, whether, be its antiquity, is of wonderful structure, more perfect then Greek, more copious than the Latin and more refined then either."
On the practical plane one must acknowledge that in terms of its grammar, phonetics, vocabulary and the DevanÁgarÍ script, Sanskrit becomes a wonderfully efficient vehicle of communication. It is not surprising that recent empirical studies about the relative suitability of different languages and scripts for use in computer programming and operation indicated that Sanskrit in DevanÁgarÍ script was not only the suitable but also that is perfectly satisfied every requirement as an optimal medium for use.
The culture of Sanskrit and Sanskrit literature is actually the culture of synthesis and assimilation. The message of Sanskrit literature is one of humanism, of unity of mankind, of values, of peace and mutual understanding and of harmonious development of the individual and the society.
It would help reviving the ethos of India, because synthesis, harmony and reconciliation comprise the essence of the culture of Sanskrit. It would help us to unlock the treasure – house of scientific insights and research results concerning positive sciences in our ancient literature. Besides, it would help us in using Sanskrit as a medium par excellence in computer operations and as a language for the new technology. In addition to these, it would help us to invigorate various languages of India. As Mahatma Gandhi rightly said:
"Sanskrit is like the river Ganga for our languages. I always feel that if it were to dry up the regional language also would lose their vitality and power. It seems to me that an elementary knowledge of Sanskrit is essential. It is not sentiment on my part that makes me say so, but practical consideration of the utility to our country of this great language and the vast knowledge held by it."
On 8th April 1983, Mrs. Indira Gandhi, while addressing the scholars of Sanskrit in the Sampurnan and Sanskrit Vishvavidyalaya had said: "If Sanskrit was simplified, it could serve as a better link among the people indifferent states and solve the language problem" (The Hindu, dated 9.4. 83).
It is true that Sanskrit many solve our language problem, if it is simplified. So it is the duty of Sanskrit scholars to simplify the grammatical rules and other phonetically applications for the major utility of this language.
Here, a discussion will be made on Sanskrit language and its proper application in the computer for the propagation of this language as well as for the advantage of researchers and lovers of Sanskrit.
Sanskrit & Computer:
In this modern age Sanskrit is being treated as one of the scientific languages of the world. Its script, i.e. DevanÁgarÍ is also easily accessible by the computer in its various programme.
However, it is known that computers are now emerging as powerful instrument in ushering a new era of global revolution in the field of modern education for all type of progress of the people in the society. The advantages offered by these new tools of education combined with the power of technology are being absorbed and adopted for the purpose of Sanskrit studies in India and abroad too. Utilization of computer technology for facilitating Sanskrit studies in general class-room environment, individual and group learning of rudiments of Sanskrit in the form of conversational sentences, teaching packages for astrology, architectural science (vÁstu-vidyÁ), Sanskrit grammar, astronomy, etc. based on the subject of interest through the medium of English and other languages.
However, computer technology being utilized as right tool to preserve, popularize and propagate the traditional Sanskrit studies. Presently,a number of Sanskrit texts, viz. Vedic texts, MahÁbhÁrata, RÁmÁyaÆa, AÒÔÁdhyÁyÍ of PÁÆini, PurÁÆas, KÁvyas, NÁÔakas, etc. are available in the Internet. These texts are available in the Roman script with diacritical marks, as a result of which the researchers as well as admires of Indian wisdom and culture are directly and indirectly benefited through those texts available in the Internet. In addition to these some TÁntrik texts and some other rare texts are available in the Internet. The well known Research Institutes of the world have their own web-sites, in which their academic activities and Research Academy, Melkole; Indira Gandhi National Centre of Arts, New Delhi; Rashtriya Sanskrit Samsthana, New Delhi; Central Institute of Higher Tibetan Studies, Sarnath; Vipasana Research Centre, (Research Centre), Igatpuri, Maharashtra; Mugdhabodha Society (Research Centre), Bombay; C-DAC, Bombay, and other leading Institutions and Universities of India, have developed different software as well as data packages.
The major TÁntrik texts are available in the Website of Mugdhabodha Society, Bombay. Even some rare TÁntrik texts are find the place in the said website. The foreign scholars are directly benefited bythese texts which are available in the websites. Besides, 217 (Buddhist) PÁli texts are also available in the C.D. Rom in different International scripts, like : Roman, DevanÁgarÍ, Thai, Muyamar, Sinhalese, Khmer and Mongol. This tremendous work is accomplished by the Vipassana Research Institute, Igatpuri. All the texts can be easily searched for particular words and phrases with the help of powerful search engine provided in the software, making CSCD a valuable companion to research scholars of PÁli. They have also their own website, in which these texts are available. However, PÁli texts, TÁntrik texts and general Sanskrit texts are available in the Internet for the proper use of general readers, Sanskrit scholars, researchers and true lovers of Sanskrit and Indian culture.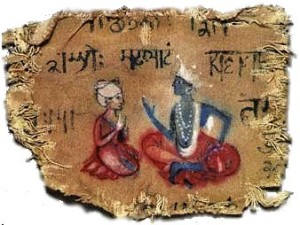 It is interesting to note that even today Astrologers and VÁstuvids are using computers for predicting as well as calculating auspicious dates, periods and other important predictions through various software's and programme.
The Indian heritage, i.e. Sanskrit Manuscripts in the form of Palm leaves and Bhurja leaves are being well preserved through Microfilms and digitization systems. These Manuscripts can also be read and seen in the computer through CD and other related technology.
To sum up: Sanskrit is now closely related with computer, through which researchers, readers, and students of Sanskrit are benefited. This is a positive approach in the direction that Sanskrit learning which is now more widened and easily obtainable through these modern devices. Hence, finally it can be said that in the coming days Sanskrit would be a common language of India through which our National heritage and old traditional values will be sustained, as a result of which we will live in peace. This the chief goal of our life, which is possible through the traditional VidyÁs, well preserved in the vast Sanskrit texts, since time immoral. Before concluding, I would like to quote our first Prime Minister Pt. Jawahar Lal Nehru, who had a positive approach towards this (Sanskrit) language. So he has said: "The past has gone and the present is with us and we work for the future. But I have no doubt that whatever shape that future may take, one of the biggest, the strongest and the most powerful and the most valued of our legacies will be the Sanskrit language."
"Jayatu Sanskritam"
~ Dr. N. C. Panda