By Uday Mahurkar
---
The All India Muslim Personal Law Board expelled Maulana Salman Nadwi, a cleric, teacher and influential member of its executive board, for meeting with Art of Living founder Sri Sri Ravi Shankar to discuss potential out-of-court settlements to the Babri Masjid dispute currently being heard in the Supreme Court. Nadwi, the AIMPLB insisted, was not authorised to meet with Shankar.
Executive committee members Kamal Farooqi and Zafaryab Jilani said Nadwi had "done great damage to Muslim interests by taking a deviant line. The site belonged to the Muslims and will continue to remain the site of the Babri mosque".
Furious, Nadwi has said that he quit the AIMPLB before he could be removed. He may have wept before his students at Lucknow's Darul Uloom Nadwatul seminary. "I was trying to bring peace," he said, "the Almighty will take care of those who are doing injustice to me." But he was much more combative when speaking to reporters.
"The AIMPLB," he said, "has been hijacked by extremists. It is dictatorial. What is wrong with settling the issue by mutual consent and thus avoid a riot-like situation in the event of a court verdict?"
According to Nadwi, a negotiated settlement can "be found in three months". His removal (or exit) from the AIMPLB has been widely considered to be a blow to Sri Sri Ravi Shankar's hopes to act as mediator. But some analysts are suggesting that he has exposed divisions within the AIMPLB and that without the help of the BJP or the RSS, who have maintained a politic distance, he has shown a possible path towards a mutually agreed Ram temple being built on the site.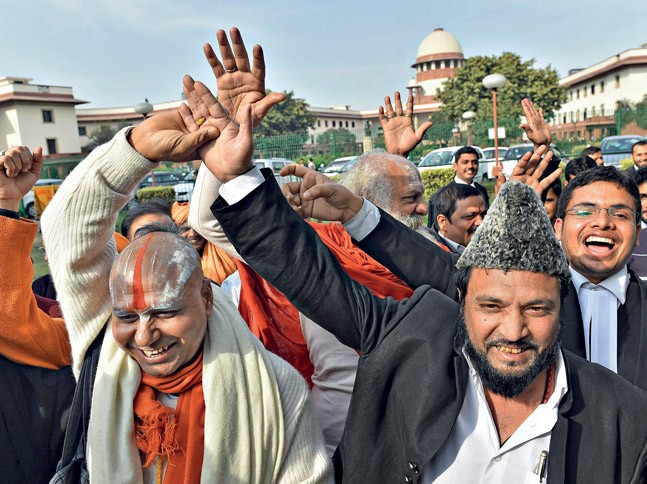 Gautam Vig, Shankar's emissary entrusted with opening negotiations with AIMPLB members sympathetic to an out-of-court settlement, says, "Gurudev is determined to resolve this issue by mutual consent. A court judgment, he feels, cannot bring hearts together. The losing side will feel the pain."
Anis Ansari, a retired IAS officer and supporter of Nadwi, was part of a delegation that met with Shankar on February 8 in Bengaluru. He is more alarmist than Vig, claiming that a "court verdict would lead to violence because this feeling that the site 'belongs' to them is strong amongst both Hindus and Muslims. For Hindus, it is the birthplace of Ramchandraji. For Muslims, it is the site where a 400-year-old masjid stood. The moment there is any attempt to remove the idols placed there, or, on the other hand, to build a temple on the site, there will be violence and many innocents will suffer. The best course is a settlement on terms that both sides find honourable."
Ansari points to the Doshipura dispute as evidence of why court verdicts can be ineffective. Since 1878, courts have tried to settle the dispute between Indian Shias and Sunnis over a two-acre plot that the Shia plaintiffs claim was given to them by the erstwhile maharaja of Varanasi, while the Sunni side says it contains the unmarked graves of two Sunnis.
It took until 1981 for the Supreme Court to order a boundary wall to be built and the two Sunni graves to be moved. In 2013, however, the court had to ask again why its order had not been executed. The Uttar Pradesh government said removing the graves would cause violence. Eventually, even the court seemed to want both communities to negotiate a settlement.
Wary of being seen as too accommodating, Ansari said he argued on Nadwi's behalf that any settlement would require the Hindu plaintiffs to admit that the land belongs to Muslims and that there would have to be some sort of legislative guarantee that other Muslim sites of worship would be left alone. The latter is likely a reference to disputed sites in Varanasi and Mathura. In addition, Ansari said, those responsible for the "illegal destruction of the Babri Masjid should be punished".
According to Vig, Shankar listened to the conditions, but insisted such discussions were better left for the next stage after Hindus and Muslims agreed to the construction of a Ram temple on the disputed site and a masjid elsewhere.
Shankar is confident that a solution will be found. According to some estimates, about a third of the 51 AIMPLB members, who have been in touch with Shankar and his emissaries, are in favour of a negotiated settlement.
His supporters argue that many more would be in open agreement were they not afraid of the hardliners. Asaduddin Owaisi, a member of Parliament from Hyderabad, has, for instance, already accused Nadwi of "dancing to [Prime Minister] Narendra Modi's tune". Owaisi also called for a boycott of those who would give the mosque away, pointing out that Nadwi himself had signed a "fatwa" declaring that "a mosque remains a mosque for eternity".
Nadwi, though, told Shankar that the Hanbali school, one of the four Sunni schools of jurisprudence, permitted the shifting of a mosque from one site to another, thereby giving religious sanction to the possibility of rebuilding the Babri Masjid away from the disputed site. Now that Nadwi has severed ties with the AIMPLB, he will likely continue to work with Shankar to find an out-of-court solution, continue to talk to other Muslims about finding a solution.
According to Shankar, many "Muslim leaders from all parts of India have met me to express their approval of our initiative, of our proposal to build the temple at the site and a mosque some distance away". The Shia Muslim Waqf Board in UP supported Shankar with alacrity, though Sunni plaintiffs maintain that the Shia opinion is irrelevant as they have no locus standi in the dispute.
However, Zufar Farooqui, chairman of the UP Sunni Central Waqf Board, which owns the land where the Babri Masjid stood, also joined Nadwi in his meeting with Shankar.
Shankar will soon be visiting Ayodhya, as he did in November, to conduct another round of meetings with both Muslim and Hindu petitioners in the lawsuit. He is expected to have more access now to the AIMPLB members. The BJP, and the Sangh Parivar generally, continue to view the process with interest rather than being active participants. Senior BJP figure Subramanian Swamy, a petitioner in the case, remains sceptical despite welcoming Shankar's move to build a conducive atmosphere for a settlement of the issue. He does not believe the hardliners in the Muslim community will agree to a temple being built on the disputed site. Sri Sri Ravi Shankar, Swamy said, "is among the tallest spiritual figures. His efforts are welcome. But the best course is to get a definitive judgment from the court. I am very confident that, based on the available evidence, the verdict will be in favour of a temple being built."
The prime minister's views are obscure. He has maintained a scrupulous silence. But success for Shankar would be politically useful. Modi has long wanted to be seen as a leader who appeals to both Hindus and Muslims. Certainly, at this stage, Shankar's grand plan appears to still be little more than a pipe dream. But a relatively amicable solution mediated by Shankar that sees the temple being built might appeal to Modi more than an uncertain court verdict that is unlikely to entirely please either party.