When India plays cricket, more than half the nation is glued to the television. However, when India plays other lesser known sports, most people don't really care about it much. Despite the ambivalence, the passionate players still play. They play for the nation, they play for themselves.
2015 Special Olympics World Summer Games were held in Los Angeles, the United States from July 25, 2015 to August 2, 2015. There were about 6,500 athletes from 177 countries.
India contingent consisted of 275 athletes and 14 disciplines. India returned home with 173 medals; 47 gold, 54 silver and 72 bronze medals. India won 39 medals in roller skating and 47 medals in athletes, making the two sports with the major contribution in the total. With 173 medals, India finished behind US and China.
On August 4, 2015, Prime Minister Narendra Modi tweeted, "Achievements of Indian contingent at @LA2015 @SpecialOlympics are truly gladdening. They are India's pride."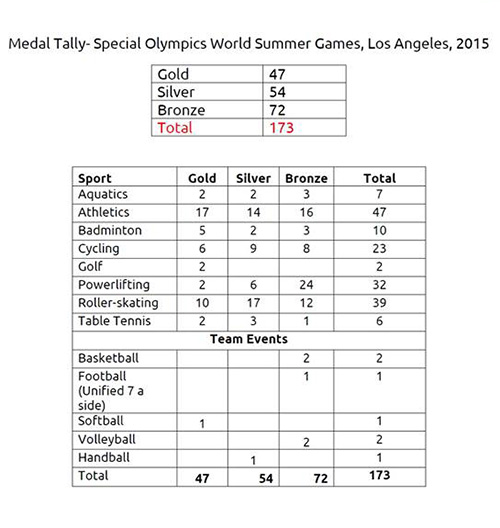 Prime Minister, Narendra Modi tweeted:
The @LA2015 @SpecialOlympics were a triumph of determination, hardwork & sportsman spirit. Congratulations to all athletes who participated.

— Narendra Modi (@narendramodi) August 4, 2015
Achievements of Indian contingent at @LA2015 @SpecialOlympics are truly gladdening. They are India's pride. http://t.co/LECxugcD0n

— Narendra Modi (@narendramodi) August 4, 2015


Facts about Special Olympics:
Special Olympics is the World's largest multi-sport event which is held for athletes with disabilities
Special Olympics was founded in 1968 by Eunice Kennedy Shriver
In 1988, International Olympics Committee recognised Special Olympics
The 2015 Special Olympics event in Los Angeles had the largest gathering in the World after 1984
This year, the Games were held from July 25, 2015 to August 2, 2015
The 2015 Special Olympics World Summer Games were officially opened by Michelle Obama. Stevie Wonder was also featured in the opening
Sports that were played this year included aquatics, athletics, badminton, basketball, bocce, bowling, cycling, equestrian, football, golf, gymnastics, handball, judo, kayaking, marathon, powerlifting, roller skating, sailing, softball, table tennis, tennis, volleyball, beach soccer, beach volleyball, open-water swimming and triathlon