At six, most children are expected to do the bare minimum, but then there are few who are meant to achieve different heights. Meet Suhaani Lohia, an Upper KG student of Dhirubhai Ambani International School, Bandra, who joins the list of the world's youngest rated chess players in the girls category.
Besides being top rated in India, Suhaani is at the 6th position in the world alongside some of the best chess talents from revolutionary chess hubs like Iran, Russia and Denmark. This little girl now officially belongs to the top league, according to the most recent list that was released on Sunday by the World Chess Federation with an ELO points of 1156.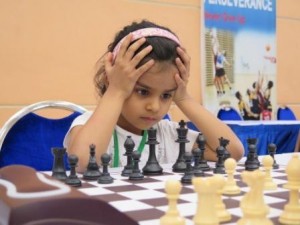 The child trains at the at South Mumbai Chess Academy (SMCA) under qualified coaches and the entire academy is upbeat about the future of the girl and he also hoped that she will be an inspiration for many budding talent.
Chief coach FIDE Master Balaji Guttula hailed this historic moment, "Suhaani's win comes at a favourable time, as the fraternity tries constantly and vigorously to emphasise on increasing the participation of girls in the game of chess and claiming their places alongside their male counterparts. And this achievement according to him will inspire girls from across the nation to pursue their talents and contribute to bringing pride and honour to the country," Balaji said.
Suhaani also won a Silver Medal last month at the prestigious National Schools Chess Championships at Nagpur in the U-7 category with a commendable score of seven points out of possible nine.
The parents of the kid are also over the moon with this performance. "She is a very quick learner and picked up the game watching his elder brother Siddhant (10) play…She has been watching Siddhant from the age of four and in two years she made a mark for him," said Sheetal, who is a jewellery designer by profession. Suhaani's father Sushir is an investment banker.