The central government on Thursday announced a list of 98 cities which would be developed into smart cities having core infrastructure needed to enhance urban living.
The list of cities was announced by union Urban Development Minister M. Venkaiah Naidu who said a population of 13 crore across these cities will be covered under the initiative.
"There are 13 cities from Uttar Pradesh, 12 from Tamil Nadu, 10 from Maharashtra, seven from Madhya Pradesh, three each from Bihar and Andhra Pradesh included in the list," Naidu told the media here.
The central government proposes to give financial support to the extent of Rs.48,000 crore to these cities over the next five years, he said.
"Around 13 crore population across 98 cities will be covered under the Smart City Mission. Making them smart will make them engines of economic growth besides giving decent life to the citizens," he said.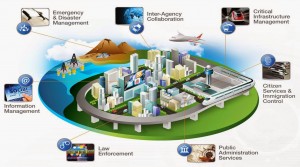 The minister said the prime motive of the initiative was to enhance urban life. "The mission is very practical and realistic," he added.
These cities and towns were nominated by respective states and union territories at the end of first stage of 'City Challenge' competition in which all the urban local bodies in each state and union territories were evaluated based on their financial and institutional capacities and past track record.
Of the cities selected — 24 cities are capital cities, 24 are business and industrial centres, 18 are of cultural and tourism importance, five are port cities and three are educational and healthcare hubs.
In terms of population, eight have population up to one lakh. These being — Panaji, Diu, Silvassa, Kavaratti, Dharmashala, New Town Kolkata, Pasighat (Arunachal Pradesh) and Namchi (Sikkim).
Naidu observed that 65 small and medium towns and cities making to the list of smart city aspirants is a welcome feature since making them smart would lay good foundation for better urban management when they further expand.
He informed that nine capital cities of Itanagar, Patna, Shimla, Bengaluru, Daman, Thiruvananthapuram, Puducherry, Gangtok and Kolkata failed to be selected and this goes to prove that the smart city selection was not influenced by the stature or importance of the cities.
All selected cities will have to prepare city level smart city plans and these will be evaluated in the second stage of competition based on a broad set of criteria to pick up the top scoring 20 cities for financing during this financial year.
Funds may be released to these 20 cities by the end of this year, he said. Others will be asked to improve upon the identified deficiencies before participating in the next two rounds of competition.
Those cities to be selected in the second stage of competition would be provided with central assistance of Rs.200 crore in the first year followed by Rs.100 crore each year during the next three years.