NEW DELHI: A recent sample survey carried out by the government on the usage of toilets seeks to disprove the notion that access to toilets may not automatically change attitudes of people who prefer defecating in the open. According to NSSO findings, at least 95% of family members in rural areas and around 99% household members in urban areas used toilets, which had access to toilets.
The sample survey was conducted in May-June period, eight months after the launch of Swachh Bharat Mission (SBM) to track achievement and to provide input for undertaking any course correction, a top government official said. Officials quoting the NSSO data said that during the eight months 63 lakh latrines were constructed, indicating substantial increase in the pace of building toilets as compared to the pre-SBM period.
At least 43% of rural households and nearly 90% of urban families reported that they had sanitary toilets. What has come as a big change is that about 94% households having toilets in rural areas had access to water. In the case of urban areas it was as high as 99%. The key focus of SMB in both urban and rural areas is to ensure availability of water for increased use of toilets.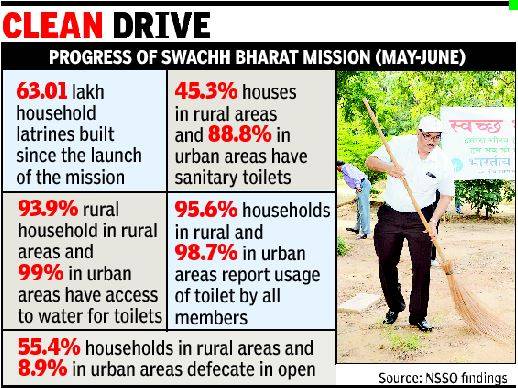 "This is part of a composite plan to eradicate open defecation. It's completely incorrect to say that most of the toilets built in rural areas are not being used since the survey shows that almost all family members are using the facility when they have one. However, a lot has to be done as still 55.4% households in rural areas defecate in the open. We need to build more toilets and ensure people have access to water," said a senior government official.
He added that improved sanitation can neither be achieved nor sustained without changing people's habits and hence the focus of the mission is on behavioural change. "Community-based collective behaviour change is promoted as the preferred approach and the focus is on the creation of open defecation free villages rather construction of individual toilets. This entails triggering the entire village into changing their behaviour rather than dealing individually with beneficiaries," the official said.