On a visit to England, Maharaja Jaya Singh of Alwar went to a Rolls-Royce showroom situated at Bond Street in ordinary dress. Not know who they were catering to, the owner and salesmen insulted him in every possible manner and kicked him out of the showroom.
The Maharaja returned to his hotel, called the showroom and made a purchase over the phone. He returned to the showroom with a royal attire and his full procession where the scene was quite the opposite. A red carpet was rolled out for his honor, the whole staff was paying their respect, obeying and treating the Maharaja as a king like they were supposed to.He ordered and paid for six Rolls-Royce, including their transportation to Alwar. Upon arrival, the Maharaja ordered his officials to use all the six cars to carry garbage of whole of Alwar.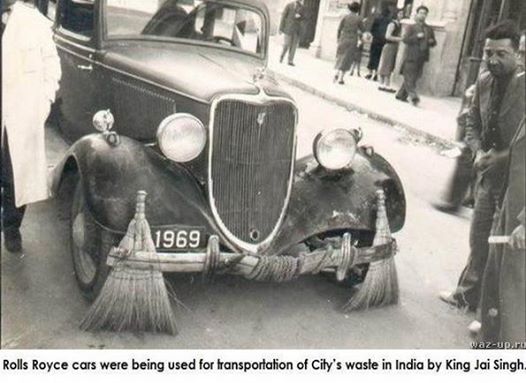 Word spread of his excursion and it soon became the biggest shame for the company's reputation. Whenever anyone proudly said they owned a Rolls Royce, someone would ask whether it was "the same Rolls Royce which is used to carry garbage in India?"
The Rolls Royce company reputation was going down considerably and they wrote many letters and telegrams to Maharaja Jaya Singh, apologizing to him over and over again, even offering him six more Rolls Royce for free so he would stop using their car for garbage collection.But the Maharaja totally ignored their pleas, only stopping when he was finally satisfied that the Rolls Royce company had learned their lesson for disrespecting him in Britain.
AND…. Maharaja of Patiala – Bhupinder Singh, King of Gurjarat Bhagvat Singh and Nizam of Hydrabad did the same thing as well. They converted their Rolls into garbage bins in protest.