Narasimha Jayanti is another important festival among the Hindus and is celebrated on Vaisakh Chaturdashi (14th day) of the Shukla Paksh. Narasimha is the fourth incarnation of Lord Vishnu where he appeared as a man-lion. that is, the face was like a lion and the trunk was like a man. He killed the demon Hiranyakashipu on this day. All Lord Vishnu devotees also observe fast on this day.
It is known that Narasimha appeared during the sunset on Chaturdashi and that is why the puja is performed during those hours. The purpose of Narasimha Jayanti is to remove adharm and to follow the path of dharam. Dharam is to perform correct deeds and not harm anyone.
Rituals of the day
Special puja is performed on this day with idol or picture of Lord Narasimha and Goddess Laxmi.
Devotee should wake up early during the Brahma muhurat and take a bath. He or she should wear new and fresh clothes.
Devotees should perform puja and offer gram dal and jaggery to the deity. The puja ceremony should be done with friends and relatives offering items like flowers, sweets, kumkum, kesar and coconut.
Fast on this day starts with sunrise and continues until the next day's sunrise. One can have one in the day that should be without any kind of cereals or grains.
Narasimha mantra should be recited with rudraksha mala to please and the God and attain a more meaningful life.
It is good to donate clothes, precious metals, and sesame seeds on this day to the poor.
Important Timings On Narasimha Jayanti
Sunrise
20-May-2016 18:59 PM
Sunset
20-May-2016 18:59 PM
Chaturdashi Tithi Begins
19-May-2016 22:23 PM
Chaturdashi Tithi Ends
21-May-2016 00:42 AM
Madhyahna Sankalp Time
11:04 AM – 13:42 PM
Narasimha Jayanti Sanyakal Puja Time
16:21 PM – 18:59 PM
Parana Time
21-May-2016 05:47 AM
Place : Ujjain [ India ] Time Zone : IST (+05:30)
---
---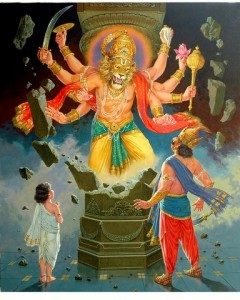 We celebrate Narasimha Jayanti on Vaisakha Sukla Chaturdashi (fourteenth day of Shukla Paksha in Vaisakha month). When Vaisakha Shukla Chaturdashi, Saturday, and Swati Nakshatra come together on the same day, it is believed to be very auspicious. Special Pujas and prayers are conducted on this day by Vaishnavas.
This year Narasimha Jayanti comes on May 20th.
Narasimha-Prahlada Story
Lord Vishnu occasionally took incarnations to restore justice and kill demons. He killed a demon Hiranyaksha by taking the third Avatar, Varaha. Hiranyaksha has a brother who was Hiranyakashipu. He became angry and wanted to take revenge for the death of his brother.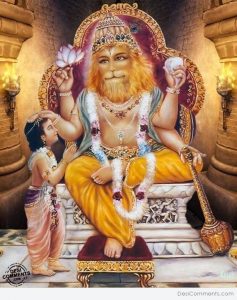 Hence, he did penance to Lord Brahma to get immortality. After the hard penance of many years, Brahma appeared before him. He asked immortality as a boon but Brahma replied that he couldn't give immortality as a boon because everyone was subject to die.
Hiranyakashipu thought for a while and asked that he couldn't be killed inside or outside any residence. His death would not take place in the day as well as night nor on the ground or the sky. Then he added that he would not meet death by any living or non-living organism created by Brahma and neither by demons, Gods, men, animals nor by any great snake. So Brahma granted his wish and thereby Hiranyakashipu in a way felt immortal.
During this penance, Indra was very much worried. He knew that his position would be robbed by Hiranyakashipu after getting more powers from Brahma. So he decided to attack Asuraloka in the absence of Hiranya Kashipu. But his each try went in vain as there was Guru Shukracharya who got a boon from Lord Shiva. At last, he tried to kidnap Hiranyakashipu's wife, Kayadu. This one also ended up in failure.
She was pregnant at that time. Since all his tries went fruitless, he decided to kill yet-to-be-born son within the womb of Kayadu. But at that time, Vishnu came to her rescue and back-fired every arrow which was aimed at her womb. So, Indra went back and Kayadu gave birth to a baby boy. Deva Rishi Narada looked after the child. As a result, the boy began praising Lord Vishnu.
Hiranyakashipu became stronger after receiving the boon from Brahma. He thought he could not be killed by anyone as he closed any possibility of it. He forcefully made everyone the devotees of himself. But only one refused to devote him over Vishnu. It was none other than Prahlada, his own son. Every moment he chanted the name of Vishnu and often he told his father that Vishnu was the supreme power. Blinded by power, Hiranyakashipu attempted to kill Prahlada many times. But each time he was protected secretly by Vishnu. After each escape, Hiranyakashipu asked his son to stop praising Vishnu. But he was disappointed.
When asked about it, Prahlada replied that his God could be seen everywhere. Then, his father pointed to a nearby pillar and asked whether his Lord could be seen in there also. He answered that Vishnu can be seen on pillars and even in the smallest twig. Hiranyakashipu became more furious and took his gada and smashed the pillar. What happened next was more than he expected.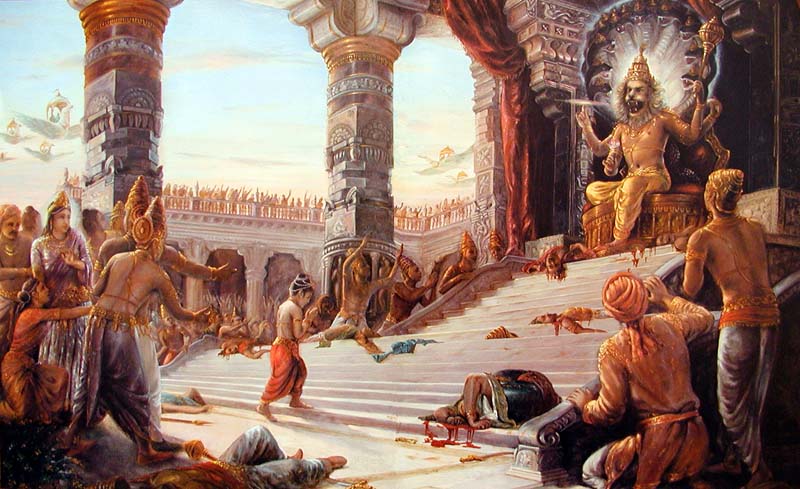 A Ghora Rupi (one who has terrifying appearance) jumped out from the pillar with the lower body of man, face and claw of lion. He moved to kill the arrogant demon. Lord Vishnu took this form not to disturb the boon given by Brahma Deva.
Narasimha was neither human nor demon or deva. He wasn't animal also. He chose twilight as the time to kill Hiranyakashipu as it is not night as well as day. He took the demon on his thighs (not sky or ground) by sitting on the threshold of courtyard (not inside or outside of residence), then he tore his stomach and killed using nails (not the usual weapon). Thus, Lord MahaVishnu killed the merciless Rakshasa without upsetting Brahma Deva's boon.
This is the story described in Bhagavata. Even after killing Hiranyakashipu, this avatar of Lord Vishnu wasn't calm. Every Deva came but no one could pacify the furious Narasimha, not even Lord Shiva. Vishnu's wife, Lakshmi also came but things didn't become smooth. Narasimha Moorthy remained the same. So on the request of Lord Brahma, Prahlada came and started chanting his names. Hence, he was calmed by his great devotee. Before returning from Asuraloka, Narasimha made Prahlada the next King.
Unknown Story of Narasimha and Shankaracharya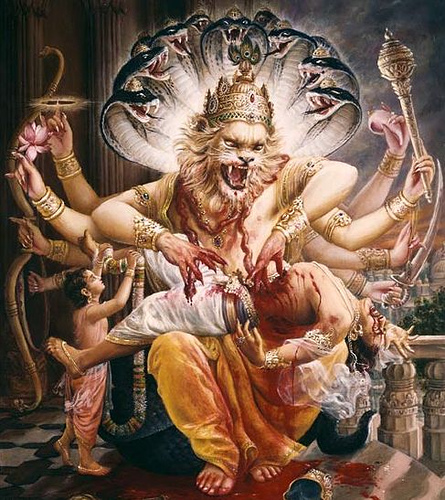 There was a dense forest near Shri Sailam called Hatakeśvanam where no men from external places entered. Sankaracharya entered this forest and did ghora tapa for many years. One day a Kapalika (people who believe in Balidan) appeared before him and said that he should be given as Bali to Kali. Sankaracharya agreed without a doubt. He was very happy to sacrifice himself for Kali. But Adi Sankara's disciples were shocked. They wanted their Guru. They wouldn't get a Guru like this again. So they pleaded to Shankara to withdraw his decision. But he never moved an inch from the firm resolution.
The time came for the sacrifice. Kapalika burnt fire and Shankaracharya sat beside the fire. He took his weapon and prepared to apply it on Shankaracharya's head. All this time, his disciples were praying to happen something extraordinary. Padmapada, one of the disciples of Sankaracharya was an adherent Narasimha devotee. He prayed hard to save his Guru. Hence, Narasimha entered into the body of Padmapada and killed that Kapalika.
It was right after this incident that Adi Shankara composed Lakṣmī-Narasiṁha Karāvalambaṁ Stotram.