Did you lend second thoughts to the ultra thin layer of silver that covers your sweets or paan? Maybe not! However, this ultra thin layer of silver or 'varakh' as it is known as, should not be taken for granted. Investigations by organizations such as Beauty Without Cruelty (BWC) and the Food and Drug Administration (FDA) of India have revealed that the bulk of the varakh available in the country is non-vegan and non-vegetarian besides containing harmful metals that are carcinogenic in nature.
What makes the varakh non-vegan and non-vegetarian?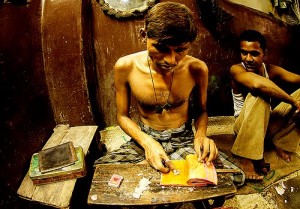 If you look beyond the glitter of varakh, into the sheds where it is produced, and at the lives that are sacrificed to make this possible, you would think twice before buying that box of sweets topped with the precious silver foil!
Silver foil, or varakh, as it is generally known in India, adds glitter to Indian sweets (mithai), supari (betel nut), paan (betel-leaf), and fruits. Also it is used in Ayurvedic medicines and on deities in many Jain temples. The silver-topped sweet is even served as prasad in temples and on auspicious and religious occasions. Varakh is also used in flavored syrups as in kesar (saffron) syrup.
Several years ago, as suggested by BWC, Indian Airlines instructed their caterers to stop the use of varakh on sweets (mithai) served on board their flights. Today, many ask for sweets without varakh, having realized the cruelty involved in its preparation.
According to a feature article in Business India, an astounding 275 tons of silver are eaten annually into foil for sweets and chyavanprash! That is a whopping 2,75,000 kilograms! (At the present market rate that would cost a phenomenal Rs. 165 Crore or $ 40 million U.S. Dollars).
Just how is varakh made and what is it that makes its preparation and consumption so sinful?
Varakh is not derived from an animal source. However, a crucial material of animal origin, ox-gut, is used in its manufacture. This ox-gut is obtained from the slaughterhouse.
In the by lanes of the villages of Ahmedabad and other cities, amidst filthy surroundings, placed between layers of ox-gut, small thin strips of silver are hammered to produce the glittering foil.
The intestine (ox-gut), smeared with blood and mucus, is pulled out from the slaughtered animal by the butcher at the slaughterhouse, and sold for the specific purpose. Note that it is not a by-product of slaughter, but like everything else meat, hide, and bones are sold by weight. This is then taken away to be cleaned and used in the manufacture of varakh.
The gut of an average cow, measuring 540 inches in length and 3 inches in diameter, is cut open into a piece measuring 540″ x 10″. From this, strips of 9″ x 10″ are cut to give approximately 60 pieces of ox-gut, which are then piled one onto another and bound to form a book of 171 leaves.
Next, small thin strips of silver are placed between the sheets and the book slipped into a leather pouch (note that the use of leather-an animal product again). Artisans then hammer these bundles continuously for a day to produce extremely thin foils of silver of 3″ x 5″.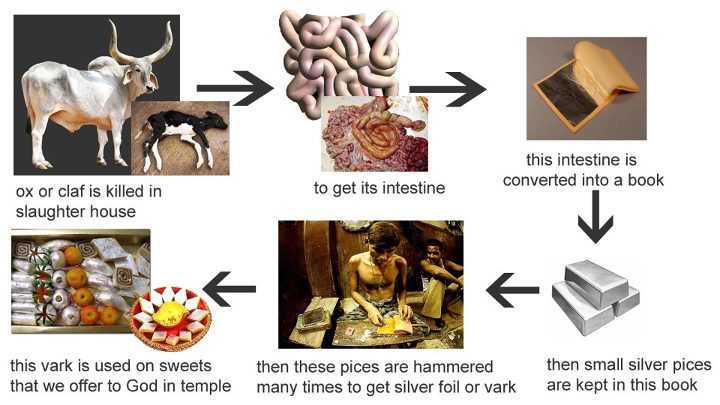 The leather and ox-gut, being supple, can withstand the intense manual hammering for up to 8 hours a day till such time as the silver is beaten to the desired thickness. When ready, the foil is carefully lifted from between the leaves of ox-gut and placed between sheets of paper to be sold to the sweet makers (mithaiwallas). A booklet of 160 foils weighs approximately 10 grams and costs about Rs. 200 ($5.00).
To make a single booklet of 171 sheets, the guts of 3 cows are used. And the yield per book is generally 160 foils of silver, the rest of which may be damaged or unfit for use. Thus one book, used on an average of 300 days of the year yields approximately 48,000 foils of silver which means that each ox-gut yields an estimated 16,000 foils.
The leather used for the pouch to hold the book (made from ox-gut), is cowhide or calf leather, and uses about 232 sq. inches of material. Assuming the size of an average cowhide to be 18 sq. ft or 2,600 sq. Inches, the yield per hide will be approximately 10 leather pouches.
According to estimations made by BWC, around 12,000 animals are slaughtered to produce one kilogram of cruelty varakh. In India, the annual consumption of varakh is around 30,000 kilograms. A straight calculation reveals that 3,60,000,000 animals are killed for that ultra thin layer of silver we consume via our sweets and at times via paan, fruits, and in chvyanprash.
Thus, an average middle class Indian family of four consuming approximately 100 kg of sweets per year for forty years consumes silver foil produced with the gut of 3 cows and one-tenth of a cowhide!
India is not the only country where foil is made by such methods. In Germany, small-specialized enterprises produce gold leaf, which is beaten down to 1/10,000-millimeter thickness, for decorative and technical purposes by similar methods. The Jews use the gold foil for as much the same purposes, namely for food preparations, as it is in India.
In India the 275 tons of silver that are beaten annually into varakh utilize intestines of 516,000 cows and calf leather of 17,200 animals each year.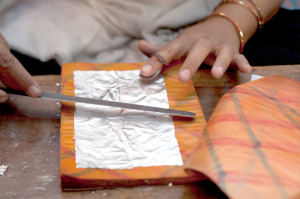 What makes the varakh carcinogenic?
Often, the silver is adulterated with other metals such as aluminum. Aluminum is hazardous for health and carcinogenic in nature.
Other reasons to stop consuming varakh
Cruelty varakh is made under extreme unhygienic conditions and is a by-product of the unorganized sector. The varakh manufacturing process employs children as well.
Isn't this sad?!
Here's what you can do: Some suggestions
Refuse sweets with a coating of varakh. Does it matter in any good way if your sweets contain varkah? But, your action of refusing varakh will matter to the lives and security of millions of helpless animals!
Report to the FDA if you find that a particular sweet shop is using cruelty varakh. The FDA has the mandate to act on such cases. But, the body cannot go ahead until a complaint has been registered.
Demand for or suggest cruelty-free varakh to the sweet shops, temples, and fruit vendors.
Kanishka:  Cruelty-Free Varakh 
For certain human habits to change and be replaced by cruelty-free, compassionate habits, it always helps when there are alternatives available. A Jaipur-based company Kanishka's varakh is cruelty-free and machine-made, a fact that has been recently certified through BWC-led investigations. Kanishka is the only varakh company in India that has been certified as 100% cruelty-free. According to BWC, Kanishka varakh has also been tested by sweet shops owners and found to be satisfactory. A spokesperson from the Kanishka company stated that their product is 'better' than cruelty varakh in every possible way!
Kanishka varakh is produced and supplied on order. The company supplies to numerous sweet shops in different parts of the country. Please find out where your sweet shops procure the varakh from. Suggest cruelty-free varakh to them. Let our asking create an informed demand for cruelty-free varakh. Anybody interested can get in touch with Kanishka at telephone numbers 91-141-257 4888 or cell 91-9929978888 respectively, to seek more information.
Jainam Silver Products Pvt. Ltd.
Jainam is another reputed manufacturer and supplier of vegetarian silver and gold leaves and uses fully automatic and computerized machines to produce varakh.  Their products are made of 99.99% pure silver and are laboratory certified.  The processing and packing  pass through extreme consciousness and hygienic standards.  Proper post-production checks are also made in order to avoid the chances of any flaws and defects.  They can be reached at 91-79-22130154 or 91-79-32925270.
There may be more companies out there but these are the only certified ones that we could find.
Many sweet shop owners and temple priests are aware of the fact that the varakh procured from the unorganized sector is non-vegetarian. Yet, they keep silent about it and when questioned, they almost always insist that the varakh used by them is cruelty-free and made with unadulterated metals! This is far from the truth. However, as consumers we can refuse cruelty varakh and this action of ours can help control innocent animals from being mindlessly slaughtered for that dubious ultra thin layer of silver on the sweet!