Capable Of Love
Animals, like people, are capable of loving their partner, their families, their children, their leaders, their teachers, their friends and others who are important to them. An ape will show exactly the same signs of love and affection when dealing with her baby as a human mother will when dealing with her baby. Both will look longingly, tickle and play with their baby. Both feed their young, wash them, risk their lives for them and put up with their noise and unruly behaviour.
Anyone who doubts that animals love their young should stand outside a farm yard when a calf has been taken away from a cow and listen to the heart breaking cries of anguish which result. Who knows what inner anguish accompanies those cries from a creature who does not normally vocalise in the same way that other animals do.
Even fish will risk their lives to protect their young. In his seminal work `The Universal Kinship' (first published in 1906 and now largely forgotten) J. Howard Moore described how he put his hand into a pond near the nest of a perch. The courageous fish guarding the nest chased Moore's hand away several times and when Moore's hand was not removed quickly enough would nip it vigorously several times.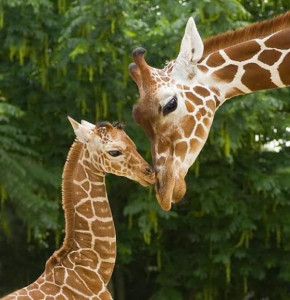 Lewis Gompertz, who lived from 1779 to 1861 and was a potent champion of the rights of blacks, women and the poor (and, indeed, all oppressed human beings) was also a powerful champion of animals and was a founder of the Royal Society for the Prevention of Cruelty to Animals. (His credibility is, I feel, dramatically enhanced by the knowledge that quite early on he was forced out of the society). In his book `Moral Inquiries On the Situation Of Man And Of Brutes' Gompertz wrote: `From some birds we may learn real constancy in conjugal affection, though in most instances their contracts only last for one season, but how strict do they keep this. They have no laws, no parchments, no parsons, no fear to injuring their characters, not even their own words to break in being untrue to each other: but their virtue is their laws, their parchments, their parsons, and the reputation; their deeds are their acts, their acts – their deeds: and from their own breasts do they honestly tear down to line the beds of their legitimate offspring.'
Gompertz described an incident illustrating the wisdom of blackbirds. `I observed a male blackbird flying about in an extreme state of agitation,' he wrote. `And on my going to discover the cause of it, the bird retreated from me as I followed it, till it stopped at a nest containing a female bird sitting upon her eggs, near which there was a cat: in consequence of this I removed the cat, and the bird became quiet. After that, whenever the cat was about the place, the blackbird would come near my window, and would in the same manner direct me to some sport where the cat happened to be stationed.'
Gompertz also wrote about a male blackbird which had attacked a cat which had caught its female partner and wrote about three true incidents which illustrated animal kindness and wisdom. The first concerned two goats which had met one another on a narrow path between two precipices. There was no room for the two goats to turn or pass and so one of the goats lay down, allowing the other to walk over it. The second incident involved a horse who had been hurt by a nail when he had been shod. Finding it painful to walk he had gone back to the farrier and shown him his hoof. The third incident involved a sheep dog who jumped into freezing cold water and successfully rescued another dog which had been floating on a lump of ice. `I would now fain ask,' wrote Gompertz, `if all this does not show reason and virtue?'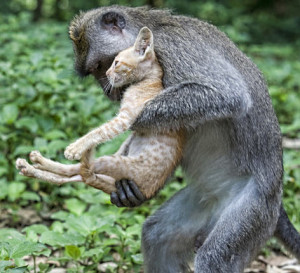 J. Howard Moore described how monkeys may adopt the orphans of deceased members of their tribe and how two crows fed a third crow which was wounded. The wound was several weeks old and the two crows had clearly been playing `good Samaritans' for that time.
Darwin wrote about a blind pelican which was fed with fish which were brought to it by pelican friends who normally lived thirty miles away. Strong males in a herd of vicunas will lag behind to protect the weaker and slower members of their herd from possible predators.
Powerful Memories
Many creatures have memories which humans might envy. Ants retrace their steps after long journeys and can recognise friends after months of separation. When a limpet has finished roaming it will return to the exact spot on the same rock where it had been settled previously. Birds fly back year after year to the same nesting spots – to within the inch. Fish, too, return to the same stretch of water to hatch their young. Horses used in delivery routes frequently know exactly where and when to stop – and for how long. Squirrels who have buried nuts months before can find them without hesitating.
J. Howard Moore reported that an elephant obeyed all his old words of command on being recaptured after fifteen years of freedom in the jungle and a lion recognised its keeper after seven years of separation. A snake which was carried a hundred miles away from home managed to find its way back.
There is plenty of evidence, too, to show that many creatures other than human beings have powerful imaginations. Spiders will hold down the edges of their webs with stones to steady them during gales which have not yet started. Does this show an ability to predict the weather or imagination? Cats, dogs and horses and many other creatures dream. Parrots talk in their sleep.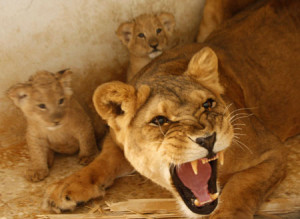 Horses frequently stampede because they are frightened by objects (such as large rocks or posts) which are no threat to them. This must show a sense of imagination because the horse, like a child, has created a terror out of nothing.
A cat playing with a ball of wool is imagining that it is playing with its prey.
We always tend to think the worst of animals (and other creatures). We assume that they are stupid and our interpretation of their behaviour is based upon that ill-founded prejudice. It is, for example, generally assumed that the ostrich sticks its head in the sand in the assumption that when it cannot see the rest of the world, the rest of the world cannot see it. But where is the evidence for this theory? Could it not be equally possible that the ostrich sticks its head in the sand because it cannot bear what there is to view in the world around it? When a human being covers his or her eyes to avoid looking at a horrific accident we do not say that they believe that they can't be seen.
~ Dr. Vernon Coleman