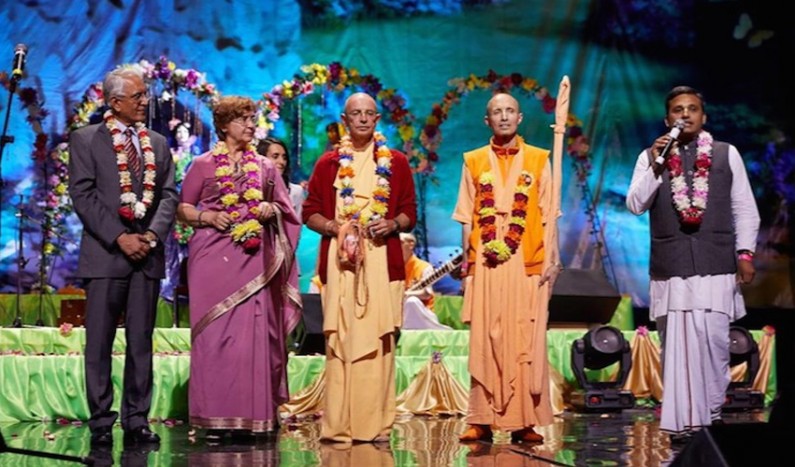 In celebration of Shri Krishna's birthday, ISKCON Moscow has organized a beautiful and spiritually deep cultural show in the prestigious Concert Hall "Russia" in Luzhniki, Moscow. Fabulous were not only the performances, which included singing, dancing, and theatrical acts of Krishna lilas and Vedic philosophy, but also the sound and the scene illumination. It was obvious that the huge Vaishnava community of Moscow and Moscow region performed their services as if they were a theatre of hundreds skillful actors, each playing his or her role sincerely and impeccably, creating an atmosphere of breathtaking and perfectly executed spiritual performance.
Year after year, these large-scale Janmasthami events organized by ISKCON Moscow have become more and more sophisticated, creating a powerful and attractive spiritual and cultural bridge between Russia and India.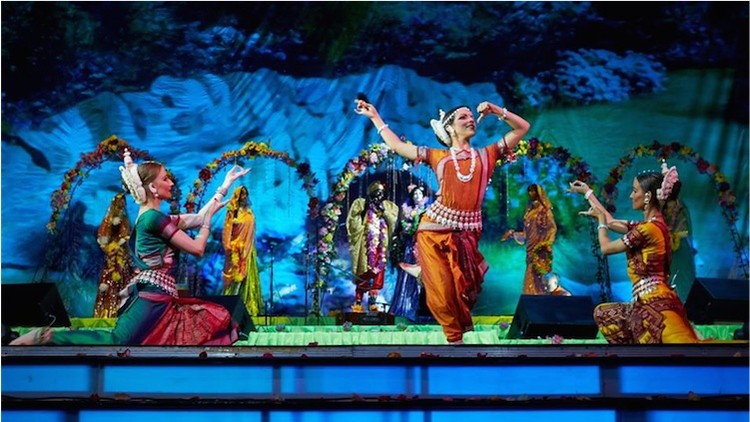 There were several honorary guests attended the event, each warmly welcoming the guests. Head of the Centre of Indian Culture, Sadhupriya-das remarked:
"It is a great honor to me, today, to greet all of you here at this wonderful celebration of the holiday that is considered the main holiday in Hindu calendar. Today this holiday is celebrated all over India. And not only in India. It is celebrated all over the world. Thanks to His Divine Grace Srila Prabhupada, who came to Russia 43 years ago, this holiday is widely celebrated in Russia from Vladivostok to Kaliningrad. It is celebrated in over 150 Russian cities.
I would like to thank everyone, who participated in the organization of this celebration. First of all I would like to thank the government of Moscow that supported this event. And I would like to thank the administration of the Concert Hall "Russia" for their help and support. I would also like to thank all the volunteers who participated in the preparation work for this festival."

His Excellency the Ambassador of the Republic of India in the Russian Federation Sh. Raghavan said: 
"Dear friends, it is a big honor for me to be present here with you today. I would like to congratulate you on two occasions. First is national for India and the second is cultural. As all of you, I suppose, know two days ago we have celebrated the 67th anniversary of India's Independence. And today we celebrate cultural festival Janmashtami, held in India. For me, as an ambassador of India in Russia it is a great honor to see that support and promotion of Indian culture that we are getting from you. As an Indian diplomat I have worked in many countries of the world. But in no other country have I seen such a powerful support. I have nowhere seen Indian culture loved so much as in Russia. We've just seen how Russians performed Indian dance.
There is Cultural Centre of Jawaharlal Nehru in the Indian Embassy. It is so popular with Russians that we are even not able to satisfy all current demands. People are so eager to study Indian dance, culture, yoga, languages, music. I know that in Moscow, as well as in other cities of Russia, there are a lot of Indian centres where dance is taught by Russians. And when Indians come to Russia they are impressed with the high professionalism of Russians in Indian dance and music. This alone confirms how tight are cultural ties between our countries, not only currently but for the last decades as well.
But this partnership, these ties are in fact just a little part of the relationship palette that exists between our countries for many years already. And this is the relationship and the partnership that withstood, in spite of the various external influences, political situation in the world. Our countries will always have mutual understanding, no matter what is happening in the world.
We attempt to strengthen and support not only cultural interaction but our economic partnership, cooperation in science and education, technologies and in many other fields. And we would very much like that those who are present here, who appreciates and loves Indian culture, visit India more often. More than 250 000 Russians visit India annually. I hope that soon this number will go up to a million.
Currently about one thousand Indian students study in Russia. But in other countries of the world, this number is about one million, and we hope that this number in Russia will also go up. We would also like more Russians study at Indian Universities. We are seriously working on developing Indian investment projects in Russia. And our governments do a lot to secure our partnership in every respect.
Still, the main basis of interaction between our countries rests upon relationships between people. That is why we really appreciate the connections that we see here. As these connections will give rise to even stronger.

Bhaktivignana Goswami also deliverd a speech:
"I am happy to greet you all today! This evening Mr. Ambassador has said that these two holidays, India Independence Day and Day of Krishna Appearance, happened almost at the same time this year. In fact these two holidays should be celebrated by everyone: the Day of Independence, day of freedom, internal emancipation, gaining independence, independence from external conditions, from attachments, independence from one's own desires and Day of Krishna's Appearance are tightly knit together in our heart. Krishna comes to this world only to give people of this world true freedom. This is the main purpose of Krishna's appearance. Krishna descends to this world to show how to live here remaining free. At the very end of Bhagavad-Gita, giving instructions to Arjuna, He says: sarva-dharmān parityajya / mām ekaṁ śaraṇaṁ vraja / ahaṁ tvāṁ sarva-pāpebhyo / mokṣayiṣyāmi mā śucaḥ // 'If you come to Me, become closer to Me, then you will be liberated from all your fears! You will be delivered from all anxieties and become truly free!'
That is why I'd like to congratulate you today on the Independence Day that falls on the same day as Krishna's appearance in this world. I'd like to wish you true happiness, true independence, true, deeply rooted freedom inside. If we translate this wonderful and sweet word, that we all love so much, the word "freedom" into the language of emotions, then the essence of the teaching that we are sharing with the world is that freedom, genuine one, not fictional, comes to a person along with love. In fact, true liberation of the heart from pitiful and petty attachments of this world will be the descent of love to God into one's heart. This is what we are celebrating now. Today, right at the midnight Krishna will come. And I'd like to wish you that He comes right into your heart and stays there for all days of this year, thus bringing you true freedom, happiness and love!" 
~ ISKCON
LIKE US ON FB & SHARE OUR PAGE WITH FRIENDS TO HELP IN SPREADING SANSKRITI.