We announced earlier of our initial step towards a positive change in real life outside the social platform. We provided a school with 300 illustrative books purely based upon India's heroes, heritage, culture, history and many other subjects which are neglected in school books and otherwise.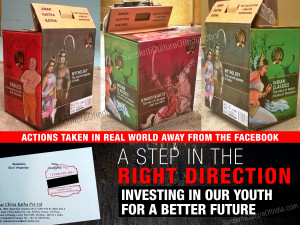 We received a very positive feedback for this initiative from our fans, school staff and children, motivating us to continue to do this on a monthly basis – one school at a time. In order to do so we need YOUR SUPPORT and every penny counts.
 We will accept any amount you wish to contribute to this cause via 100% secure PayPal (you don't need to have a paypal account) and 100% of the collected amount will be visible on our contributor's list (not full names for privacy purposes) on our website as it comes in and 100% of the amount will be used solely for the purpose of this work – ZERO admin fees or any other expenses will be deducted.
On top of this we will contribute a considerable amount from our own end to the cause on monthly basis which will be coming from the revenue collected from the ads on the website.
Please feel free to ask any question or clear any doubts you may have.
 We look forward to hearing from you. 
 Please remember – EDUCATION IS THE ONLY WEAPON AGAINST INSANITY!
Make a contribution now :