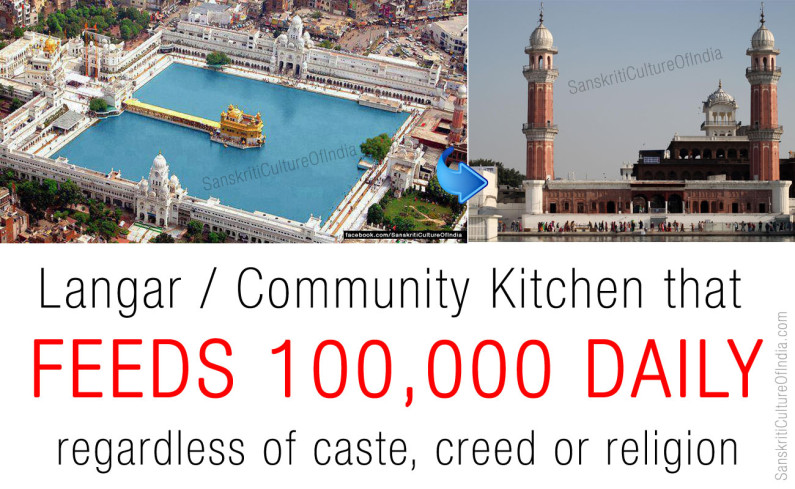 200,000 rotis (Indian flat bread), 1.5 tonnes of dal (lentil soup) and free food served to 100,000 people everyday are what makes the free kitchen run at the Golden Temple in the Indian Holy city of Amritsar stand apart.
By all measures, the kitchen (called langar in Punjabi ) is one of the largest free kitchens to be run anywhere in the world.
The concept of langars was initiated centuries ago by Guru Nanak, the founder of Sikh religion.
At the Langar, no one goes hungry – and everybody gets a hot meal regardless of caste, creed and religion.
All Sikh Gurudwaras (places of worship) have langars, but the one at Golden Temple – Sikhs' holiest shrine – has little parallel.
"Anyone can eat for free here and on an average we serve food to 100,000 people. On weekends and special occasions double the numbers of people visit the langar. The langar never stops and on an average 12,000 kg of wheat flour, 1,200 kg of rice, 1,300 kg of lentils, 500 kg of ghee (clarified butter) is used in preparing the meal every day," says Harpreet Singh, manager of this huge kitchen.
"The free kitchen uses firewood, LPG gas and electronic bread makers for the cooking and we use around 100 LPG cylinders and 5,000 kilograms of firewood every day," he adds.
The kitchen is run by 450 staff, helped by hundreds of other volunteers.
Sanjay Arora, 46, from New Delhi, comes to volunteer at the langar two days a month. "This is seva (service) for me. I feel happy after doing this service. This is not just free food because here you forget all the differences that separate humans from each other," he says.
Volunteers also wash the 300,000 plates, spoons and bowls used in feeding the people. The food is vegetarian and the expenses are managed through donations from all over the world.
The yearly budget of the langar runs into hundreds of millions.
The Preparation
– About 90% of the staff is made up of volunteers (known as sewadars) that can help out for as long as they like
– Volunteers can assist with food prep such as peeling garlic or hand rolling rotis
– Large flour grinders located under the kitchen process up to 12,000 kg of flour a day
– Large vats of lentils require 1-2 people to stir
– On busy holidays, the kitchen will use their automatic roti machine which can produce 25,000 rotis/hour
– Once the food is prepared, it is placed into smaller containers so volunteers can carry around the dining hall and serve
Dining
– Everyone, regardless of faith and background is allowed in the dining hall
– Women, men and children all sit together
– Before entering you must remove your shoes and wear a head covering
– A traditional meal of lentils, rice, vegetables and roti is served
– Everyone must sit on the floor as equals, so all people are on the same level and nobody is 'above' anyone else
– There are two halls that can serve about 5,000 diners at a time
Cleaning
– After dining, plates and utensils are handed to another set of volunteers
– Each dish is washed five separate times in large communal areas
– Plates are then stacked for the next round of diners
Check more details about Golden Temple here : GOLDEN TEMPLE 
LIKE US ON FB & SHARE OUR PAGE WITH FRIENDS TO HELP IN SPREADING SANSKRITI.