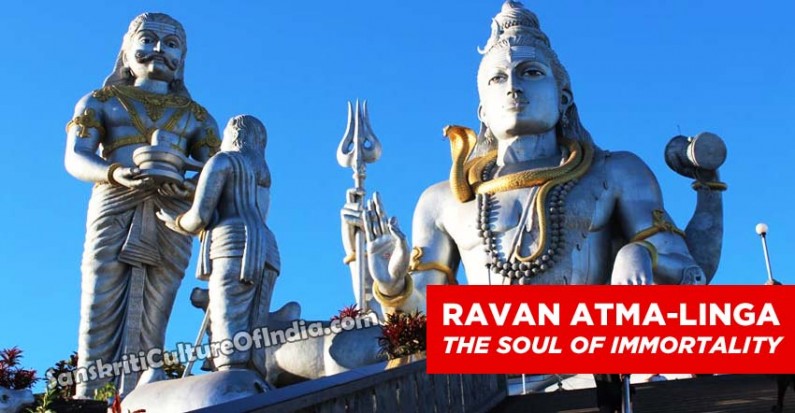 Origin of the name "Murudeshwara" dates to the time of Ramayana. It is believed that one gets immortality and invincibility by worshipping a divine Lingam called the Atma-Linga. The Lanka King Ravana wanted to attain immortality by obtaining the Atma-Linga (Soul of Shiva). Since the Atma-Linga belonged to Lord Shiva, Ravana worshipped Shiva with devotion. Pleased by his prayers, Lord Shiva appeared before him and asked him what he wanted. By this time Narada had asked Lord Vishnu to change Ravana's mind. As a result of this plot, Ravana asks for Goddess Parvati, and Lord Shiva offers her to him. On his way back to Lanka Narada tells Ravana that Lord had not given him the real Parvathi and that the real Parvathi was in Pathala. So Ravana frees his companion, goes to Pathala and marries a king's daughter, assuming her to be the real Parvathi. 
He then returns to Lanka, where his mother asks him for the Linga. Ravana then comes to know of the tricks played on him by Lord Vishnu. He therefore prays to Lord Shiva again, begging for his forgiveness. Lord Shiva appears and this time, Ravana requests the AtmaLinga as his boon. Lord Shiva agrees to give him the boon with the condition that it should never be placed on the ground. If the AtmaLinga was ever placed on the ground, all the powers would return to Lord Shiva again. Having obtained his boon, Ravana started back on his journey to Lanka.
Sage Narada, who came to know of this incident, realized that with the AtmaLinga, Ravana may obtain immortality and create havoc on the earth. He approached Lord Ganesha and requested him to prevent theAtmaLinga from reaching Lanka. Lord Ganesha knew that Ravana was a very devoted person who used to offer prayers (sandhya vandana) in the evening every day without fail. He decided to make use of this fact and came up with a plan to dislodge the AtmaLinga from Ravana.
As Ravana was nearing Gokarna, Lord Vishnu blotted out the sun to give the appearance of dusk. Ravana now had to perform his evening rituals but was worried because with the AtmaLinga in his hands, he would not be able to do his rituals. At this time, Lord Ganesha in the disguise of a Brahmin boy accosted him. Ravana requested him to hold the AtmaLinga until he performed his rituals, and asked him not to place it on the ground. Ganesh struck a deal with him saying that he would call Ravana thrice, and if Ravana did not return within that time, he would place the AtmaLinga on the ground.
As can be imagined, before Ravana could return on completing his rituals, Ganesha called him thrice and had already placed the AtmaLinga on the ground. Vishnu then removed the illusion of dusk and it was daylight again. Ravana, realizing that he had been tricked, tried to uproot and destroy the Linga . Due to the force exerted by Ravana, some pieces were scattered. One such piece from the head of the linga is said to have fallen in present day Surathkal .The famous Sadashiva temple is said to be built around that piece of linga. Then he decided to destroy the covering of the AtmaLinga, and threw the case covering it to a place called Sajjeshwara, 23 miles away. Then he threw the lid of the case to a place called Guneshwara (now Gunavanthe) and Dhareshwara, 10–12 miles away. Finally, he threw the cloth covering the AtmaLinga to a place called Mrideshwara in Kanduka-Giri (Kanduka Hill). Mrideshwara has been renamed to Murudeshwara.
~ By T.N.Sethumadhavan  
LIKE US ON FB & SHARE OUR PAGE WITH FRIENDS TO HELP IN SPREADING SANSKRITI.