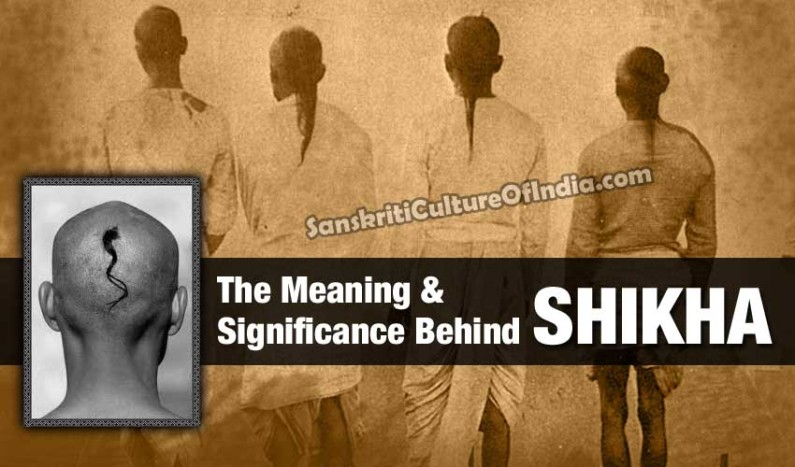 Why do we see some priests and monks have a shaved head with a tuft of hair in the back? First of all, this tuft of hair is called a shikha. When long enough, it tied in a knot at the crown-point (right above the suture) on the central top of the head. This point is given distinctive importance in the science of yoga and spirituality as the point of contact with the brain-centre of intellectual and emotional sensitivity. It also indicates the body as a temple.
The Shikha symbolizes the presence of discerning intellect, farsightedness, and the deity of knowledge upon our head. It is a flag of human culture. It reminds us of the religious principles of morality, righteousness, responsibility, and dutiful awareness.
This body is the fort of the individual self upon which the flag of the shikha is hoisted as the mark of the dignified values and virtues of humanity. The foreign invaders, the crusaders against the Vedic (Indian) culture had attempted to eliminate the roots of this divine culture by first cutting the shikha and removing the sutra (sacred thread) from the bodies of the followers of the Vedic religion. Thousands of innocent heads were cut off just for protesting against this attack. It was for protecting the glory of these universal emblems of human religion that Maharana Pratap, Vir Shivaji, Guru Govind Sigh, and other great martyrs of India had dedicated their noble lives. Today, we have forgotten their sacrifices and done what even the foreign invaders of the medieval times could not do.
The commencement of wearing of the sutra and tightening of the sikha at the time of initiation (diksha) into Gayatri sadhana is referred in the shastras as dwijatva – the second birth, and the one who wears the sacred thread (sutra) and keeps the shikha is called adwija, or twice-born as a brahmana. That means that regardless of whatever family line one has been born into, he has now attained his second birth as a brahmana.
The shikha also represents the sirsa (top) of the Gayatri Mantra. It reminds the devotee of the subtle presence of the pure divine intelligence in the human mind. Tightening the hair knot right above the suture induces marvelous psychological benefits. It helps in harmonious blood circulation in the brain in normal conditions and augments alertness. As described in the yoga-scriptures, it also lends support in increasing mental concentration and meditation. In terms of its sublime spiritual effects, the shikha works like an antenna in the outer domain of the sahasrara chakra (topmost extrasensory centre) to link the individual consciousness with the cosmic consciousness in the elevated state of Gayatri sadhana.
~ Stephen Knapp
LIKE US ON FB & SHARE OUR PAGE WITH FRIENDS TO HELP IN SPREADING SANSKRITI.