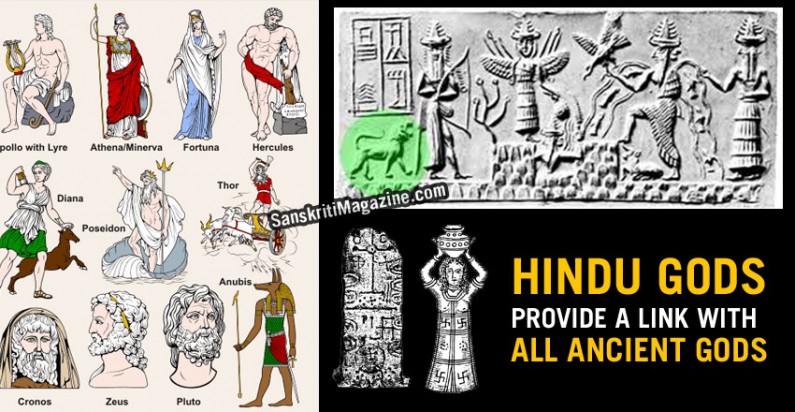 Ram Swarup has drawn our attention to this eclipse of the ancient Gods of many people after those people were forcibly converted to Christianity or Islam, and their temples were destroyed or converted into churches or mosques. I shall, therefore, quote again at some length from his book, The Word As Revelation: Names of Gods:
"There was a time when these Gods satisfied the religious urges of their devotees. But in the course of time they came under attack from new Gods that were appearing on the horizon. They are by now completely replaced but the old persecution still continues though in a modified form. The new persecutors are not theologians and religious zealots but staid academicians. To them these Gods are not false but primitive. They hold that these Gods represented the attempt of the primitive mind to express, however imperfectly, through Nature's symbols and objects, its groping for a unitary principle. At this stage of human evolution, it was difficult for man's mind to rise above the sensuous to the intellectual and the spiritual, and from the many to the one. That was left for a later generation to achieve, reaching its high water-mark in Christianity and modern Europe.
"If Gods are born of religious urges and spiritual intuitions, it is difficult to see how modern European Christians are superior in this respect and, therefore, how their 'one God' could be truer than the 'many Gods' of their ancestors.
"A look at the Hindu Gods may throw light on this aspect of the subject. The Hindu pantheon has changed to some extent but the old Gods are still active and are still understood though under modified names. Hindu India has a sense of continuity with its past which other nations, that changed their religions at some later stage, lack. It is also known that the Hindu religion preserves many old layers and forms. Therefore, its study may link us not only with its own past forms but also with the religious consciousness, intuitions and forms that prevailed in the past in Europe, in Greece, in Rome, in many Scandinavian and Baltic countries, amongst Germanic and Slavic peoples and also in several countries of the Middle East. In short, the study may reveal a fundamental form of spiritual consciousness which is wider than its Hindu expression.
"This discussion should help to promote our understanding not only of Vedic religion and Vedic Gods but also of a whole archetypal spiritual consciousness which expresses itself in the language of Many Gods; and as a result should also help us to understand better the old religions of Europe and Asia which are no more; it should also help us to see in a new light the old Gods of Egypt, Persia, Greece, Rome, the Gods of the Scandinavian and Baltic countries, the Gods of the Germanic, Celtic, and Slavic peoples."
Secret of Image Worship
Sages such as Sri Aurobindo who have meditated on Hindu iconography, and savants such as Ananda Coomara-swamy, Stella Kramrisch, and Alice Boner who have studied the subject, assure us that the forms and features of Hindu icons have a source higher than the normal reaches of the human mind. The icons are no photocopies of any human or animal forms as we find them in their physical frames. They are in fact crystallizations of the abstract into the concrete, of the infinite into the finite. They always point beyond themselves, and a contemplation of them always draws us from the outer to the inner.
Hindu Šilpašãstras lay down not only technical formulas for carving holy icons in stone, and metal, and other materials. They also lay down elaborate rules about how the artist is to fast, and pray, and otherwise purify himself for long periods before he is permitted, if at all, to have a psychic image of the God or Goddess whom he wants to incarnate in a physical form. It is this sublime source of the Šilpašãstras which alone can explain a Sarnath Buddha, or a Chidambram NaTarãja, or a Vidisha Varãha, to name only a few of the large assembly of divine images inhabiting the earth. It is because this sublime source is not accessible to modern sculptors that we have to be content with poor copies which look like parodies of the original marvels.
The same sages and savants inform us that the Hindu temple architecture and the rituals that are performed at the time of pûjã, also have a sublime source. This is a deep and difficult subject, largely beyond the reach of the present writer. I shall, therefore, not proceed with it. What needs to be emphasized is that the plurality of Hindu Gods, the icons in which they are embodied, the temples in which they are installed, and the rituals with which they are worshipped, are not mere accessories and aids towards some deeper spiritual vision; instead, they incarnate the vision itself.
Ram Swarup has presented the proper perspective on the plurality of Hindu Gods as well as their incarnation in concrete images, in his recently published book, The World As Revelation: Names of Gods. His discussion leaves no doubt that the plurality of the Hindu pantheon, and the large use of concrete images is not only quite in keeping with but also necessary corollaries of (1) the spontaneous processes of human psychology, (2) the normal growth of human knowledge culminating in spiritual vision, and (3) the natural development of human language for incorporating and communicating that knowledge and vision.
~ Excerpted from the book Defense of Hindu Society by Sita Ram Goel 
LIKE US ON FB & SHARE OUR PAGE WITH FRIENDS TO HELP IN SPREADING SANSKRITI.