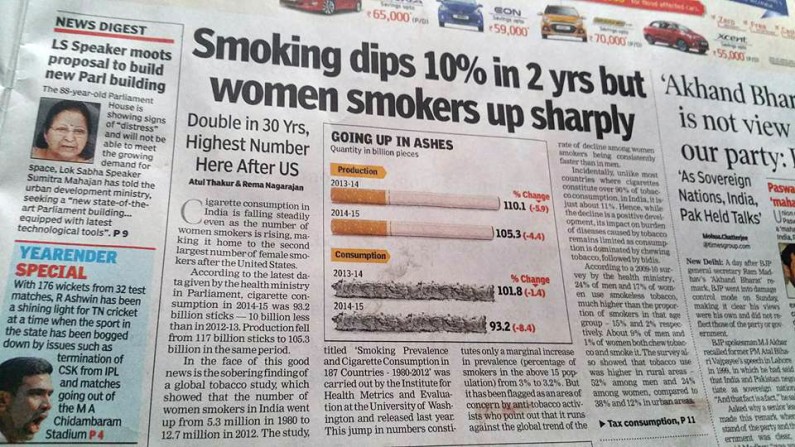 New Delhi: While smoking rates have marginally gone down in India but there has been an almost proportionate increase in the number of women smokers. Now, India has the second highest number of female smokers in the world after the United States. A factor, doctors say, that can be attributed to rising cases of infertility and the higher risk of cancer among Indian women these days.
As per the Health Ministry latest report on 'cigarette consumption, the usage in 2014-15 was 93.2 billion sticks, comparatively less than in 2012-13. The production of cigarette has also fallen from 117 billion sticks to 105.3 billion in the same interval of time.
There is a growing concern among policy makers with respect to alarming growth in smoking prevalence among women in the developing countries. In absolute terms, the number of women smokers has more than doubled from about 5.3 million in 1980 to 12.7 million in 2012.
Earlier reports of 2009-10 suggest that among adults, 24% of men and 17% of women use smokeless tobacco, much higher than the proportion of smokers in that age group – 15% and 2% respectively. About 9% of men and 1% of women both chew tobacco and smoke it. The survey also showed that tobacco use was higher in rural areas – 52% among men and 24% among women, compared to 38% and 12% in the urban areas.
According to the Bobby Ramakant, an anti-tobacco activist with Corporate Accountability International, "Every kind of tobacco consumption ought to be taxed, including the small-scale bidi and gutka manufacturers,"
He added further, "Along with pictorial warnings and adequately funded programmes should be initiated by the government to help people quit using tobacco, is the only way the National Tobacco Control Programme will work. It all depends on the government's commitment to reduce non-communicable diseases. Tobacco use is a huge risk factor for many of these diseases, especially cancer."
LIKE US ON FB & SHARE OUR PAGE WITH FRIENDS TO HELP IN SPREADING SANSKRITI.