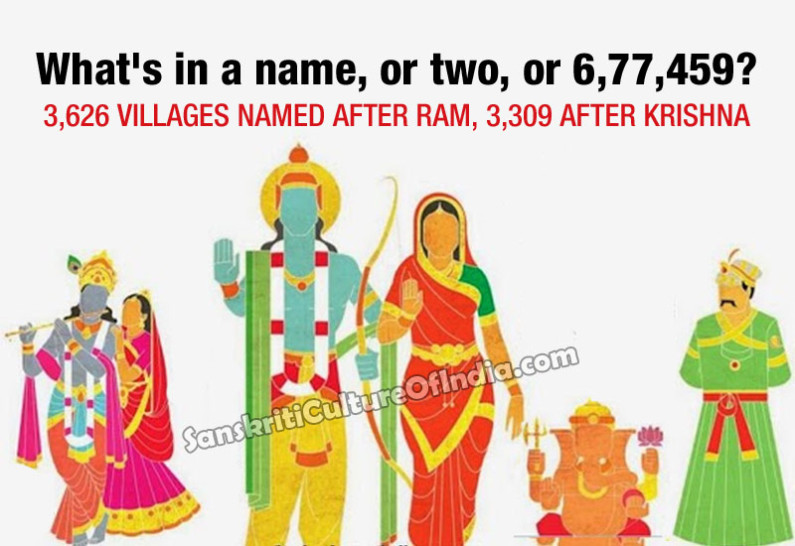 What's in a name, or two, or 6,77,459? In the case of India's villages, that list tells us they love gods, goddesses, nation builders and mythologies above all else, and that, when they migrate, they often take the name of their place of origin with them.
The IE went through the names of all 6,77,459, inhabited and uninhabited, villages in India, as listed in Census 2011 — data for which was released recently. Lord Ram ranks way up there, with 3,626 villages named after him, in almost all parts of the country except Kerala, while Lord Krishna is a close second at 3,309.
There are 92 villages in the country whose names start with Bengal/ Bangal and all of them are located outside West Bengal, including Maharashtra, Punjab and Andhra Pradesh. There are 33 villages named Kerala outside the state, mainly in the northern parts. There are 17 villages in the name of Prayag (the old name of Allahabad) and 41 named Kashi (the old name of Varanasi). There are 28 Agras outside Uttar Pradesh (most of them in Madhya Pradesh, West Bengal and Assam), while 189 village names start with Bihar, of which 171 are outside Bihar. There are 28 villages named Dhaka (the capital of Bangladesh) and 40 in the name of Nepal.
Besides, there are 47 villages whose names start with Badri and 75 which feature Kedar — invoking the religious sites which were among the worst hit in the Uttarakhand floods. Most of these villages are located in Uttar Pradesh, Uttarakhand, Madhya Pradesh and Bihar.
Other Ramayana characters too figure among the names, although Bharat (187 villages) is marginally ahead of Lakshman (160). Hanuman has 367 villages in his name, while Sita has 75. While at least six villages in the country exist in the name of Ravana, and three in the name of his father Ahiravan (all in Bihar), no village is named after Ravana's brother Vibheeshana who crossed over to Ram's side. Some villages in Karnataka and Andhra Pradesh are named Ayodhya.
When it comes to Mahabharata, Krishna remains the popular choice by far. While there is no Kurukshetra (except Haryana's original Kurukshetra) village in the country, only two villages are named after Yudhisthira, the symbol of truth. There are 385 named after Bhim, and 259 in the name of the other popular Pandava brother, archer Arjun. Only one village bears the name of the patriarch Bhishma and that is in Orissa's Ganjam district.
Not surprisingly, in a country where fealty comes easy, 'Raja' (king), 'Rani' (queen), emperors and sultans dot the list. Leaders of modern India too are a popular choice. Jawaharlal Nehru figures in 72 village names, and there are 117 in the name of Mahatma Gandhi. While there is no village in the name of former PM Lal Bahadur Shastri, 13 are in the name of B R Ambedkar, 36 are named after Indira Gandhi and 19 after Rajiv.
Among the Mughal emperors, Akbar tops the list at 234 villages. His grandfather Babur has 62 villages in his name while father Humayun has only 30. Interestingly, while 51 villages are named after Shahjahan, only eight are in the name of Aurangzeb (all in Bijnore district of UP).
Moving on, if Sholay's infamous dacoit-affected village Ramgarh has 163 namesakes, there are as many as 27 villages named 'Pipli', same as the village in the Aamir Khan production Pipli Live.
While the study of names in general and place names in particular sheds some light on the history, culture and migration trends of any country, there is a lack of expertise in India on the subject. The study of names is called Onomastics and the specific study of place names is called Toponymy.
An IAS officer of Orissa cadre, R Balakrishnan, is involved in place name studies for 25 years and has published many research papers and delivered lectures in different universities on the subject. A systematic study of names can throw light on many obscure pages of Indian prehistory and history, he says.
"Place names are the fossilised representation of an immemorial past. They provide reliable markers for reconstructing the source and trajectories of past migrations, as immigrants in the past have invariably carried the place names of their origins and re-used those names in their new-found homelands. Hence, a comparative study of identical name clusters can offer valid clues to the movement of people from one region to another," Balakrishnan says.
As for reiteration of identity, an example is the 578 villages that bear the name of a Dalit caste, which otherwise cannot be named under the law.
How India names its villages
 GODS, GURUS, Rulers & RELATIVES
Lord Krishna – 3,309
Villages with one or the other of Krishna's various names. These include Madhopur, Gopalpur, Govindpur, Gopalnagaram, Shyamnagar. The name Gobardhan alone accounts for 81 other villages
Lord Ram – 3,626
Rampur, Rampura, Ramnagar, Ramgarh, Rampuria, Raghunathpur are some examples of villages named after him. UP tops with 1,026 such villages, Assam has 57 and Andhra Pradesh 55
Radha – 380 villages named after her, mostly in UP, MP, Orissa
 Sita – 75 villages derive their names from Sita or the alternative Janaki; mostly in UP
Emperor Akbar – 234 – He clocks the highest number of villages among those named after a Mughal emperor. His grandfather Babur has 62 villages named after him while father Humayun has 30; his grandson Shah Jahan has 51 while great-grandson Aurangzeb has 8, all in Bijnore district of UP
Kansa – 42 villages named after Kansa, the cruel uncle who was killed by Lord Krishna
Dashrath – 8 – Ram's father has 8 villages named after him
Guru Nanak Dev – 35 villages named after the Sikh guru, such as Nanakpur, Gurunanak Nagar, Nanak Ganj. All but four of these are outside Punjab
Lord Ganesh – 446 The names of these villages include Ganesh Nagar, Ganeshpur, Ganeshpura, Ganeshganj
Counting the HIGHS 
616 villages with names derived from Ganga, such as Gangapur, Ganganagar, Gangasar, Gangasandra. Many of them in Andhra Pradesh and Tamil Nadu
469 villages have names celebrating their "bravery" such as Bahadurpur, Bahadurnagar, Bahadurwaas
217 villages named after Haathi (elephant); 46 take after Chinti (ant)
206 villages bear Kanchan (or gold) in their name, while 413 villages have Hira (diamond), such as Hirapur, Hiranagar, Hirakund.
162 villages hail the lion, such as Sherpur, Sherganj, Shergudha
144 villages have a hill in their name, such as Parbat, Parvatpur, Parvatnagar, Paharpur
52 villages' names include Tala (lock); 9 have names with Kunji or Chabi (key)
27 villages named Kalapani (long, harsh jail term). Assam tops
25 villages celebrate wealth, such as Amirpur, Amirnagar
14 villages invoke Shani (the planet Saturn), such as Shanichara, Shaninagar, Shanighar
11 villages invoke progress, as Vikasnagar, Vikaspalli
8 villages named Pyasa (thirsty); 5 in MP and 3 in UP
Identity crisis
458 villages named Sultanpur, the home turf of Gandhi family
142 villages named Balia, as is the home district of former PM Chandrashekhar
92 villageS' names include Bangal, such as Bangalnagar, Bangalpura, Bangalimohalla, Bangalpara, Bangalipur. All outside West Bengal, these are in states such as Maharashtra, Punjab, Andhra Pradesh
47 Nagpurs in the country, and as many as 97 Malegaons
70 Kundas, one of them well-known because of Raja Bhaiya. The other 69 are in Rajasthan, UP, Bihar, Jharkhand, etc
40 villages' names have Nepal, such as Nepalpura, Nepalganj, Nepalnagar
37 villages named Badalpur besides the UP village of Mayawati. Uttarakhand's Champawat district has a village named Mayawati
33 villages are named Kerala, all of them outside the state of Kerala
20 villages named Amethi, at least 10 in UP, outside the Gandhi bastion. One each in MP, Bihar, rest in Chhattisgarh
3 Lucknows outside the Uttar Pradesh capital. One each in Andaman and Nicobar, Uttarakhand and UP
Gandhi & 20th-Century NETAS
Subhas Chandra Bose 27: Subhas Nagar, Subhas Gram, etc. Maharashtra has 11, Rajasthan 9, Bengal none
Jawaharlal Nehru 72: Names range from Nehru Nagar, Nehrugarh to Chacha Nehru Nagar, Jawahar Nagar
Mahatma Gandhi 117: The villages named after the Father of the Nation are spread all over the country
Indira Gandhi 36: Indira Gaon, Indira Gandhi Nagar, etc. Bengal, Karnataka, Maharashtra top list
Rajiv Gandhi 19: Villages named after the former prime minister, 10 of them in Rajasthan

LIKE US ON FB & SHARE OUR PAGE WITH FRIENDS TO HELP IN SPREADING SANSKRITI.