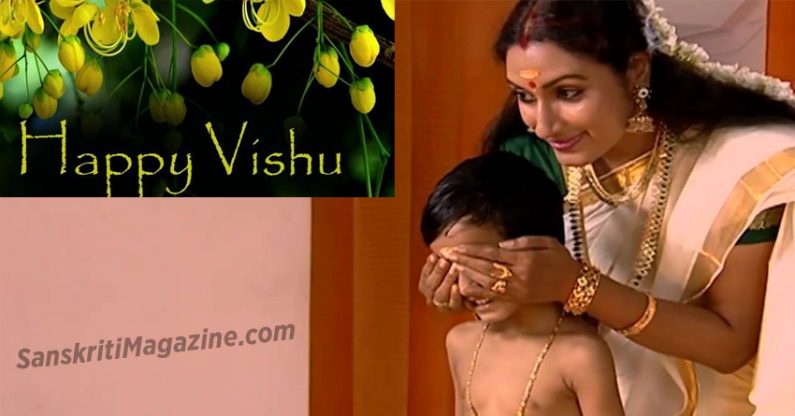 Keralites all over the world are set to celebrate the Hindu New Year, Vishu. This year, the festival will be observed Thursday, April 14.
The auspicious day begins with Vishukkani, which is the first thing devotees see soon after waking up from sleep in the morning. For the traditional New Year sighting, elders of the family arrange holy texts, coins, rice, fruits, vegetables, metal mirror, betel leaves, arecanut, kanikkonna flowers (Cassia fistula) and lighted brass lamps in the prayer room near Lord Krishna's statue that will be decorated with garlands.
Following this, elders give money to the younger ones and this gesture is known asVishu kaineettam, as a symbolic representation of wealth and sharing. The festival is also known for Puthukodi (buying new clothes), Vishu Sadya (feast) andVishupadakkam (firecrackers). The sumptuous lunch will have different varieties of items, including mampazha pulissery, Vishu kanji, Vishu katta, payasam, among many others.
Devotees also visit the popular Sabarimala and Guruvayur temples for the Vishukkani Kazhcha during the early hours of the day. Meanwhile, the first day of the solar calendar is celebrated as Puthandu in Tamil Nadu, Bisu in Mangalore and Udupi, Ugadi in Karnataka and Andhra Pradesh, and Gudi Padwa in Maharashtra.
When is Vishu celebrated?
Vishu is the first day of the local calendar and is the beginning of Meda Rashi, the first zodiac sign. It signifies the equinox according to the solar calendar and falls usually in the second week of April according to the English calendar.
Spiritual Significance of Vishu
This day of Vishu is the most important day in a Keralite's life. It marks the beginning of new hopes and aspirations and is celebrated widely all across the state. People take a lot of care in fulfilling the rituals so as to bring prosperity and success in the coming year ahead.
Rituals of Vishu
People start with early morning prayers at dawn on this auspicious day.
The mother of the family arranges Visukkani which consists of cucumber, rice, arecanuts, betel leaves, gold ornaments, new clothes, a holy granth, coins in a silver cup, mangoes, jackfruit, metal mirror,fresh lemon long with a lit metal lamp alongside. Family members are supposed to view these things first when they get up from sleep.
A special yellow flower named Konna is a must in the Kani.
The holy text of Ramayan is recited during the puja and the common belief among Malayalees is that the recital would have its sacred effects on all family members.
A special feast called 'sadya' is prepared keeping in mind all flavours that should be equally present in the meal. A meal usually consists of rice, sambar, chips, pickle, aviyal, rasam and different varieties of sweets and payasams.
A special type of rice is prepared for this occasion. This is called Kanji and is prepared with high quality rice, coconut milk and condiment spices.
Later children burst fire crackers and new clothes and money are given as gifts to friends and relatives as blessings by elders of the family.
People also visit temples offering prayers on this day.
People distribute coins among the poor on this day.
People usually wear their best clothes on this day and women love to adorn themselves with gold ornaments. Men wear the traditional 'mundu' along with khadi shirts.
LIKE US ON FB & SHARE OUR PAGE WITH FRIENDS TO HELP IN SPREADING SANSKRITI.